How to Train Your Older Dog to Sleep Downstairs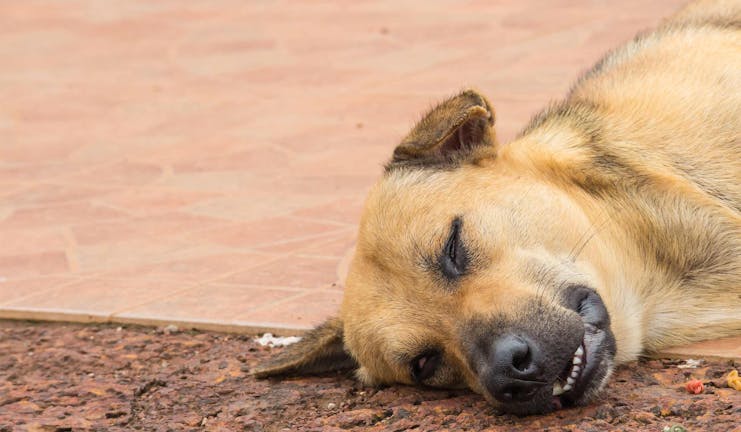 Introduction
You've had him for many years now. He probably feels like part of the furniture. He may have even been around longer than some of your kids. However, as he's gotten older he has also become, well... needier. While he used to be content sleeping in his bed, over the years he's developed a habit of coming and sleeping with you upstairs. A habit your partner has not always been most pleased about. Whilst it may have started as a one-off, now it has become a little too frequent. It is time to train your old dog to sleep downstairs.
Training him to sleep downstairs will reduce the mountain of dog hair that accumulates upstairs, and anything that cuts down on cleaning is a positive. Sleeping downstairs on his own will also reduce his separation anxiety when you leave for work.
Top
Defining Tasks
Training an older dog to sleep downstairs isn't always straightforward, especially if they have spent years dozing upstairs. To stamp out this habit you will have to make some changes to his routine. You will also need to find the right incentive to keep him downstairs. He may be old, but he probably still has a soft spot for all things edible. The hardest part will come from you, you'll need to be strong-willed and resilient. It will be a tricky change for you too if you're used to having him with you upstairs.
Training could take as little as a week. However, if you are reversing a lifelong habit then be prepared to work at it for a month or so. Get this training right and your partner will be forever grateful. Plus, your dog will find it much easier being left alone during the day.
Top
Getting Started
Before you start training, you'll need to get a few bits together. Go out and get him a comfy, new bed. You'll also need to stock up on tasty treats, or break his favorite food into small chunks. Some toys and food puzzles will also be required.
Set aside a few minutes at the beginning and end of the day for training. Then find all the patience and willpower you can and approach training with a positive mental attitude.
Once you have all of the above, training can begin!
Top
Say good night
Each evening, spend a couple of minutes stroking him in his bed downstairs. This is his downtime where you say good night. Make this a time he looks forward to and you'll find he actually goes to his bed downstairs in the evening in anticipation.
Say good morning
When you wake up, go to his bed downstairs and say good morning. Again stroke him for a minute or two. If you do this every morning and evening, he knows he will get attention from you regularly. This will relax him and get him in a stable routine.
Leave a treat
Place a treat on his bed in the evenings. This will help him associate his bed downstairs with positive consequences. The hardest part is luring him to his bed in the first place. A treat waiting for him will do the job.
Toys
You can also place toys in his bed each day. If he's surrounded by the things he loves and that smells like him, he'll be more inclined to stay there all night. It's about making his environment as comfortable as possible.
Don't punish him
If he does keep trying to come upstairs, don't punish him. If he becomes scared of you then he may be even more eager to gain your approval. This could only increase his separation anxiety. So, stay calm and controlled.
Leash
Secure him to a leash and lead him to his bed at night. If you do this every evening not only will it set a routine, but the leash lets him know you are in control and that he must go to his bed.
'Bed'
Spend a few minutes each day training him to go to his bed when instructed. You can do this by simply giving the command, pointing and then luring him to his bed with a treat. Once he's there, give him the treat as a reward. You can then use this to send him to his bed if he tries to come upstairs at night.
Walk
Give him a quick walk before bed time. If he's tired after some late evening exercise, he'll be much more likely to collapse and nap in his bed. A tired dog is a happy dog.
Positive reinforcement
Whenever you see him go to his bed, give him a treat. Do this throughout the day, not just in the evening. The idea is to encourage him and get him as used to being in his bed as possible.
Correction
If he does come upstairs, it's important you react firmly, every time. Issue a firm 'NO' and then send him back to his bed. If he senses weakness on your part then he will continue to pester you to stay upstairs.
New bed
Give him a comfy, new bed to look forward to. Make sure it is located in a spot downstairs where he will get privacy. Three walls around him is ideal. If people are walking over him or making noise at night, he will struggle to sleep and won't want to stay down there.
Food puzzles
Try putting a food puzzle in his bed in the evening. This can keep him occupied for hours. Then he'll be so settled and relaxed downstairs, that he won't be as fussed about coming upstairs.
Cold shoulder
If he does try and come upstairs, you must be strong. If you let him up just once you will only set back the end result. So, no matter how cute he looks, make sure he sleeps downstairs every evening.
Start ajar
Start by closing the door most of the way at night. This will prevent him leaving his room downstairs, but don't totally shut it. You don't want to completely isolate him at this point.
Close the door fully
After a few days of sleeping downstairs, you can close the door completely. By this point he will be somewhat relaxed and you need to get him used to being totally on his own at night.
By James Barra
Published: 01/04/2018, edited: 01/08/2021
---