How to Train Your Dog to Stay Away from a Baby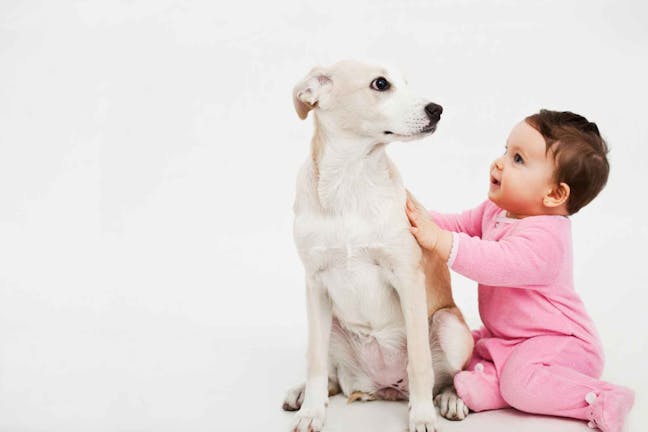 Introduction
Newborn baby Susie is lying in her car seat on the floor when her mom and dad's Shepherd cross, Buddy, comes ambling across the kitchen floor to investigate.  Buddy has always been good with kids and is well socialized, so mom and dad are not too concerned. Buddy thrusts his nose into the car seat to sniff Susie, startling the baby who lets out a high pitched cry and jerks suddenly. Buddy is startled, and jumps back, letting out a sharp bark, and a growl, which surprises his owners. Looks like they will have to rethink letting Buddy have unrestricted access to the new baby, and invest some time in teaching him to stay away from the baby until she is old enough to interact positively with him.
Top
Defining Tasks
When you introduce a new baby to your home, your dog is in for a big adjustment in their lifestyle and the amount of attention they get. This can be upsetting to your dog. Not only can the introduction of a new baby upset your dog's schedule, but a baby makes noise and sudden jerky movements, or grabs reflexively, which can be upsetting to your dog and may cause an aggressive response due to fear or alarm, putting your child in danger. Other concerns that can arise from having your baby and dog in close contact involve hygiene; dogs can bring germs, loose hair, and dirt around your new baby, which could endanger your newborn's health.
Teaching your dog to stay away from your baby so that a stressed out, startled, and possibly jealous dog does not present a hazard to a new baby is an important safety precaution for your child, and will prevent your dog from developing a negative association that will be difficult to overcome.  
Although it is easy to interpret a dog's interest in a baby as affection, dogs show respect by maintaining an appropriate distance. You want your dog to see your child as a leader, not a littermate! Teaching your dog to keep a respectful distance is teaching your dog that the baby is a pack leader, not a subordinate, and will help your dog develop an appropriate relationship with your child as your child grows up. Teaching your dog to stay away from the baby is important, but never rely on this training with a new baby as too much is at stake. Do not leave a dog and baby unsupervised together.
Top
Getting Started
Start training your dog to stay a respectful distance from the baby prior to your baby coming home. You can use a toy doll and baby sounds from a computer or smartphone to simulate the look and sound of an actual baby, and practice desired behaviors prior to baby's arrival. Trying to train your dog with a new baby in the house, when you have very limited time and your dog is under stress from the substantial adjustment to his environment will not be as effective. To train your dog appropriate behavior, you will need treats and, depending on your training method, a mat or crate.
Top
Toss a treat
Show your dog a treat, say "go away," and move your hand to toss the treat a few feet away for your dog to retrieve. Your dog will follow the direction of your hand and the tossed treat.
Repeat
When your dog goes to get the treat, say "good". Repeat until well established.
Command then toss
Provide the command "go away," and direct your dog as though you were throwing a treat, but do not toss treat yet. Wait for your dog to move away, then toss the treat.
Increase distance
Toss the treat even if your dog only moves a little way. Gradually increase the distance your dog has to go to get the treat until your dog moves 4 or 5 feet away. Practice using 'go away' and moving your hand as though you are tossing a treat. Toss treat after dog responds appropriately.
Associate baby doll
Introduce a baby doll and crying noses with a smartphone or computer. When your dog approaches to investigate, command "go away" and direct with your hand. When your dog moves away, toss a treat.
Replace treat with praise
Practice repeatedly. Gradually replace the treat with verbal praise.
Produce treat
A few months prior to baby coming home, train the 'leave it' command. Hold a treat in your closed fist out to your dog. When your dog sniffs your hand say "leave it".
Reward 'leave it'
Wait until the dog stops investigating and trying to reach the treat and retreats from your closed hand. Say "yes" and open your hand to offer the treat.
Set bait
Start putting the treats on the floor, and giving the 'leave it' command. Use a plain piece of kibble or a biscuit, and when your dog obeys the 'leave it' command, reward her with a much better treat, like a piece of hot dog or chicken.
Introduce baby doll
Present a baby doll to your dog. When she comes to investigate, say "Leave it". When your dog obeys, provide a treat.
Practice
Repeat with doll, toys, and other items until your dog is familiar with the command and applying it in different situations.
Replace treats with praise
Gradually reduce how often you give treats and give praise instead.
Provide a place
Several weeks prior to your baby coming home, start training your dog to go to his place. Drop a mat, or blanket on the floor in front of your dog to get his attention.
Reinforce approach mat
When your dog comes to investigate and touches the mat with his paw, click and treat. Your dog will continue to look for a reward, when he steps onto the mat, click and reward. Repeat and pretty soon the dog will understand that when he touches the mat he gets reinforced and rewarded.
Reinforce all feet on mat
Wait for your dog to put 2 feet on the mat, then 3 or 4 in order to get rewarded. Eventually, require all four feet on the mat before you click and treat.
Add 'sit' or 'down'
Add the command to sit or lie down when your dog steps on the mat with all 4 feet. Click and treat.
Add 'go to mat' command
Add the command, "go to mat". When your dog steps on the mat and sits or lies down.
Add distance
Move the mat further away and give the command for 'go to mat'. Click and reward when your dog runs over to his mat and sits or lies down.
Add time and release command
Require your dog to stay in place before getting his reward for a short period of time, then give him a command to release him and give him his treat. Gradually extend the length of time your dog is required to stay at his mat until he is remaining at his mark until released.
Associate baby doll
Now add a baby doll and crying sounds from a smartphone or computer to simulate a baby. When your dog investigates say "go to mat". When your dog goes to his mat, praise him, provide treats and attention occasionally to reinforce. Practice often.
By Laurie Haggart
Published: 10/27/2017, edited: 01/08/2021
---