How to Train Your Older Dog to Stay in an Unfenced Yard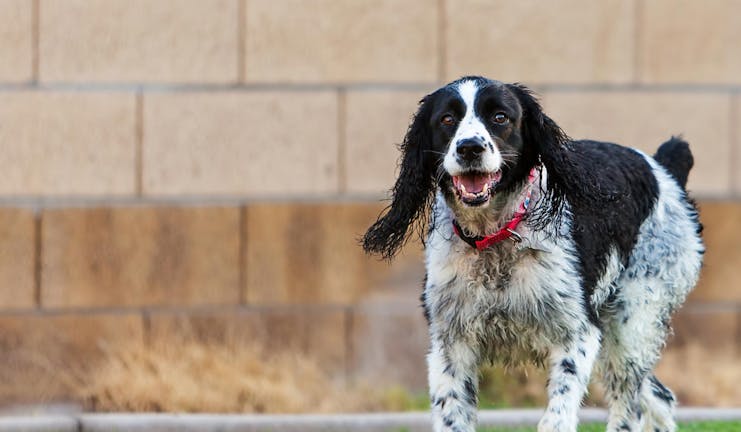 Introduction
Imagine how nice it would be if you could let your dog out in the yard without having to worry about not having a fence to keep him in your yard? While adding a fence around your yard might be one of the best ways to keep your four-legged friend in check, it can be expensive and not all communities allow them. Not only this, but your dog can still dig under the fence or teach himself how to climb over it.
The most important part of training your dog to stay in an unfenced yard is to start out by marking your pup's boundaries. Do this by using several small flags you can stick in the ground. Be sure to mark your pup's boundaries around 2 to 3 feet from your property's actual boundaries and then make sure everyone in your family understands them. 
Top
Defining Tasks
The task at hand is to teach your pup that he must always stay within his boundaries unless you or another member of your immediate family is with him and gives him the appropriate command while crossing the boundary. Once your pup learns to obey his boundaries, you will be able to let him enjoy running around the yard without his leash. Note, you should never allow your pup to be outside on his own when he is not on a leash as this could lead to serious injury or death if he runs out into traffic.
The idea here is that once you teach your pup what his boundaries are, he will stay within them whenever he is outside with you or a family member. It is a skill well-worth teaching your pup, as it could save his life. 
Top
Getting Started
One of the most important things you can do before you try to train your dog to stay in an unfenced yard is make sure he has mastered the four basic commands. Commands such as 'sit', 'stay', 'come', and 'down', along with 'stop', are vital and will come in very handy no matter what else you decide to teach your pup. Beyond this, there are a few things you may need, including:
Treats: For rewards and possible training uses.

Collar and walking leash:: For training purposes.

A long leash: One that is between 20 and 30 feet long.

Small marker flags: Use flags with a thin wire stem that can you easily push into the ground.

Space: You'll need a yard to work in.

Beyond these basic supplies, you need time to train your dog every day and plenty of patience during the process. Take your time, let your pup learn at his own pace, and he will soon learn where his boundaries are. 
Top
Short leash first
With your pup wearing his collar, attach a standard-length leash to him and walk him out close to the boundaries of your yard. Keep back from the borders by approximately 10 feet. As you walk him around these boundaries, each time he tries to wander closer to the boundary, give a firm but gentle tug on the leash, give him the command "Come" and then turn and walk away from him. When he turns and follows you, give him lots of praise and a treat.
Attach the long-leash
Step up to a long leash and continue practicing. The longer line will allow your pup more freedom to explore. Continue as before, calling your dog back to you if he get too close to the boundary.
Add distractions
Time to add a few distractions slowly, one at a time. Toss a toy or a ball out past the boundary and use the leash to gently keep your pup away from the border. Keep practicing and giving your pup praise and treats as he masters the skill of not following the temptation.
Keep training
Keep working with your pup until no matter what type of temptation comes his way, he will NOT cross his boundaries.
Play off-leash
Take the time to play with your pup off-leash as often as possible within the boundaries over the course of a month. This will help reinforce the boundaries, create great bonding time, and gives you plenty of time to have fun with your pup.
The Flagged Boundary Method
Mark your boundaries
Using marker flags, mark your pup's boundaries. Keep them about 4 feet in from the edge of your yard.
Walk the line
With your pup on his leash, walk the boundaries with him. While you are walking, do not allow your pup to cross the boundaries at any time. If he tries, use his leash to gently pull him back.
On the outside looking in
After spending 2 or 3 days establishing the borders with your pup, try this. Leave your pup on the inside of his boundary while you step outside of it. This step will take time, but use your "stop or stay" command to keep your pup from crossing the boundary. Give him a treat each time he succeeds at staying inside the boundary. Keep doing this for 3 to 4 days until he is familiar with your commands.
Push a little harder
Time to make it a bit harder. Try tossing one of your pup's favorite treats or toys outside the boundary. Each time your pup makes the decision to stay within his boundaries, praise him and give him a treat. Getting him to this point can take extra time so be patient and keep working with your pup.
Put your pup to the test
Once you are confident your puppy has learned what his boundaries are and what is expected of him, it's time to put him to the test. Let your dog out the back door "on his own" and follow him. If he stops at his boundary, be ready to give him plenty of praise and a treat. Keep working with your pup until he no longer wants to go past the boundary unless he is given permission.
The Through the Basics Method
The basics
Start out by working your pup through a series of the basic commands of 'come', 'sit', 'stay', and 'down' to make sure he has them down pat before moving on.
Work with him
Work with your pup until he will perform them off-leash out in the backyard.
Attach the leash
Attach your pup to his leash and take him outside.
Walk the perimeter
With your pup on his leash, take off and walk around the perimeter of your yard. Any time he tries to cross the border you have established, use the leash to gently correct his behavior. Repeat this over the course of several laps, until your pup no longer tries to go outside the boundaries. Then be sure to praise him and give him a treat.
Trailing leash
Repeat the above without hanging on to the leash, instead, let it drag on the ground. This way if he does try to cross the boundary, you can grab it and stop him. Again, praise him for getting it right and give him a treat. The rest is up to you and your pup, the more you work at it, the faster your pup will master this important skill. Patience pays off and may save your pup's life.
By PB Getz
Published: 01/11/2018, edited: 01/08/2021
---