How to Train Your Dog to Stay in One Room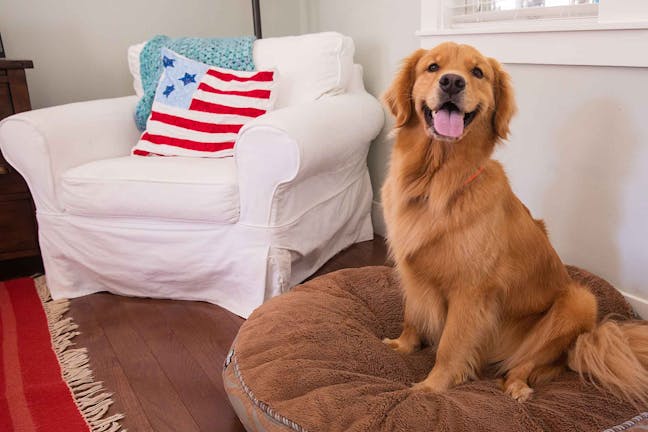 Introduction
Do you wish you could train your dog to stay in one room when you are not home or even when you are? Imagine how much easier it might be if you could send your dog to his "room" at meal times, when you have guests, or when the doorbell rings. In essence, this is the 'go to place' command that is designed to send your dog to his one special place.
The most important thing to remember about this training is that your dog should already have mastered some basic commands. If your dog does not know the 'stay' command, you will need to teach him this first, as it is the lead into teaching him to stay in one room. At the same time, your pup does need to accept that you are the Alpha leader in the pack. 
Top
Defining Tasks
The command, in essence, is to train your dog to respect boundaries you have established. In this particular case, you are training him to go to a specific room in your home and to remain there until he is given the release command. While you wouldn't think this would be challenging, after all, it is just an extension of the stay command, but you are training him to stay in a room by himself whether you are or are not at home.
The one thing you must remember is that your dog has to learn to behave in this manner no matter where you happen to be. You could use a crate or a baby gate or even an indoor crate, but these can be somewhat inconvenient. You have to remember to put them up and take them down all the time, they get in the way, and they are just one big hassle. If you can train your pup to stay in one room, you will be miles ahead. 
Top
Getting Started
Before you get started, you need to decide what room you are going to designate as your pup's safe room. The intent is that when you give him the command 'room' or 'go to your room' your dog will not hesitate and will go straight to his designated room and stay there. When it comes to this type of command, there is no room for error, he must do exactly what he is told and remain there until you tell him otherwise. For this you will need:
One room: You should choose one room and stick to it, switching rooms will only confuse him.

Treats: You need these to reward your dog when he gets it right.

A mat, towel, or bed: Your dog needs a place to go once he is in the room.

Quiet: Training goes far more smoothly when there are few if any distractions.

Patience: It is going to take plenty of this.

Time: This behavior will take time for your pup learn this.

One thing to keep in mind before you get started is that you need to make this training fun for both of you. Once your dog knows where his place is, you may find he spends a fair amount of time there on his own. 
Top
Buy a mat
Start out by picking up a bed or mat for your dog to lay on when he is in his room. You can also use a towel if you can't buy a mat or bed.
Choose the room
Pick the room where you want your pup to stay in during and after the training is completed. Stick to one room to speed training and to help avoid confusion.
Get your dog used to his bed
Take your dog into "his" room and give him plenty of time to sniff his new bed, touch it, even climb all over it. Let him take his time, in fact, you can try leaving him in there with a few of his toys. These will help him want to stay there.
Lead and treat
Lead him to his bed, toss a couple of treats on the bed and let your dog get on his bed and eat them. Praise him for doing so and give him another treat.
The minute he leaves the mat
The moment he leaves the bed, stop all praise and treats. At this point, he will most likely climb back on the bed to continue getting the treats and praise. When he does, be sure to treat him and tell him he is a good boy.
Add time and distance
Now you can use the command and start working your way out the door and extending the time your pup has to stay on his bed.
From another room
By this time, you should be able to tell your dog to go to his "room" and know that he will stay there. Anytime he tries to come out, lead him back in and tell him to lay on his bed. When he does, give him a treat. It may take some time before he masters this one as curiosity is always going to try and get the better of him.
Choose the room
Start by choosing a smaller room in your home for your dog's 'go-to' place. Depending on the age of your pup, you may need to choose a room with a floor that is easy to clean.
Dog-proof the room
Remove or put up anything that your dog might get into such as soaps, shampoos, cleaning supplies, plants, electrical cords and anything else your pup might chew on and harm himself.
Create a welcoming environment
Now that the room is safe for your pup, add a bed or mat, a few of his favorite toys, a bowl of water, maybe even a treat toy you can fill with food.
Potty first
Before you can start training your pup to stay in the room, take him outside to go potty. While you are outside, play a few rounds of fetch to help burn off as much energy as possible. A tired dog is more likely to stay in his "room" than one that is full of boundless energy.
In the room
Take your dog into the room, place a few treats on his bed and step out of the room for five minutes. If he tries to follow you out or come out, take him back in and make him stay on his bed. Use more treats to convince him to stay on his bed.
Extend the time
Now start working on extending the time you stay out of the room. Do this several times a day until he can be left in his room for longer and longer periods of time until you can leave your dog in the room for as long as necessary. Be patient, it is only natural for him to want to come out of the room, but with patience and repetitive training, he will learn what is expected of him.
The Stop and Reward Method
Get ready to start training
For this method, you need to grab your pup's leash and a handful of his favorite treats.
In the room
Put your dog on his leash and take him into the room you plan to use as his go-to place.
Exit strategy
With your dog on the leash, begin walking towards the door. Stop just inside the door, if your dog stops behind you, give him a treat. If not, go back into the room and repeat this step several times until he gets the picture while he is on the leash.
Off the leash
Call your dog and have him follow you to the doorway, this time step through the doorway. If he stops short of the doorway in much the same manner as he did on the leash, shower him with praise and give him a treat.
Repeat
You will need to repeat this last step several times a day over the course of a few weeks before you can tell your dog to go to his place and he will do so and remain there until you give him permission to leave. In time, he will learn that when you tell him to go to his room, he must stay there.
By PB Getz
Published: 11/16/2017, edited: 01/08/2021
---