How to Train Your Older Dog to Stay Off the Carpet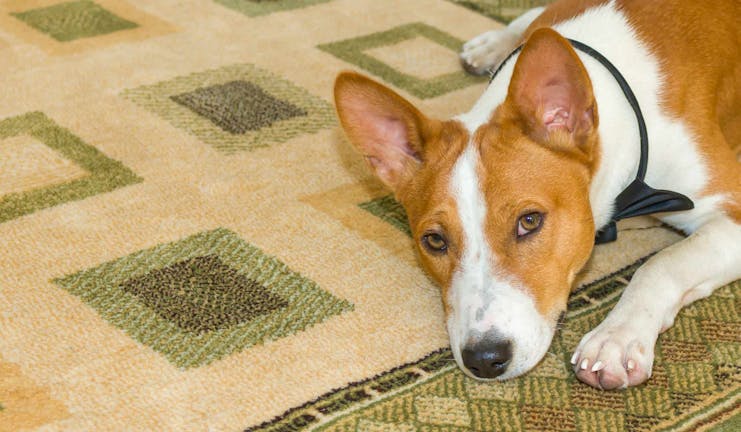 Introduction
Has this happened to you? You move into a new house with beautiful carpet in some of the rooms, and your old dog doesn't understand why he suddenly can't lounge on the new, soft flooring. Maybe you just adopted a senior dog, and you don't know any of the rules he lived with previously. He could have been allowed anywhere in the house, or he could have lived in a house with wall-to-wall carpeting. 
The old adage "You can't teach an old dog new tricks," might discourage you from trying to teach your older dog to stay off the carpet, but it is possible to teach him something new. The difficulty will be to change his habits. Older dogs already have an idea of how the world works and it's harder to make a change to their routine than young dogs who don't have long-established patterns. 
Top
Defining Tasks
There are a few things to consider when trying to train an older dog to stay off the carpet. You need to come into the training with lots of patience, maybe even more than you need for a puppy. Your dog is going to be confused as to why he can't do something he has always done. You also need to be completely consistent. If you relax your training even once you could set yourself back on weeks of training.
If you're moving into a new home or if you are bringing home a new dog, set the boundaries from the beginning. From the moment he steps into your home, let him know where he can and cannot be. You might need to block off rooms with baby gates for a while. Make sure he knows where he can go. Give him a space to call his own and feel comfortable in.
Top
Getting Started
There are a few items you will need to get started. If you are bringing home a new dog or changing houses, make sure you have them before you introduce the dog to his new digs. 
Baby gates or room dividers.
A dog crate.
One to three dog beds.
Treats.
A clicker.
A few area rugs or runners.
There are several methods to use based on your dog's temperament and the way he reacts to his new rules. Read through the three below and decide which will be best for your dog, or mix and match steps to come up with the best training plan for your dog.
Top
Block off all carpeted areas
Block off all the carpeted areas in your home with barriers or baby gates your dog can't get through.
Set up a comfy space
Make sure he has a comfy bed, a crate, or a space he definitely is allowed to be in.
Leash your dog
Put a leash on your dog and walk to the entrance of a carpeted room. Ask for a 'sit'. Make sure to remove the baby gate.
Tell him "no"
Once he starts to place a paw on the carpet tell him "no" sternly and bring him back.
Tell him "yes"
After a while, he should stop right before the carpet. When he does tell him "yes" and treat him. Keep practicing.
Move around the house
Practice this with each room that has carpet. Make sure he begins to associate "no" with stepping on the carpet and "yes" with stopping before the carpet.
Let him off leash
Now you can move off the leash. Stand in the carpeted room and watch him. When he starts to walk on the carpet, say "no" sharply. He should move off. When he stops before the carpet and doesn't try to come to you, tell him "yes."
Keep practicing
Keep practicing and move on to each room. After some serious dedication, your dog should eventually stop walking on the carpet.
The Your Space/My Space Method
Define his space
You know you want the carpet to be off-limits for your dog. Now you have to define which places he is allowed. This will most likely be areas with tile, laminate or wood flooring.
Make it comfortable
Dogs often don't have traction on these kinds of flooring and they can be uncomfortable to lie on, especially for an older dog. To make it more comfortable, put down an area rug and dog beds or a crate in these places so he will be happy to be there.
Start with one room
Start with one room you want your dog to stay out of. Keep the baby gates up on the other rooms and remove the one for this room (just for the training session).
Stand in the middle
Stand in the middle of the room and don't pay attention to your dog.
Tell him "out"
When he starts to come into the room say "out" sharply and point out of the room. He might be a little shocked, but he should leave.
Keep practicing
Each time your dog tries to come in the room with you, tell him "out" and make him leave. He should move over to the comfy bed or rugs in his area of the house.
Slowly move to each room
Once he no longer tries to enter a room, you can move on to the next one you don't want him to enter. Be patient and consistent. If you don't want him in there, don't give him a chance to get away with it.
Remove the gates
Eventually, you can remove all the boundaries in the house. Your dog will have learned that his cozy rugs and bed are much preferable to being told to get off the carpet.
The 'Go to Your Place' Method
Define your dog's space
Find a spot outside of each room with carpet that you want your dog to go. Place a dog bed or mat in each area.
This is your spot
Teach your dog that the bed or mat is his designated spot. Have him sit on the bed and give him treats while saying "your spot."
Go to your spot
Stand with your dog a little ways away from the rug and say "go to your spot." Give him lots of treats when he does.
Walk into the carpeted room
Remove the baby gate or barrier for one room and walk it to the middle. Wait for your dog to try and follow you.
Give him the command
When he tries to follow, say "go to your spot." praise him when he does. Repeat this step over and over again until he no longer tries to go on the carpet. Make sure to put the gate back up when you are done. You can do this step several times a day for a few minutes each time.
Move to the next room
Move on to the next room, making sure that each time you try a room where your dog already knows his spot. Practice going to his spot until he no longer tries to go on the carpet.
Take down the barriers
Once he is opting for his spot instead of the carpet for every room, you can take down the baby gates. Make sure everyone in your household knows what you are doing and helps keep an eye on your dog. Don't be afraid to go back to the training steps if he forgets.
By Katie Smith
Published: 02/01/2018, edited: 01/08/2021
---