How to Train Your Dog to Stay Off the Couch When You're Not Home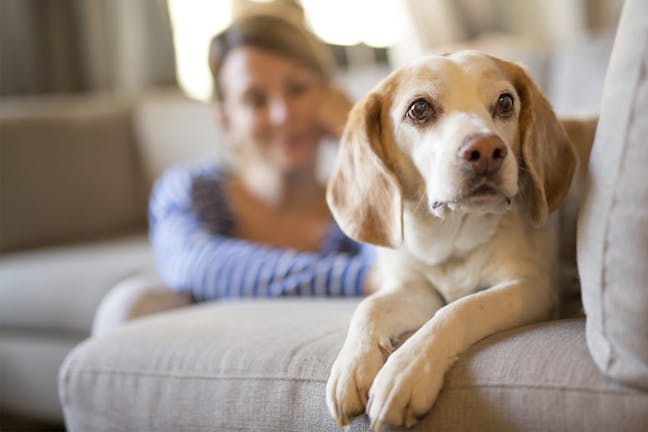 Introduction
So, you can keep your dog off the couch when you are at home, but every time you go out you come home to a couch covered in hair and a dog with a really sheepish look on his face. Not all of us want our pup to take over the couch and call it his favorite napping spot. The one thing you need to know is that you don't have to feel as though you are being mean by teaching your dog to stay off the couch.
While your pup is a member of your family, this doesn't mean that he has the right to use the furniture whether you are at home or not. Of course, your dog hops up on the couch because he loved to be comfortable. Yet the reality is, that as long as you give him his own comfy bed to lie on, there is no reason why he needs to get on the couch. 
Top
Defining Tasks
Simply put, dogs tend to do things because they get some kind of reward out it. For example, they eat because the reward is a full stomach, they play fetch because they get to play with you and are rewarded with plenty of praise. Likewise, they get on your couch because it's nice and comfy.

Your dog needs to learn that sleeping somewhere other than the couch can be rewarding and that sneaking onto the couch is not. As for a command to use, the only ones you should need to teach your dog are "No!", "Get down!", and "Stay down!" The best way to keep your dog from getting up on the couch is to start when he is a puppy and never let him get used to being on the couch in the first place.
This training takes the help of your entire family. You need to make sure they all understand that at no time should anyone ever allow the dog on the couch or pick him up and put him in their lap while sitting on the couch. But, if he is already getting on the couch, you will need to teach him that this behavior is not acceptable. 
Top
Getting Started
If your dog has already started hopping up on the couch, it is going to take a little time to teach him to stay on the floor and use his bed. The one thing you don't want to do is punish your dog by scolding him or, worse yet, smacking him. This may only make the problem worse and many cause other behavioral problems. Depending on the training method you choose, you may need a few supplies.
Treats: Treats are always an important part of training.

Laundry baskets: To block access to the couch.

Boxes: Can also be used to block off the couch.

Noisemakers: Place pebbles in a tin can and tape it closed to make an effective rattle.

Deterrent mat: A device that makes noise when your dog gets on the couch.

The rest is time and patience. It may take your dog a few weeks to get to the point at which he will no longer get on the couch. After that, you should be able to put that lint roller away for good. 
Top
The Laundry Basket Method
Gather your supplies
Gather up enough laundry baskets to cover all of the cushions on your couch.
Cover up
Cover the couch with the baskets each time you get ready to go out. If your pup comes over to sniff at them, tell him "no" and make him go lie down on his bed. If he complies immediately, give him a treat.
Do this over and over
Keep doing this each time you go out, reinforcing the idea that he is not allowed on the couch.
If you come home to a mess
If you come home to laundry baskets on the floor and dog hair on the couch, make some tin can rattles and place them in the baskets.
Too much noise
The next time your pup knocks the laundry baskets down, the rattles will make an awful noise that will startle him. After a few of these events, your pup will start to put two and two together and stop trying to get on the couch.
Gather up your noisemakers
For this method you will need several tin can rattles, enough to build a small pyramid on your couch.
Build your pyramid
Using the rattle cans, build a pyramid on a spot of your couch that guarantees they will fall when your dog attempts to get on the couch.
Show your dog
Bring your dog into the room and show him the pyramid, say "stay down" and send him to lie down on his bed.
Go out for the afternoon
Go out and enjoy the afternoon shopping, catch a movie, grab a meal. In others words, have some fun.
If the cans are up
If he is waiting for you by the door as usual with the pyramid intact, praise him and give him a handful of his favorite treats.
If the cans are down
If the cans are all knocked down, your dog was probably very startled by the noise. This is a good thing, as it will only take a few of these episodes before he stops. The hardest part is remaining consistent and letting your dog figure out when he has had enough.
Try the block method first
Before resorting to using a shrieker mat, try using laundry baskets, boxes, or tin can rattles to block your pup's access to the couch when you are not home.
Give these methods time
It can take some dogs longer than others to get the idea, and some never do. But give these methods a few weeks to work.
Go shopping
Go to your local pet shop and look for a shrieking alarm mat. This is a special pad that goes across the cushions on your couch. An alarm will sound if the mat is disturbed--such as by a sneaky dog looking for a spot to snooze.
Install the mat
The next time you go out, put the mat on the couch.
Go out for a while
Go out for a while and leave your pup in the house. When you come home, you will know if he tried to jump up on the couch. The mat will probably all messed up and your dog will not go anywhere near it. You may have to do this for a few weeks, but in time your pup will no longer even think of getting on the couch. Mission accomplished.
By PB Getz
Published: 12/01/2017, edited: 01/08/2021
---