How to Train Your Basset Hound Dog to Stop Barking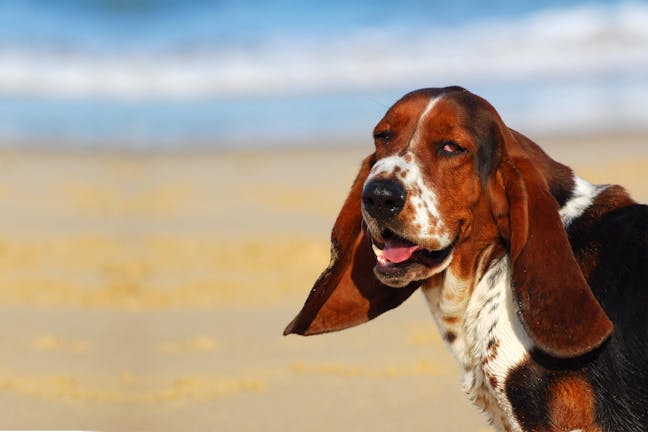 Introduction
Your Basset hound is everything you hoped he would be. He's affectionate, tenacious, devoted, and sweet-tempered, plus, he's got a sense of smell you can hardly believe. You open some food in the kitchen and he will be at your feet in seconds. One thing you didn't realize he'd be though, is noisy. When you're preparing his meals he barks constantly in anticipation. When you're getting ready to take him out for a walk, he again won't stop barking. When someone approaches the front door, he'll start barking. He's slowly destroying the relatively peaceful household you once had. It needs to stop.
Training him to stop barking will make taking him out for a walk relaxing. It will also mean you're not woken up early in the morning when he's hungry for breakfast. Everyone in the house will appreciate the peace and quiet.
Top
Defining Tasks
Training your Basset hound to stop barking is definitely achievable. Basset hounds are intelligent and switched on. You simply need to find the right incentive. Like most dogs, they have a soft spot for food. But because they're the breed with the second most sensitive nose, some truly smelly food is guaranteed to catch their attention. You'll then need to use obedience commands to silence him and look to some deterrence measures. 
If he's a puppy and the barking habit is new you could see results in just a week. If he's older and more stubborn then you may need three weeks to fully stamp it out. Get this training right and you'll have a well behaved and more importantly, quiet dog. You'll also find this training makes it easier to stamp out other problematic habits.
Top
Getting Started
Before you get to work you'll need to gather a few bits.You'll need a water bottle and a deterrence collar for one of the methods. You'll also need a quiet room to practice in. 
Some extra smelly treats or his favorite food broken into small chunks will play an important role. You'll also need to set aside 10 minutes each day for training over the next couple of weeks.
Once you have all that you just need earplugs and a positive attitude, then the work can begin!
Top
Monitor
Spend a couple of days monitoring him to see when he barks naturally. This could be when you get him ready for a walk or make his meals. You are going to teach him how to bark on command, so you can then teach him to be 'quiet'.
'Bark'
Put him in a bark inducing situation and then issue a 'bark' command as he starts barking. Then hand over a treat straight afterwards. It's important he gets the treat within 3 seconds of him barking otherwise he won't associate the action with the instruction. Practice this for 10 minutes each day for a few days.
'Quiet'
Now put him in the same situation but wait for him to stop barking. As soon as he stops barking, say "quiet". You can use any word or phrase you like. Basset hounds are capable of learning hundreds of different commands.
Reward
As soon as he stops barking, hand over a tasty treat. You can also shower him in verbal praise. Opt for a particularly smelly treat and he'll be more likely to follow your instructions.
Practice
Now practice this each day for a few days. He will soon associate 'quiet' with falling silent. At this point you can start giving the command while he's still barking and then rewarding him when he stops barking. You can now use this to silence him whenever he starts barking. You can also gradually cut out the treats.
'NO'
It's important you react every time he barks. The first step to take is to give a clear 'NO' whenever he starts barking. Don't terrify him but make sure he knows you mean business. Hold eye contact while you do this.
Water spray bottle
The next step is to carry a spray bottle with you. Whenever he starts barking, give him a quick spray of water from the bottle near his face. He will soon start to associate barking with a negative consequence and think twice.
Deterrence collar
These can be bought from a range of online stores. They work by emitting an unpleasant spray of citronella whenever he barks. If he always experiences a negative consequence the habit will quickly be broken.
Cold shoulder
Once you've given one of the reactions above you can then ignore him. Simply turn around and don't look or talk to him. It may be frustrating but eventually he'll stop barking. By doing this you are showing him that barking won't get him what he wants.
Reward
Then when he does stop barking you can turn around and give him a treat. He'll soon realise that if he stops barking he'll get attention and tasty rewards. Use any combination of the steps above until the habit has been truly broken.
Out
When he does start barking, you need to take him calmly by the collar and lead him out of the room. You don't need to say anything or scare him. Once he's out of the room you can shut the door and go back to what you were doing.
30 seconds
Leave him in the time out for 30 seconds then, without saying anything, you can release him. Make sure he doesn't have any toys or anything too fun in his time out spot. Once he's back in the room you can continue to give him attention.
Increase the sentence
If he starts barking again when you've let him back in the room, repeat the same process. However, this time add an extra 30 seconds onto the sentence. Keep increasing his time out period by 30 seconds until he gets the message.
Don't scare him
It's important that when you use this method you aren't too rough with him. If he becomes scared of you then controlling his behavior will be even harder. You need to remain calm throughout.
Exercise
Basset hounds need a good walk each day. You may find the barking comes from having too much built up energy. So, give him a decent walk and throw a ball or a toy while you walk. If he's napping all evening he won't be pestering you with his bark.
By James Barra
Published: 12/14/2017, edited: 01/08/2021
---