How to Train Your Deaf Dog to Stop Barking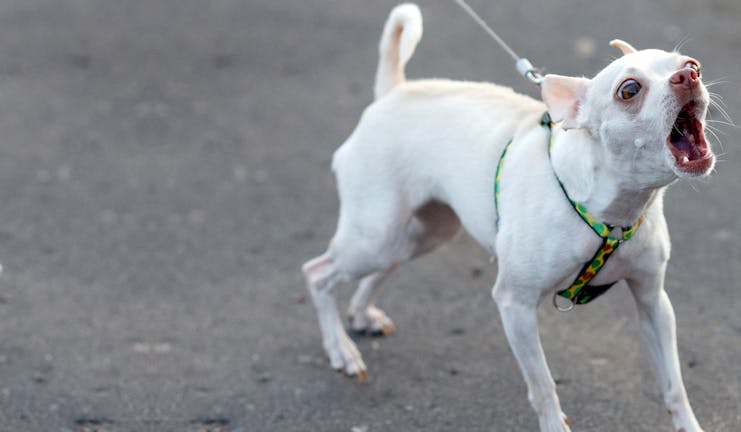 Introduction
One would think a dog that couldn't hear wouldn't be as apt to vocalize as much as a hearing dog. Unfortunately, this is not necessarily true! Dogs that are deaf may bark for a number of reasons, some the same as hearing dogs, some because of their hearing impairment. A deaf dog may bark out of increased anxiety or frustration due to their inability to hear. Even though deaf dogs cannot hear they can see, or come to associate certain activities like their owner approaching the door with someone arriving, and will bark in response to a person approaching, another dog passing by on the sidewalk, or a squirrel in a tree, the same as any other dog would. Most people train their dogs not to bark, or to stop barking, by giving verbal commands. Obviously, this will be ineffective with a deaf dog that is unable to respond to audible commands, so owners of deaf dogs need to find other ways to teach their dogs to stop barking.
Top
Defining Tasks
When a deaf dog is barking, owners need to get their dog's attention and then provide them a non-audible command to stop barking. A dog that incessantly barks and cannot be stopped is annoying, not just to their owners, but to neighbors and anyone else within hearing distance, so being able to stop your dog from barking is an important skill. Teaching a deaf dog to stop barking is not necessarily any more difficult than teaching a hearing dog to stop barking, but it requires an alternative method to get your dog's attention, and a non-verbal command to cease barking. Many dogs do not develop deafness until they are older, and teaching an older deaf dog to stop barking is a matter of substituting a new visual or tactile command for the previous verbal command. A puppy that experiences deafness will need to be taught not to bark just like any other young dog would be taught, just with an alternative method of communicating the 'stop barking' signal.
Top
Getting Started
Ensure you understand what triggers your dog to bark, so you can use these stimuli to teach your dog to stop barking. Have treats available to reward compliance and any equipment that you will use to get your dog's attention and communicate the 'stop barking' command, such as a light source or vibrating collar. You may employ an assistant to create situations in which your dog begins barking. You will need to conduct training over several weeks, as situations in which your deaf dog barks arise and provide the opportunity for training, so you will need to have treats and tools for signaling your dog readily available and on hand at all times in order to maintain consistency.
Top
Vibrating collar
Provide your dog with a vibrating collar to attract their attention when you want to give them a command. Note this is not a shock collar, but a collar that gently vibrates to provide tactile stimulation and get your dog's attention. Vibrating collars are used to get a deaf dog's attention prior to providing a command in many different situations, and a deaf dog that is trained to attend to you and wait for your command, should orient to you when signaled with the vibrating collar.
Alert
When your dog barks, wait for them to pause in their barking and then signal them with the collar to get their attention.
Signal
Give a hand signal for 'stop barking' that is an alternative to a previously learned audible signal, or in a young dog, introduce a visual hand signal asking them to stop barking.
Reward
Provide a treat immediately.
Practice
After repeated cycles of barking, pause barking, vibrate, attend, hand signal, and treat, your dog will come to associate the 'stop barking' hand signal and treat provided with a cessation of their barking behavior. Going forward, you can provide the hand signal to signal your dog to stop barking if they can see you, or use the vibrating collar to get your dog's attention followed by the visual signal.
Trigger barking
Employ an assistant to create a visual stimulus that starts your deaf dog barking, such as walking by the house or approaching the door. Have your dog on a leash waiting for the event.
Capture quiet
When the event happens and your dog starts barking, wait for them to stop, even just for a moment to catch their breath, then signal your dog with a flashlight aimed at your dog's feet and provide a treat.
Practice
Repeat the procedure every day for a few minutes each day. Provide the light signal as soon as your dog hesitates in their barking and looks at you and provide a treat.
Add signal
After several days of practice, when your dog has come to associate the light signal with stopping barking and getting a treat, start adding a hand signal to signal your dog to stop barking.
Reinforce
Eventually you can use the light to get their attention and provide the 'stop barking' hand signal to communicate to them to stop barking. If the dog can see you, just use the hand signal without the light. Continue to practice and reinforce over a period of weeks, until you can provide just the hand signal, or get attention with the light and then hand signal your dog to cease barking.
The Alternative Behavior Method
Make a place
Provide your dog with a mat or crate, where an activity such as a chew toy or puzzle feeder is present. Make sure this is a safe, positive place for him, and not associated with punishment.
Trigger or wait for barking
Engage an assistant to create a situation where the dog barks while your dog is on a leash, or wait for your dog to bark due to boredom or frustration, and then put them on the leash.
Signal
Give your dog a signal, such as hand signal or light signal or use a vibrating collar and then take them over to their mat or crate.
Diversion
Once at their spot, provide a treat, toy, or chew toy, such as a rawhide bone to reward them for not barking, and provide an alternative activity to barking such as a puzzle feeder. With a toy or chew in their mouth, not only are they distracted from barking and rewarded for quiet, but having an item in their mouth makes continued barking difficult or impossible.
Practice
Repeat this procedure frequently every day, until the signal causes your dog to stop their barking behavior and go to their target spot to receive their toy, activity or treat
By Amy Caldwell
Published: 01/02/2018, edited: 01/08/2021
---