How to Train Your Dog to Stop Barking at Bikers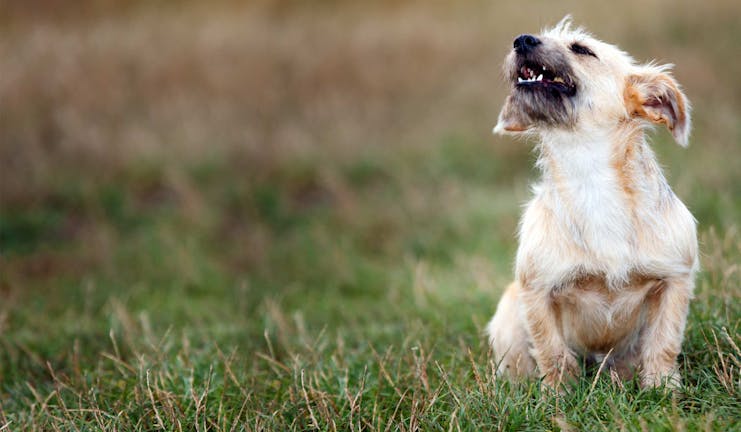 Introduction
It is important to get your dog plenty of exercise by taking him for regular walks and play sessions at your local park. Doing so will not only keep him healthier, it will help keep his mind stimulated and ensure that he enjoys a high quality of life.
But some dogs exhibit behavioral problems that can make regular park visits difficult. For example, many dogs become overstimulated by cyclists and react to their presence by barking and lunging aggressively. This is not only embarrassing for owners, it can be frightening for the cyclist. It can even be dangerous if your dog slips his leash and chases after the biker. Fortunately, you can put an end to this behavior by teaching your dog the 'let's go' command, desensitizing him to bikes and cyclists, or redirecting his attention elsewhere. 
Top
Defining Tasks
Dogs often put on frightening displays in response to cyclists, but that doesn't mean they want to hurt anyone; fear and anxiety are at the root of most reactivity problems. Accordingly, the best way to diffuse these anxious feelings and put an end to the barking and lunging is to redirect their attention elsewhere. The 'let's go' command works well in this regard, and it can also help stop reactivity to other common triggers, such as mailmen, large trucks and children playing outside.
It isn't terribly difficult to teach your dog the 'let's go' command. Most dogs would rather focus on their pet parent than anything else, so the command doesn't require you to get your dog to do anything he doesn't already want to do.
Reactivity is most common in adult dogs, but you can teach the 'let's go' command to canines of any age, including puppies that are at least 12 weeks old. 
Top
Getting Started
To start training your dog to stop barking at bikers, you will need:
A sturdy leash 

Treats or toy

Clicker (optional)

Patience 

You'll want to start the training process in a quiet, controlled location. You can do so inside if you like, but your backyard is probably the best location. As your dog begins learning the command, you'll want to find a location in which he can see bicyclists from a safe distance.  
Top
Go to a training spot
Start your training session by going out to your backyard and letting your dog sniff around a bit. Be sure to have your dog on a leash. Have some treats or your dog's favorite toy in your non-leash hand. Place your clicker (if you choose to use one) in your leash-holding hand.
Introduce the command
Give the 'let's go' command, pull gently on the leash, and begin walking in the other direction. Be sure to put a little excitement in your voice when doing so, as the goal is to convince your dog that you are about to do something fun.
Reward your dog
As soon as your dog shifts his focus to you and starts following along, reward him. Give him a treat or toss him his toy and praise him verbally. Sound your clicker at this time if you are using one.
Lather, rinse, repeat
Let your dog start exploring again. Once he starts investigating something, issue the 'let's go' command as you did previously. Reward him as appropriate and repeat steps 1 through 3 several times to drive the lesson home.
Use the command
Once your dog has become proficient at the new command, you can begin taking him to the park and working on the skill in the real world. Walk around with your dog as you normally would, but when he begins barking at cyclists, tell him "Let's go!" and begin walking in the other direction, just as you practiced. Be sure to remain a safe distance from cyclists at the outset, but gradually begin allowing your dog to get closer to the cyclists as he masters the skill.
The Cyclists Aren't Scary Method
Go to the park
You can help alleviate some of your dog's anxiety about cyclists by gradually exposing him to people riding bikes. Begin by taking your dog to a place where people frequently ride bikes but remain far enough away that your dog does not begin barking.
Watch the cyclists
Allow your dog to view the cyclists for 10 minutes or so. Don't try to focus your dog's attention on the cyclists; just hang out with him and let him view the cyclists at his leisure.
Stay cool
Keep things calm, light and positive while watching the bikes go by, but don't coddle your dog. The goal is to convince him that cyclists are harmless parts of the world.
Encourage
Encourage your dog's calm behavior with verbal praise, or even a few treats. He'll learn that staying relaxed is more rewarding than losing his cool.
Reduce the distance
Over the course of several training sessions, begin moving closer and closer to the cyclists with your dog.
Practice
As he becomes more familiar with the cyclists and his fears wane, he'll stop barking at those riding on bikes. Always try to stay far enough away that your dog doesn't begin barking, which will reinforce the behavior. If your dog begins barking, move back until your dog calms back down.
The Let's Do Something Method
Go to a training spot
Pick an area without bicyclists or other distractions, such as other dogs or children. Let your dog explore and sniff around.
Call your dog
Ideally, your dog will turn around and make strong eye contact when you call him. Note that you can make other sounds (such as a whistle or mouth click) to get your dog's attention if you'd prefer. Just be consistent with whichever method you choose.
Have him sit
Give your dog the 'sit' command as soon as he turns and meets your eye. You want your dog to sit down facing you and wait for further instructions. Praise him once he sits. Practice this step several times until your dog begins immediately turning and sitting when you call him or make a sound.
Give an easy command
Once your dog has learned to turn and face you upon hearing his name, begin issuing a second command. It doesn't matter what command you give, but it should be something easy that he does well. Lying down or barking are both good choices. Praise and reward him after he executes the command.
Repeat the process
With repetition, your dog will begin to expect you to issue a command when you call his name. This will help give him something fun, interesting and positive on which he can focus.
Introduce cyclists
While remaining at a safe distance, allow your dog to observe cyclists. Remain far enough away that he does not react or begin barking. Periodically call your dog while he is watching them. Hopefully, your dog will turn, sit down and wait for you to issue a command, as you've conditioned him to expect. This will divert his attention from the cyclists and help put an end to his barking and lunging.
By Amy Caldwell
Published: 12/21/2017, edited: 01/08/2021
---