How to Train Your Dog to Stop Barking for Food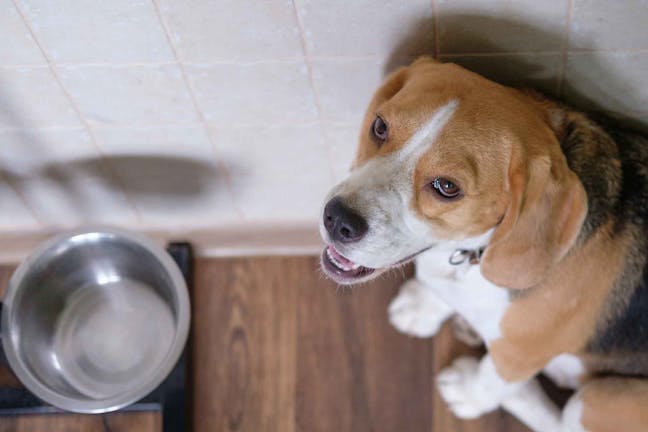 Introduction
Teaching your dog to "ask" for food by barking seemed like a good idea at first. But, now that he barks every time you sit down to a meal, grab a snack, or go to put food in his bowl, the charm has worn off. The official name for this type of barking is "on demand barking", which is when your dog barks in response to a specific stimulus. There are many ways for your dog to pick up this habit, feeding him as above is one of the more common ways.
Picture this, Jane is sitting down at the dinner table when her pup starts to bark excitedly for whatever reason. So, to get him to stop barking, Jane tossed him something off her plate as this seemed to be the easiest way to shut him up. Dogs have a habit of learning very quickly, especially when there appears to be a reward in the form of food. When Jane does this three or four times, the behavior will be firmly entrenched in his habit. 
Top
Defining Tasks
Now that your dog has developed the habit of barking or "asking" for food, you have to break him of this habit. The bad news is that it is far harder to break him of the habit than it was for him to acquire it. The longer you wait, the harder this habit will be to break. The good news is that if you are willing to put in the time and effort to train him, your pup will no longer bark at you every time you have food. The simplest command to use for this is 'quiet', try not to use anything too complicated as doing so will only serve to confuse your dog and make training him to be that much tougher.
Once you teach him this behavior, you will be able to apply the same training to any other time your dog barks and shouldn't. This includes barking at people or cars going by, people knocking on the door or ringing the doorbell. There are many things that can lead to "on demand barking", the hard part is trying to determine the various triggers so that you can work on teaching your pup to be quiet. 
Top
Getting Started
Before you can get started, you need to identify when your dog barks. Is it while you are sitting down to a meal, when you are on the couch with a snack, or when you are trying to feed him? Once you understand the triggers, it will be much easier for you to teach him to stop barking. However, you will need a few things, including:
Treats: As a reward for when your pup stops barking on command.

Clicker: If you are using a clicker for training, you can use this with your treats as a reward.

A quiet place: Training is always easier when you have a quiet place to work.

Patience: This will take some time, be patient

Once you know when and where he is barking, training him to be quiet won't be that hard. In no time at all, you will be able to sit down to a meal or a snack and not have to listen to your dog barking at you. 
Top
The Clicker or Marker Method
Teach the clicker or marker word
First, teach your pup to recognize the sound of the clicker or marker word such as "good boy" as a form of praise. Each time you hit the clicker or use the marker word and your dog responds to it, give him a treat, he will soon put two and two together.
Ignore the noise
When your dog barks, turn away from him and completely ignore him. When he quiets down, tell him he is a good boy and give him a treat. Be sure to do this, even if he only stops for a couple of seconds. Repeat this process over the course of several days.
Add the 'quiet' command
Now that you have his attention, add the command word "quiet" while he is barking. If he stops within say 10 seconds, praise him and give him a treat. Repeat this process, slowly reducing the time and rewarding him each time he succeeds.
Reverse the process
Reverse this process by adding time to how long he needs to be silent before he gets a treat. In time, he will learn not to bark when there is food present.
Repeat the training
Be prepared to repeat this training several times a day. It will take some time and patience, but having a dog who knows how to be quiet and not bark for food is a wonderful experience.
The Ignore the Noise Method
Sit down at the table with food
Sit down at your normal meal time with a plate of food.
Allow your dog to bark
Allow your dog to go ahead and bark as usual. But this time, instead of feeding him or worse yet yelling at him, ignore him completely.
No matter how bad it gets
No matter how much he barks or how much of a fuss he makes, keep ignoring him. Remain focused on eating your meal and if there are others at the table, carry on a conversation.
When he finally stops barking
When your pup finally gets tired of making so much noise and quiets down, say "quiet" followed by "good boy" and give him a treat
Be persistent
You need to be persistent. Every time he barks turn your back on him and completely ignore him until he stops barking, then give him the treat. He is going to severely test your patience, but stick to it and in time he will learn what is expected of him.
Pick up a bed for your dog
If you don't already have one, buy your dog a bed or a mat he can use as his safe spot. You will be using this throughout the training and he will be using for many years to come.
Place the bed
Put his bed in a location that will be easy for him to find and for you to send him to at meal times.
At the table
When your pup comes to the table and starts barking, take him to his bed and make him lie down on it. When he does, be sure to reward him with a treat and plenty of praise.
Each time he barks
Each time your dog comes up to you at the table or anywhere else you have food, send him to his bed. This will become his "go-to" place when he misbehaves. When he obeys, give him a treat. You may have to repeat this step multiple times before your pup finally gets the message.
No more treats
Once your pup has learned to go quietly to his bed, you have the option of sending him there before he starts to bark. It may take a while, but in the end, you and your family can enjoy peaceful meals without having to listen to your pup bark.
By PB Getz
Published: 11/10/2017, edited: 01/08/2021
---