How to Train Your Dog to Stop Being Afraid of Thunder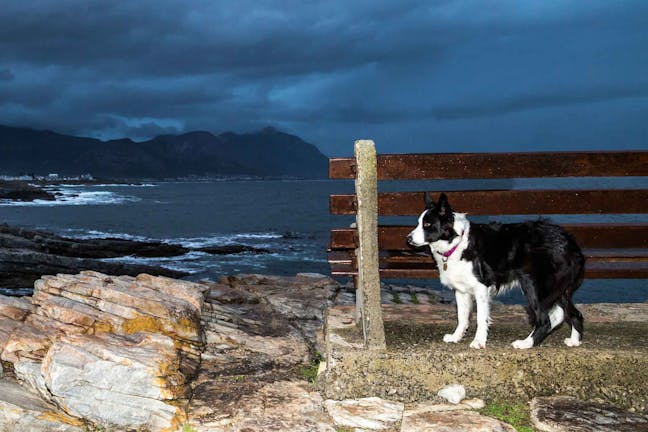 Introduction
It's 2am you've got an important day at work tomorrow--it's that big meeting that could mean the difference between getting that promotion you've always wanted or staying in the same miserable position you've been in for years. You've never needed a good night's sleep so desperately, but then it happens the dog starts howling... and then you hear the thunder. Do you love your four-legged friend desperately, but are sick of being woken up in the middle of the night or having to clean up the carnage left behind by their fear-of-thunder-fuelled rampage? Then it's time to take matters into your own hands and train your pooch to stop being afraid of thunder, for both of your sakes.
Top
Defining Tasks
Although not a command as such, it is important to train your pupper to stop being afraid of thunder, as very anxious dogs often do damage to themselves and their surroundings during a thunder-fuelled panic attack. They can destroy furniture and injure themselves in the process, for example, which puts your pooch in danger and could make for some very expensive vet bills and concern over your pooch's wellbeing. Although you want to train your dog to stop being afraid of thunder as soon as the initial problem develops, as you are more likely to have success this way before it becomes a permanent and learned behavior, you can try with older dogs also. However, if the problem is very severe you may need to enlist the help of a veterinarian, medicating your pet accordingly, if they are a risk to themselves. This will be a difficult task to achieve, as it is difficult for pooches to overcome fear and the time it will take is very much dependent on the particular pooch.
Top
Getting Started
There are a few different ways to try and stop your pupper being afraid, and the equipment you'll need depends on the approach you're going to take. Toys and treats can work as a pleasant distraction from the scariness of a storm; it can also be a good idea to have items that you don't mind being destroyed, such as an old toy or rawhide bones, which your pooch can focus his energy on. Over the counter medications from the vets may also be worth a try, such as pheromone diffusers or anti-anxiety tablets. Create a comfy place for your pooch to hide in; if you're going to manage his environment, it could be a good idea to have a little sound proof den for him. Most of all, remember to be patient and not to reprimand him as this will only increase his sense of fear, instead be reassuring, calm and patient.
Top
The Fun And Distractions Method
Play!
When the storm starts, pick up your dog's favorite toy and start playing in the rain and distracting them.
Gauge the response
If he seems less fearful when you're doing this, give him a treat and tell them what a good boy he's been.
Try walking in the rain
Try and get rid of those bad habits by walking your dog in the rain during the thunderstorm and playing with him. If they respond well, give them a treat. If they're very fearful, take them back in--it's not worth risking your pooch's safety, as the last thing you want is him running off.
Give him a chew toy
Give your dog an item which you don't mind being chewed up or one that is designed for chewing. Rawhide bones are a good choice.
Be gently reassuring
By all means, console your dog and let him know that you're there for him, but don't do this overly so or spend all your time reassuring him, as this will just reinforce his fear that there is something he needs to be protected from.
The Adapt the Environment Method
Safe spaces
Give your pooch a safe place to hide away in, such as putting his bed in a quieter part of the house, out of the way of the noise.
Make everything quiet
Close the curtains or the blinds and try to drown out as much noise as you possibly can.
Distraction noises
You could play some soothing music or turn up the TV in order to mask the sound of thunder.
Stimulate other senses
There are various remedies available at pet stores, such as calming wraps, that might be worth a try on your pooch.
Reward calm behavior
If the above steps are working and he's settled down, give him a tasty treat and some praise to let him know that there's nothing to be afraid of and this is the way he should behave.
The Aids and Medications Method
Over the counter tablets and liquids
There are many preparations you can buy, such as anti-anxiety tablets made from natural ingredients. However, these often have to be used well before the event of a storm, so make sure you use them far enough in advance.
Plug in a diffuser
Pheromone diffusers remind your pooch of when he was with his mother and so often have a lovely, calming effect. You could try plugging one in and seeing if that makes a difference.
Give it a spray
Although likely not as effective as a diffuser, pheromone sprays can be bought and sprayed on your pet's bedding to make them feel calmer.
Visit a vet
If none of the above steps are working, it may well be time to call on the help of a vet and get some stronger medications for your pet, particularly in the instance where your pet is so fearful that they are injuring themselves and destroying the home.
Visit a behaviorist
Again, if none of the above steps work, it may be time to also enlist the help of a professional behaviorist if living with your pupper is becoming hard work and particularly if they are also developing other fears. They may be able to give you some more pointers of where you're going wrong with your pooch.
By Catherine Lee-Smith
Published: 11/01/2017, edited: 01/08/2021
---