How to Train Your Dog to Stop Chasing Bicycles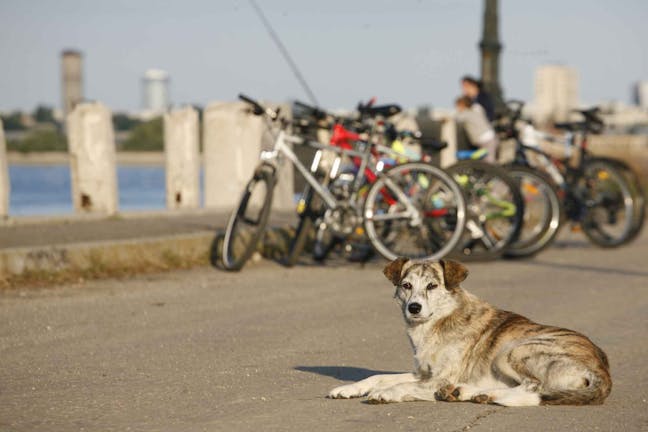 Introduction
Sparky is a sighthound. For generations, dogs like Sparky were carefully chosen and bred for their ability to respond to prey that crosses their field of vision and chase the prey down for their masters. Today, however, Sparky lives in a quiet suburban neighborhood. No prey here to chase, just lots of kids and adults on bikes!  What do you think Sparky is inclined to do?  His predatory instinct and generations of ancestors chosen for their ability to aid their human handlers running after anything that moves across their field of vision are now a setup for disaster. 
If Sparky is allowed to chase bikes, the person on the bike could become startled, or knocked over and hurt, Sparky could run out into traffic and be struck by a car or could get tangled up in the pedals or spokes of the bike and be injured. Nothing good is going to come of this unless Sparky's owner teaches him to stop chasing bikes!
Top
Defining Tasks
While it may be natural for your dog to respond to a fast moving object, like a bike, by chasing,  this behavior can be extremely dangerous for the people riding the bike, and for your dog. It is important to teach dogs from as young an age as possible not to chase cyclists, for their safety and the cyclists'. You will want your dog to ignore a cyclist when they pass by, behaving in a calm, quiet, manner and resisting the urge to chase after the bike. Introducing a command to 'leave' the bike or an alternative behavior to perform when a cyclist goes by are both effective ways of changing your dog's chasing behavior when presented with a moving bicycle. You can even teach your dog to run next to a bike on a leash to introduce a different way of viewing a bike, as a pack member instead of prey. This will help change how your dog views and responds to a bicycle.
Top
Getting Started
While training your dog to stop chasing bicycles, it will be useful to have an assistant on a bicycle that understands what you are working at accomplishing, and who is not afraid of your dog. You do not want to frighten or startle an unknown cyclist while training your dog and have someone get hurt. You will need a sturdy leash and halter so that your dog does not get injured if they lunge at the bike and need to be restrained. Treats to redirect behavior may also be appropriate. You can even use commercially available leashes, appropriate for training your dog to run alongside a bicycle, to teach your dog to run alongside a bicycle for exercise and change your dog's view of the bike.
Top
The Alternative Behavior Method
Teach 'turn and sit' command
Teach your dog to turn, sit and look at you. Provide treats, and use a clicker if appropriate to establish the behavior in a quiet environment. Take your dog out into your yard where other distractions are present and practice the 'turn and sit' behavior. Continue to reinforce and reward.
Practice outside
Take your dog about the neighborhood on a leash. Periodically provide the 'turn and sit' command when distractions like kids, dogs, and squirrels appear, to ensure that your dog performs even when motivated to attend to something else.
Introduce bike
Have an assistant ride a bicycle several feet away from you and your dog while your dog is leashed. When your dog sees the bicycle approaching and gets excited, give the 'turn and sit' command.
Reward 'turn and sit'
Reward when your dog complies. If your dog tries to chase, correct, and repeat, have your assistant increase their distance away until your dog responds to your command appropriately. Have your assistant bring the bicycle closer, as long as your dog responds to the turn and sit command.
Practice off leash
When your dog is consistently turning and sitting when the bike is ridden closely by, remove the leash and practice 'turn and sit' off-leash and with the bicycle at a distance. When successful, gradually move the bicycle closer. Continue commanding alternate behavior. Move back to a previous step if necessary and repeat.
Teach 'off'
Put your dog on a leash in your home. Roll a tennis ball from one end of a room to the other or down a hallway. When your dog proceeds after the ball, say "off" and tug the leash. Do not let the dog touch the ball.
Practice outside
Practice until your dog learns to leave the ball when you say "off". Practice off leash, reward your dog for complying. Use a larger ball and move outside to the yard where there are more distractions. Repeat, reinforce your dog for responding appropriately.
Introduce bike
Have an assistant ride a bicycle by, keep your dog on a leash. When your dog gets excited or pulls toward the bicycle, say "off" and pull back if necessary.
Reward 'off'
When your dog relaxes and responds, reward. If your dog still pulls, repeat but with the bicycle farther away.
Repeat and move bike closer
Gradually move the bicycle closer as your dog responds obediently to the "off" command. Practice off-leash when behavior is established.
Walk next to bike
Walk your dog on a regular leash alongside your bike so your dog gets used to walking with the bike, and learns not to become entangled with it. Give him a treat for walking in a controlled method beside your bike. Ensure you go over different terrain and obstacles such as curbs and through puddles, just like you will when you are riding.
Introduce verbal cues
While walking with your bike and dog, teach your dog some verbal cues such as 'slow', 'fast', 'stop', 'away', and 'close' to control how fast they are going and where they are in relation to the bike. Turn your bike, do u-turns, and start and stop abruptly. Reward your dog's good responses.
Introduce special leash
Introduce a specialized bike leash and continue walking with your dog and the bike.
Start riding
Get on your bike and start riding slowly as your dog jogs alongside your bike. Make short trips, stop often, and praise and reward your dog for appropriate behavior, like not pulling and responding to verbal commands.
Increase difficulty
Work up to longer rides and more difficult situations, with other cyclists, dogs, and traffic.
By Laurie Haggart
Published: 11/02/2017, edited: 01/08/2021
---