How to Train Your Dog to Stop With a Whistle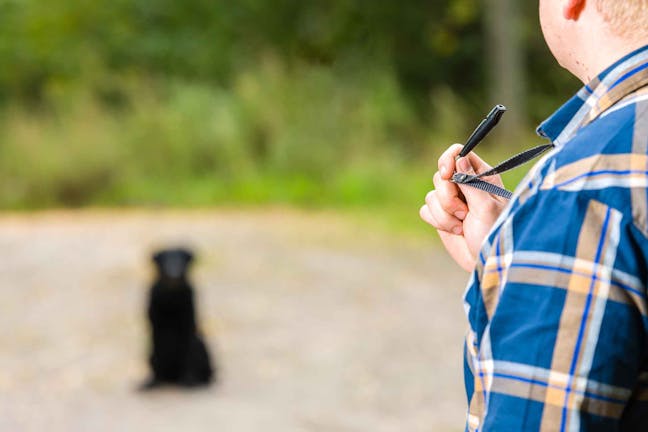 Introduction
You're out on a pleasant walk when your dog tenses up and all of a sudden bolts. You peer towards the horizon and see a deer a couple of hundred yards away. You don't normally mind when he gives chase, but there's a road between him and the deer and you know he won't be stopping for it. You shout his name but to no avail. What you need is a quick and effective way to bring him to an instant stop. Shouting can work, but if you're in a busy or noisy environment then you need something sharp to cut through the background noise. 
A whistle works perfectly. Just a short blow into a whistle and you'll have the perfect way to bring him to a stop wherever you are. Training him to a stop with a whistle could save his life one day when he's tearing towards busy traffic.
Top
Defining Tasks
Training your dog to stop with a whistle isn't as complicated as you might think. You need to use tasty treats or his favorite toy to motivate him to respond to the whistle. With rigorous and consistent training he'll learn the whistle is a cue to do something, such as stop. If he's a puppy he should be a quick learner and you could see results in just a few days. If he's older and he's never been one for following instructions, let alone taking notice of a whistle, then you may need 10 days.
This training will also help you assert control over him in general, making it easier to train him a range of other commands too. You can also use it to bring him to a stop when he's around other dogs. It might take a few frustrating sessions to start with, but it will come in handy numerous times over his life.
Top
Getting Started
Before you get to work you'll need to get hold of a few things. You may want to invest in a whistle if you don't want to use your fingers. They can be bought from a range of online stores. You will also need a decent stockpile of mouth-watering food and treats.
Set aside 15 minutes every couple of days to commit to training. You'll need to do this training in a large yard or a field. Try and train during times when you will be free from noisy distractions.
Once you've got of all that, it's time to grab your leash and get to work!
Top
The Traffic Signal Method
Head out
Head out into a field with your canine pal at your side. Make sure you have a pocketful of treats and a whistle in tow. Also, try and keep his attention on you by talking quietly to him.
'Dexter'
When you're walking, stand still, then call his name in a clear voice and hold your hand up like a traffic signal. The hand signal will puzzle him, causing him to halt--which is exactly what you want.
Reward
As soon as he stops, smile at him and call him over. Then hand over a tasty treat and give him some verbal praise. To start with, you need to reward him even when he stops for just a couple of seconds.
Whistle
Now carry on practicing this, but slowly build up the length of time you leave him there waiting before you call him over. At the same time stop shouting his name and just whistle while using the hand signal. Over several sessions he will learn to associate the whistle with the behavior.
Lose the traffic signal
Once you think he's starting to get the hang of it, stop using the hand gesture and just rely on the whistle. Keep increasing the time you leave him waiting and start giving the command from farther away too. Once he's performing the 'stop' correctly you can start to cut out treats.
Whistle
Take him out as you normally would and start close by, then give a loud whistle. As soon as he looks round to see what's going on, you're going to look directly in his eye and hold out a treat in front of him.
'Sit'
Now issue a 'sit' command in a firm voice. Be clear but keep it relatively upbeat, he'll learn quickly if he thinks it's a game. You don't have to him sit, you could have him drop 'down' or any other command. Having him perform a trick afterwards will help signal to him that when he hears the whistle he needs to stop to do something.
Reward
As soon as he performs the secondary trick correctly, give him the treat you've been holding out. Also talk to him in an animated voice and cuddle him to show him he's behaved correctly. Practice this several times for the first few sessions.
Lose the second trick
Once he starts to get the hang of it you can focus on the 'stop'. Once you've whistled, leave him there looking up at you for a while. Then give him the treat and praise. He'll now start to realize all he has to do to get the treat is stop for you.
Lose the treats
Practice this until he stops quickly and consistently with just a short whistle. When he's into the swing of it you can gradually cut out the treats. The whistle alone should do the trick.
Extendable leash
Secure him to an extendable leash and head outside. You're going to use the leash to bring him to a stop the first few times until he catches on. Make sure you've got a generous number of treats with you.
Whistle
Walk for a little while, then pull tight the loose leash so he'll be forced to stop and then whistle at the same time. Whistle loudly to start with, the startling noise will probably automatically cause him to stop.
Reward
As soon as he does stop, wait silently for a couple of seconds, then go over and give him a treat. It's important you go over to him, that way he'll know in future he has to wait for you to release him from his 'stand still' position. Really shower him in verbal praise. The happier he feels the more he'll want to do it again.
Increase the time
Practice this as you walk for the first few walks. After a few times you can increase the length of time you leave him waiting there. Make sure you build up the time gradually and keep the treats and praise decent.
Lose the leash
After several sessions, when he's starting to get the hang of it, you can take him off the leash and continue practicing. By now he'll understand what you expect from the whistle and he should 'stop' all by himself. Once you can call him to stop with a whistle. even from a considerable distance, you can gradually start to cut out the treats.
By James Barra
Published: 11/07/2017, edited: 01/08/2021
---