How to Train Your Dog to Swim in a Pool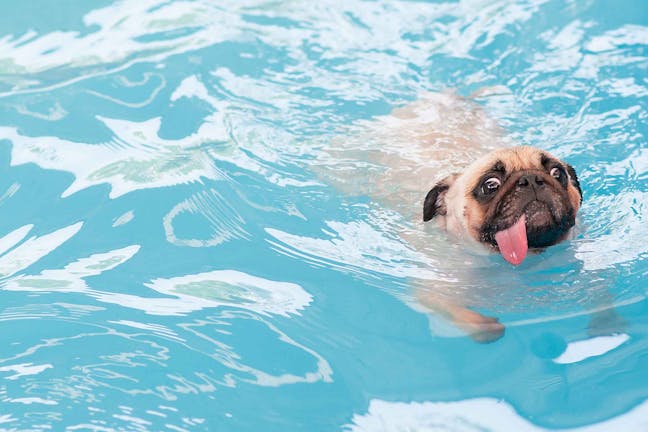 Introduction
So you have a backyard pool, and you want your dog Misty to be able to swim in it. Should be no problem, dogs know how to swim naturally right? Wrong! Swimming is not a natural behavior for dogs, and although many dogs seem to take to it like "ducks in water", giving rise to the myth that dogs swim naturally. In reality, not all dogs learn to swim quickly, or easily, and some dogs are not able to swim at all due to physical inability. So if you want Misty to join you for a pool party, you are going to have to figure out what category she is in: is she able to learn to swim, does she needs lots of help and training to learn to swim, or is she going to swim like a fish?
Even if you have a dog that is an excellent swimmer, dogs should never be allowed unsupervised in a pool as it can be difficult for them to get out of the pool if they get overtired or confused. A dog can only exit via steps in a pool, not a ladder, and not by jumping or pulling themselves out on the side, and this presents a safety hazard. Dogs can drown in a pool if they can not figure out how to get out and become exhausted. You should make sure your dog cannot access the pool unsupervised by fencing off your pool--a good idea to protect children as well. That being said, learning to swim in a pool can be a safety benefit, by providing a controlled environment for your dog to learn to swim before taking your dog into open water. It also presents an excellent opportunity for physical and mental exercise, play, and recreation. You just need to take some precautions to prevent any mishaps. Misty should benefit from learning to swim and have lots of fun with her family in the pool.
Top
Defining Tasks
Dogs that are going to use pools for swimming need to learn where to enter and exit the pool.  This is very important as they can not climb upright ladders or pull themselves up on the sides of the pool like we can. Dogs need stairs and if these are not available you will have to create steps with cinder blocks or commercially available pool stairs. Once your dog can get in and out of the pool, you may need to provide support while your dog learns to doggie paddle, by proving a life vest or holding your dog. 
Be sure to determine whether your dog is capable of learning to swim first, some dog breeds, those with short legs, or who are especially lightweight, may not be able to swim.  Breeds that experience problems swimming are pugs, bulldogs, basset hounds, and dachshunds. If you have a dog from one of these breeds they will not be able to swim in your pool unaided,  they will always require a lifevest. Also, some dogs, even of strong swimming breeds, may have physical problems like arthritis or orthopedic conditions that prevent them from swimming proficiently.  In these cases, support will need to be provided in the form of a life vest and physical assistance getting in and out of the pool. Puppies can learn to swim, but require close supervision in a pool, and may get excited and forget how to get out of the pool, became distracted and confused, or panic. If training a young dog to use your pool you will want to take extra precautions.  
Some dogs are reluctant to get in the water at first; this does not necessarily mean they will not learn to like the water and be good swimmers, some dogs just need some encouragement to learn that the water is fun and gain confidence in their swimming ability. Training to achieve this so your dog can share your pool activities is possible, just be sure to pay attention to your dog's signals. Although there are many things you can do to introduce your dog to water and help him overcome resistance, if your dog is afraid or truly reticent, do not force your dog to swim, make sure this activity is fun for your dog before proceeding with training your dog to swim in a pool.
Top
Getting Started
There are several things you will need to ensure are in place before starting training your dog to swim in your pool.  First of all, make sure there is a good, safe way for your dog to enter and exit the pool.  Non-slip steps must be in place, dogs cannot use ladders, and cannot pull themselves up on the side of a pool. Cement blocks or commercial steps are required for your dog to use the pool. Also, if your dog is using the pool, you may need to put more chlorine in your pool to keep it clean. Your dog will need to have this chemical rinsed off after using the pool, so make sure you make preparations to get pool chemicals off your dog--and dry your pup off if you don't want wet dog smell in your house!  
Many owners introduce their dog to swimming using a life vest, these are available for dogs from pet stores and it is important are the correct size and fit well. Other training aids that you can use include, clickers, treats, kiddie pools, and toys. Remember to make sure your dog does not have access to the pool unattended, it is possible for dogs to drown in pools, especially if they become disoriented and cannot get out of the pool on their own. All pools should be fenced off to protect pets and children.
Top
The Step at a Time Method
Introduce step one
Put your dog on a lead and encourage him onto the first step of the pool, where he can stand with his head out of the water.
Reward
Provide treats and praise when your dog stands quietly in the water.
Practice
Have your dog get in and out of the pool on the first step, repeat often over a few days. This gets your dog accustomed to the water, and reinforces how to safely enter and exit to the pool.
Move deeper
Have your dog step onto the next step, deeper into the water. Lead your dog on and off the first and second steps. Continue on to the next step until your dog can no longer stand with his head comfortably out of the water. If your dog is too small to stand on the next step, put a life vest on him and hold him close to your body as he steps off into your arms.
Support in water
Gradually coax your dog into the water, supporting your dog under his belly so he can move his legs in a swimming motion. You can leave a life jacket on your dog or just support him depending on your dog's comfort level with the water.
Move through water
Move your dog slowly through the water close to the stairs, as he begins to paddle and move his legs to swim. Reduce support slowly.
Remove support
Gradually release your dog as he moves through the water. If your dog is using a life vest, repeat steps without life jacket until your dog is swimming on his own.
Practice enter and exit
Always take your dog back to the steps and encourage him with a leash, or by calling him out of the pool on his own, if possible. It is important your dog knows how to exit the pool on his own.
The Capture and Shape Method
Introduce dry kiddie pool
Set up a kiddie pool, without water in it. When your dog investigates the pool, click and reward.
Reinforce entering kiddie pool
When your dog steps one paw in the pool, click and treat. Wait for two paws in the pool, then 3 then 4, before clicking and treating.
Increase time
Reinforce the dog for staying, standing longer in the kiddie pool. Delay click until dog remains standing in pool.
Add water
Add water to the pool, just a few inches, when your dog steps in, click and treat, require your dog to remain in the pool longer, click and treat, add more water until the kiddie pool is full and the dog steps in, click and treat.
Move to big pool
Move to the swimming pool, go into the water with your clicker and treats, when the dog steps onto the first step, click and treat.
Advance into pool
Move further down into the pool, as your dog advances into the pool, click and treat. Have the dog step on to the lowest step they can comfortably stand on, click and treat.
Support in water
Ask your dog to step into your arms. Support your dog as they learn to move their legs, gradually remove support as the dog learns to swim on their own. You can use a lifejacket to help support your dog.
Reinforce exit
Make sure you show your dog how to exit the pool, click and treat when your dog approaches the stairs to exit the pool, click and treat for using the stairs to exit the pool
Lure to dry pool
Start with a kiddie pool with no water in it. Toss a treat in the pool for your dog to get.
Lure to kiddie pool with water
Fill the kiddie pool with a few inches of water. Toss the treat in for your dog to fetch or get in pool and coax your dog in with a treat.
Lure to pool's first step
Move to the large pool when the dog is comfortable stepping in water. You should stand on the second step and lure your dog onto the first step with a treat.
Lure down steps
Move further into the pool, hold a treat as a lure and ask your dog to step deeper into the water onto the next step. Continue down the steps as far as your dog can comfortably stand with head out of the water. Lure with treats.
Lure to swim with support
Have an assistant help you while you support your dog, by holding a treat in front of your dog, encouraging your dog to swim towards the assistant, stepping off the stairs into the water. Provide treats when the dog starts moving legs to propel himself through the water.
Remove support
Gradually remove support, and continue to encourage and lure your dog with treats as he learns to propel himself through the water.
Lure to swim solo
Once your dog is comfortable swimming unsupported, stand on the edge of the pool at the top of the stairs and throw a treat into the pool to encourage your dog to go swim in the pool without your support.
Lure to exit
Lure your dog back to the stairs and throw treats up onto the pool deck to encourage your dog to follow the treat up the stairs on the deck to establish exit.
By Laurie Haggart
Published: 10/26/2017, edited: 01/08/2021
---