How to Train Your Dog to Track Humans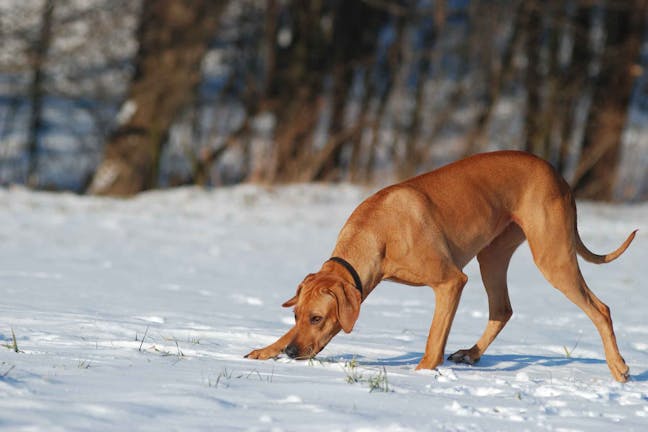 Introduction
Your pup has a wonderfully sensitive nose that can smell things such as human scent and then follow it to its source. What you may not realize, is that your pup has been using his nose to track since the day he was born. How, you ask? When your pup was born, his eyes were closed, yet he still had to find his way to his mother in order to nurse. To do this, he used his sense of smell to locate his mother. The goal of this training is to take this natural skill, refine it, and teach your pup to use it for a particular purpose.
The early you start training your pup the better, but you can also teach this skill to older dogs. However, training older dogs can be more challenging and take longer. You can train your pup to track humans over grass, snow, and on hard surfaces such as tarmac or concrete. 
Top
Defining Tasks
The task is a little different than most types of tracking in that you are going to be asking your pup to track humans. Unlike animals whose scents are very similar by species, humans all seem--at least to us-- to have extremely different smells. However, no matter how you look at it, training a dog to use his nose to track humans is really not that different than teaching him to track any other form of game. A well-trained dog can track humans via the trail they leave on the ground and by sniffing the air.
Once you teach your pup how to track by scent, you will be able to give him an item from the person to be tracked and he should have no problem tracking them down. However, just as you have probably seen on TV, your pup can only track via air or ground. If his quarry goes into water, your pup will not be able to track them anymore. 
Top
Getting Started
You can teach most dogs to track, though some breeds are much better at it than others. When it comes to age, the earlier you can start training your pup to track the easier it will be for him to master this skill. However, there are a few supplies you need to gather, including:
Treats

A leash

A harness

A spray bottle

Several small flags

Some distilled water

Hot dogs

The key to this training is understanding that while your dog may be a natural sniffer, he still needs to be taught how to use that big snout to track down your quarry, which in this case just happens to be humans. Be patient, be consistent,  practice frequently, and keep practicing even after he seems to have mastered the skill. Remember, practice makes perfect. 
Top
Gather your training supplies
For this, you will need a few packages of cheap hot dogs, shoes you can use for training that you don't mind getting hot dog squished on the soles of, treats, and a large yard or field to work in.
Get an early start
The best time to start training your dog to track is early in the morning when the grass is clear of other human smells. Tie your pup so he cannot follow you. Take two chunks of hot dog (about 1 inch long) and smash them into the ground, one piece per foot. Not only does this release the scent of the grass, but it smears the smell of the hot dogs on your feet.
Turn and walk away
Turn and walk away from the spot, using the smell of the hot dogs and grass and your feet to create a trail. As you walk along, drop a small piece of hot dog every 6 to 10 feet. After your trail is about 20 to 30 feet long, place one of your gloves or a hat on the ground and place a treat on top of it.
Release the hound
Go back to the starting point and release your pup. Take him over to the starting area and encourage him to sniff at the ground where you smashed the hot dogs. Give him a "find it" command as he sniffs around. If he starts following the trail on his own, quietly praise him with a " good boy!" and let him lead you down the trail. Repeat this until your pup will automatically start searching for your scent each time you create a new trail. By now he is tracking the combined smell of the crushed grass, the smell of the hot dogs, and the crushed grass you were stepping on later.
Mix it up
Once your pup can track you on straight tracks, time to start mixing it up by making sharp turns, doubling back on yourself and trying to confuse him. As he masters his abilities, try having other people create starting points and trails without hot dogs. Give your pup time to "acquire" the scent of your assistant and then watch him track your friend to a hiding place.
Create a bottle of your scent
This is the fun part, you need an article of clothing that contains a heavy concentration of your sweat. Try your gym clothes or a pair of work socks you have been wearing for several days so they are really stinky. Soak the item in a bowl filled with distilled water (distilled water has no odors, whereas tap water has plenty to confuse your pup) for a few days and then put this "disgusting" water in the spray bottle and label it clearly for everyone else.
Get ready to go outside
Grab your rubber boots, spray bottle, treats, leash, some flags, and leave your dog inside or in a crate if you had to go somewhere else besides your backyard for training. One little trick, get your pup excited and ready to go tracking by asking him in an excited voice "are you ready to go tracking?" over and over again, getting him all riled up.
Mark your starting point
Go out to an area of grass where no one else has been walking so far today, put your boots on and spray the soles and uppers with your special blend. Scuff your way around a 4-foot by 4-foot patch of grass, making sure to get spread your scent thoroughly in the grass. You may want to respray and go over the area a second time at first. While you are walking around, drop chunks of hot dog or puppy treats all over the place. Use flags to mark the corners so you know where they are.
Bring on the dog
Bring your dog over to the patch on his leash and tell him to "find it" while he sniffs around and finds the treats you left for him. Each time he moves towards the next treat, quietly praise him, if he seems to be a bit confused, try helping him at first by pointing out the treats.
Happy trails to you
Once he has mastered finding the treats in the scent patch, you can start using the same method to mark trails, making them longer and longer until he can track you easily. Try having other people make trails and give you a piece of clothing for your dog to sniff. He should automatically be able to follow that scent just like he does yours. The more practice, the better he will become at tracking humans.
Have a good sniff
Give your dog an article of your clothing such as your... ugh, dare I say it... underwear, or old stinky socks to play with, sleep with, chew on, for a few days. This is to give him plenty of time to get used to the scent so that he can recognize it anywhere.
Play a little hide and seek
Place your pup in a room with the door closed. Take the item of clothing and hide it in plain sight for your pup to find. Now release your dog and tell him to go "find it". The first few times you may have to guide him to give him the idea. As he gets better at finding the easy to see item, start hiding it out of sight so that he has to use his nose to track down item by scent alone.
Outdoor training
If necessary, use a different item of clothing with a fresher dose of your scent. Go outside without your pup and use the clothing item to create a trail by dragging it along the ground and then leaving it at the end for your pup to find. Walk back down the trail you just made to avoid creating a second trail.
Let your pup out
Let your pup come out and give him the "find it" command. He should start looking for your scent at this point and take off down the trail, following it to the end where you left the item of clothing. Each time he does this reward him with a treat and praise.
Work in progress
Keep repeating this training making the trails harder to find each time until he can follow your trail virtually anywhere. Start working with other people until you can give your pup an item of clothing and he can successfully track them down anywhere.
By PB Getz
Published: 11/30/2017, edited: 01/08/2021
---