How to Train a Border Collie to Herd Chickens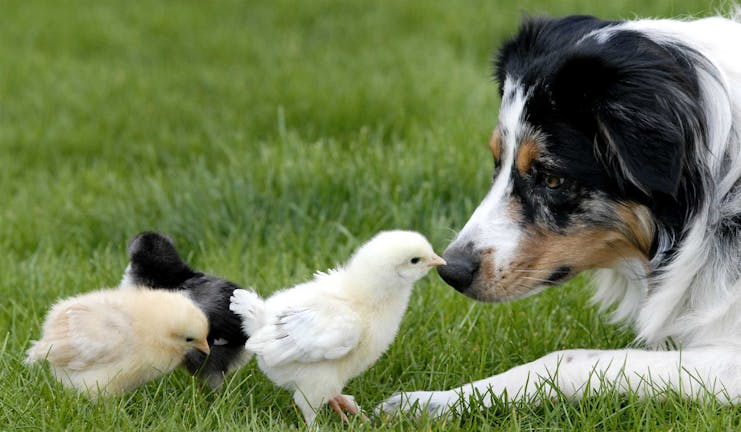 Introduction
Everyone should have their own flock of chickens, if only for the eggs. If you are going to have chickens, then why not a Border Collie to herd them around the yard and back into their coop at night? Trying to do this on your own presents its own unique set of interesting problems, but when you have a well-trained pup working with you, the whole job gets just that much easier.
Border Collies are, by their very nature, great herders. But even with this natural instinct, there must be training involved. Your pup must be able to follow a series of simple commands given in complex patterns. It takes a lot of hard work and time to turn a dog into the perfect herder. But as long as you do your best to make the training sessions fun for both of you, the time will go by very quickly. 
Top
Defining Tasks
Herding involves a series of commands used to instruct your dog to move the flock of chickens around the yard and back into their coop. While there are many different and more complex commands you can teach your pup, here we will be working on the four basic commands used to move the flock around. These commands are 
Walk-up: Approach the flock and stop a couple of feet away

Away to me: To approach from the left, move to the right

Come by: To approach from the right, move to the left

To me: To approach from behind, move flock towards you.

Once your pup has mastered these and can easily move the flock around, you can go on to teach him some of the more complex moves just for fun. 
Top
Getting Started
Keep in mind your pup needs to have mastered the four basic commands of 'come', 'sit', 'stay', and 'down'. He also needs to mature enough for his bones to be able to handle the rigors of herding. With this type of activity, there is always a risk of injury to your dog or the chickens he is trying to herd. You need a few supplies for this type of training.
Chickens, of course

Stuffed animal toys or other practice decoys
A pen

A leash

Treats

Time and patience

Top
The On the Long-Leash Method
Pick your chicks
In order to train your pup, you need a small flock of chickens. Try to pick six chickens that can remain calm around your dog. Put them in the middle of the training pen and give them a nice pile of feed to munch on.
On the leash
Grab your long-leash and connect it to your pup's collar. Keep it short and give him the "walk up" command as you walk him towards the chickens. Come to a stop two feet from the chickens and tell him to sit. Give him a few minutes to get used to the birds and they to him.
Hey, ho, let's go
With the leash still short, walk around the chickens in a clockwise direction, giving your pup the "come by" command. At the end of the circle, stop, reverse directions and give him the "away" or "away to me" command. Repeat this for several weeks until you can give him either command while walking and he will automatically reverse directions. Try standing in place with plenty of slack in the leash and work him through the commands.
No more leash
Call your pup to you, have him sit, and unclip him from the leash. Give him the "walk-up" command. Then work him through his paces using the rest of the commands. By now he should be able to move the flock anywhere you ask him to within the training pen.
To the outside world
Time to take your pup to the outside world and start working him with the whole flock. It may take a little time for your pup to master these skills, but be patient and it will happen.
The Back to Basics Method
I'm going in circles here
Put your pup on his leash and start walking him around you in circles. Start working him with the "come by" and "away to me" commands to make him switch directions. Keep working on this for several 15-minute sessions a day for a week or two until your up will instantly switch directions with each command.
Walk up to the decoys
Set up a number of stuffed animals in the middle of the yard where your pup can see them. Keep him at your side on his leash. Walk your dog slowly up to the "chickens" using the "Walk up" command. Stop two feet away from the toys and have your pup sit. Repeat this and every time he gets it right, be sure to praise him and give him a treat.
The big ball theory
For this part, you will need a large rubber ball that your pup can push around with his nose. Place the ball between you and your pup. Give him the "to me" command and encourage your pup to push the ball towards you. Work with him until he will push it towards you at increasing distances. Use plenty of treats to reward him for getting it right. Add in the "come by" and "away to me" commands so that he can move the ball around the yard to your command.
Add six chickens
Place a small flock of six chickens with a pile of feed inside of a small enclosure,if you have one. If not, use a wide-open space. Using the same training methods as above, startwith approaching them very slowly with your pup for the first time. Work your pup through his paces on his leash until you feel comfortable with him around the chickens.
Achieving mastery
Perfection is achieved through hard work and perseverance. Keep working your pup through his training paces and over the course of time, your pup will become a master herder.
You first
Since this method involves the use of a shepherd's whistle, you need to learn to use it and the appropriate whistle commands. These are; 2 short blasts = walk up, 2 short, 1 long = come here, 1 long, 1 extra-long with a high pitch change at the end = come by, and 1 high pitch 1 low pitch = away to me. Go ahead and practice these around the house, this lets him get used to hearing them and become comfortable with the sound.
Teach the basics
Using a beach ball, work on teaching your pup each of the verbal commands along with the corresponding whistle command. Teaching all four of the basics will take several weeks, so be patient and give him time to master them before moving on.
Start small on-leash
Start out with a few of your calmer chickens, preferably those who are used to being herded around already. Give your pup the 'walk-up' command and walk him towards the chickens, stopping at around two feet away. Make him sit and give everyone time to get comfortable with each other.
Leash training
With your pup still on his leash, work him through all of the different commands using both verbal and whistle versions to move the flock around.
Moving on
When you feel that your pup has mastered these commands while on his leash, it's time to get rid of it. Keep practicing with your pup every chance you get, and your pup will soon be a master at moving the flock around at your command.
By PB Getz
Published: 01/25/2018, edited: 01/08/2021
---