How to Train a Doberman Puppy to Come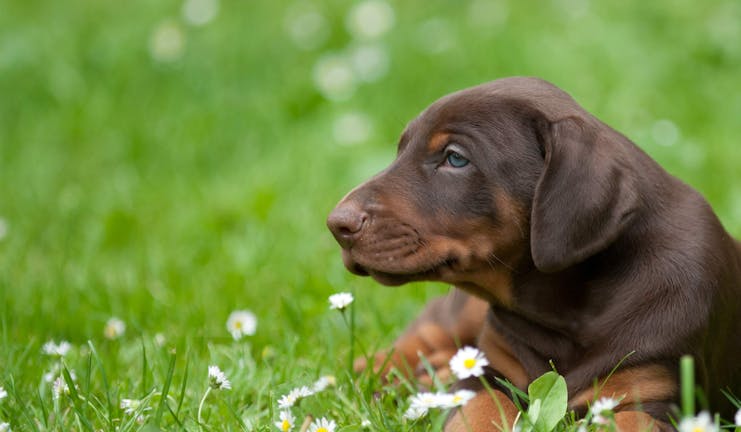 Introduction
You can start training your Doberman puppy to come when called at as early as 8 weeks of age. This smart and loyal breed is generally eager to please. Our positive training methods will show you how to teach your Doberman puppy to come when you call them, without using harsh punishments.
This valuable behavior is called "recall," and it just may save your dog's life one day. Dogs of any breed that have a strong recall were usually worked with as puppies, and continue to practice this skill with their owners over the course of their lives.
If you bring some patience and consistency to your training game, you will start to see your Doby puppy understand the "Come!" command in just a few short sessions. By the time she is an adult, regular practice and "proofing" will make her recall strong and reliable. 
Top
Defining Tasks
Dobermans can learn to have a strong and reliable recall. However, it is critical to know your individual dog, and have a strong sense of what is more important to him than your rewards. For example, many Dobermans have a strong prey drive. He may never be fully safe off leash where there is a chance that small dogs or cats could distract him and incite him to chase.
When training you Doberman puppy to come when called, it is important to make every successful recall a rewarding experience. If you call her to you and then punish her, you will be undermining your training efforts. If you need to call her to you before you crate her, always try to include a short game or a few rewarding tricks before having her go in her crate.
Finally, every puppy loves a game of chase – so be careful when you choose to play it. If you call your pup to you, and he does not come, never chase after him. Instead, walk or run away until he comes after you. 
Top
Getting Started
Before you get started with training your Doberman puppy to come when called, be sure to have your motivators (treats, toys, and praise) ready to go. In addition, get a 25'-50' long line leash or rope that you can attach to his collar for the steps of training that will require you to enforce the recall command.
Remember that trainings sessions for all puppies should be 5-15 minutes long, depending on her attention span. Keep things fun and exciting or your little pup will get bored or distracted. This will undermine your efforts to keep her focus on the things you are trying to teach her.  
Top
The Fun Recall Game Method
Set up
Keeping training fun can sometimes be a challenge. This is a way to turn your recall training into a game your Doberman puppy will get a big kick out of. Starting with a few friends, give them each a bag of tasty treats and have them sit or stand in a circle.
Alternate
Take turns calling the pup using his name and the command "Come!" Keep the tone really exciting and fun.
Hold back
When he gets to the person that called, they should reward and then hold him for a few seconds while the next person calls. He will start to be very excited, pulling a bit to get to the next person in a hurry. This is perfect as it reinforces that the recall is best when it is fast.
Add distance
Increase the size of the circle as your puppy is ready for a more advanced game. Try calling from different rooms to really up the ante!
Outside
Once your pup is reliably playing the game with gusto, move it outside on a nice day. Use a long line to make sure you can catch him in the event he is distracted.
Set up
This is the best method for first training your Doberman puppy to come when called. Make sure your training sessions are in a place he is familiar with. Distractions such as toys, other dogs or people should be removed to make sure he can focus on learning this new behavior. Get your rewards ready.
Run away
When your puppy is just a few feet away, run away from her. She is sure to follow you instinctively. Call her name, followed by the command "Come!" only after she starts running towards you. Reward liberally for every successful recall, and ignore failures, for now. Repeat 10-20 times.
Add distance
Over the course of the next several weeks, continue to work with him in the low distraction environment, but work on putting some more distance between you and him, touching his collar before rewarding, and saying the command without running away. Continue to reward success, and ignore failure.
Outside
Hopefully, you have been practicing recall drills inside for several weeks and your pup is consistently coming when called indoors. Now you are ready to increase the difficulty by taking your training sessions outdoors. Use the long line and continue your recall work, only now reeling her in to you if she fails to come within 2-3 seconds of being called. Continue to touch her collar before rewarding, and ignore failures.
Add consequences
To teach your dog that he can't get away with not coming when called, you will have to add a consequence at this stage. You should only do this after your Doberman puppy has plenty of practice with positive reinforcement. If your dog fails to come when called within 2-3 seconds, reel him in and give him a "time out" in his crate for 3 minutes or so, every single time he fails to come when called. To really get a reliable recall, proceed to the "Proofing" method once you have mastered this step.
Why you need to proof
The steps in this method are all different ways to make your Doberman puppy's recall even stronger, so she will come when called, every time. Trainers call this "proofing" and it involves deliberately adding challenges to your recall drills at a pace and intensity that your pup can handle. Eventually you will find that she comes when called, every time. Make sure she has the basics down first before making things more difficult.
New places
Try doing your recall drills in some places that are less familiar to your puppy. For example, out in the woods, on a friend's property, or in an open field. Make sure to use the long line if there are any dangers, such as nearby traffic
Distractions
You will ultimately want your Doberman to come when called, even if there are distractions around, such as another dog on a leash. It is therefore critical that you practice drilling your recall around as many possible distractions that you can think up. Introduce them gradually, and from whatever distance it takes for your pup to be successful, before making things more challenging.
New people
Some people like their dog to come no matter who calls her. If this is the case, you will want to proof her recall with as many folks as you can. If you do not want her to come except when you call, then you can also work on that by rewarding her for NOT going to anyone else when they call her.
Select the best
Once your Doberman puppy really has his recall down, and it is at least somewhat proofed (proofing is an ongoing process for the life of your dog), then you can become more choosy about which recalls you will reward. Gradually reduce rewards until you are only giving big rewards to about 1 in 20 of the fastest recalls he offers.
When NOT to recall
At some point in your recall training you need to stop using the recall command unless you are confident that your pup will respond to it and come. If you cannot enforce a recall, then use another way to try to get him to come, or physically walk over to him and retrieve him.
By Sharon Elber
Published: 01/22/2018, edited: 01/08/2021
---