How to Train Your Dog to Use Fake Grass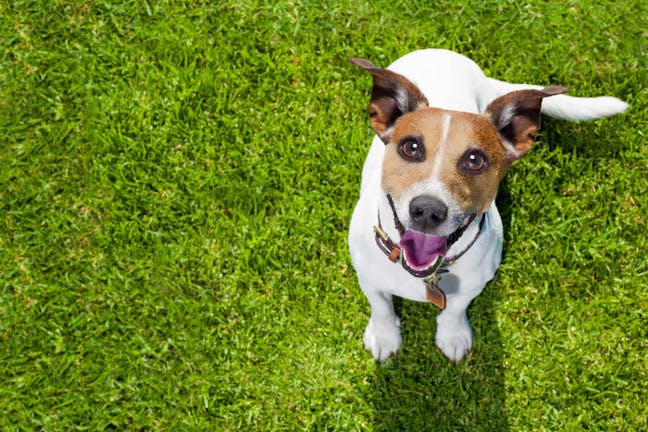 Introduction
Training your dog to go potty outside is hard enough, but what if you need to leave your pup alone at home for hours at a time. You can't leave him kenneled for this long on a daily basis as it is not healthy. Your pup will not pee or poop in his kennel unless he has no choice, just as a wolf will not defecate or urinate in his den. One way to deal with this is to train your dog to use fake grass both indoors and out.
By doing this, you can teach your pup to do his business on a small piece of fake grass that is placed in a specific place in your home. Not only will this keep any messes he might make all in one place, it will allow him to be free in your home instead of caged up for hours at a time. The same concepts can be applied to help your dog adapt to using artificial turf outside in your yard, if necessary. 
Top
Defining Tasks
The concept is to teach your pup that it is only okay for him to relieve himself in your home when he does so on the fake grass. The only real problem with this is that if you have already trained him to go outside to go potty it can be hard to train him to do so in the house. This is a big change for both of you, who have worked so hard to get him to go outside.
The best way to make this training stick is to pick one location in your home to place the fake grass and leave it there. Moving it around will only confuse your pup and make it that much harder to successfully train your pup. Be aware that it can take your pup a few weeks to master this skill and not forget how to do his business outside when appropriate. 
Top
Getting Started
Start training your pup during a time when your house is nice and quiet. It is so much easier to train when there aren't any distractions. Be sure to choose a spot in your home with a hard floor, not carpet. It is possible, at least in the beginning, that your pup might miss the fake grass from time to time and his urine may soak through onto the floor. You will also need a few supplies, including:
Treats: You need a way to reward your pup.

Leash: To lead your dog to the fake grass and hold him there until he goes potty.

The fake grass: You need a large piece of fake grass that can be cut to size as needed.

Patience: This type of training takes plenty of patience if you want it to be successful.

Time: Be prepared, it will take your pup some time to master this new "skill."

Once you have all supplies gathered, the only thing left for you is to commit to the time needed to work with your pup several times a day until he masters this skill. The good news is your pup is very smart and loves learning new things, make use of this along with plenty of treats and he will soon know where to go potty when he can't get outside. 
Top
Choose your spot or rather, his
Pick a spot in your home for your pup's fake grass potty. It should be on linoleum, tiles, hardwood, anything but carpet. If you don't have a spot like this, you can put plastic or a tray under the fake grass to protect the floor beneath. Once you have chosen a spot, stick to it, as moving it around will only confuse him.
Never trust your dog
Just because your pup understands that the real grass outside is where he is supposed to go potty, don't assume he will automatically start using the "fake grass" on the inside. Chances are he won't want to, especially now that you have worked so hard to get him to go outside.
Back to potty training 101
Remember taking your puppy outside every half hour whether he looked like he needed to go or not? Well, training him to use the fake grass on the inside will be a lot like doing this all over again. Keep your pup on a leash at the beginning and walk him over to the fake grass every 30 minutes or so. When he goes potty, be sure to reward him and give him lots of praise.
Take the leash off
Now you should be able to take his leash off and let him roam free. Keep a close eye on him and watch to see if he goes to the fake grass or tries to go somewhere else. If he goes on the fake grass, give him a treat, if not go back to working with him on a leash until he does.
Repeat this step
Repeat this until your pup will go over to the mat on his own without the leash on. Each time he goes potty on the fake grass successfully, be sure to praise him and give him a treat.
The Dogs Love Routine Method
Pick a spot
Find a safe place in your home to place the fake grass, one that you can leave it in place and that your dog will be able to find easily that is not near his kennel if you use one.
Take it to the mat
Just like in the early days of potty training your dog, you will need to take him to the mat (fake grass) frequently during the day, when you first get up, just before bedtime, and after meals or when he drinks a lot of water.
Stand in place
Once you have your dog standing on the fake grass, make him stand there for ten minutes. The idea is to give him enough time to decide he needs to go potty. If he finally goes, be sure to praise him and give him a treat.
When he won't go
If he hasn't gone potty after ten minutes, release him and keep a close eye on him. If he shows any indication that he might need to go potty, usher him over to the fake grass. This may take a while, but you need to watch him closely or you may end up with messes to clean up.
Keep trying
Once your pup has decided that it's okay to use the fake grass as his potty, the rest involves plenty of practice, but in time he will get the message and you will no longer have messes to clean up.
The Getting Smaller Method
Pick a room
Find a room in your house that has a solid floor such as the kitchen or bathroom, one that you can confine your dog in during the training process. It should be a room in which you can cover the bulk of the floor with fake grass.
Lay out the grass
Lay the roll of fake grass out flat, leaving as little open floor as possible for your dog to use instead of the grass.
Enter the pup
Place your pup in the room and barricade him in it. When he does his business on the fake grass, be sure to give him treats and a heap of praise.
Reduction time
Start cutting the fake grass, making it smaller by about one foot all around every three days. If he keeps going on the fake grass, give him plenty of treats. If not, put the fake grass you cut out back in place and work with him until you can start removing sections again.
Work your way down
Keep repeating this process until you have cut the piece of fake grass down to the size you plan to use. Keep working with your pup using treats until he never misses the fake grass and voila! Your pup will always use the fake grass in the house to go potty.
By PB Getz
Published: 11/10/2017, edited: 01/08/2021
---