How to Train Your Dog to Use Indoor Grass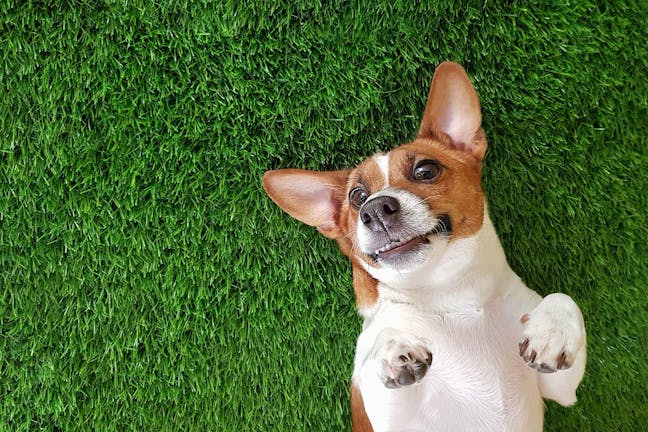 Introduction
As a dog owner, you probably already know the hassle of trying to potty train your pup. Most of us have had to deal with more than our fair share of puddles and piles. The answer to this is to potty train your pup to go outside. This is something most dog owners do as one of the first things they teach their pup. But, what do you do when you have to leave your pup alone for more hours than he can possibly hold it? One way to overcome this problem is to train your pup to use indoor grass as his potty.
You can use indoor grass both as one place he can use the toilet indoors without being scolded for it and to create an outdoor spot that is all his own. One that will help keep the rest of your lawn green and looking its best. The hard part comes in training your pup to use the fake grass when he has been trained not to go in the house and has become used to having his run of the backyard. 
Top
Defining Tasks
The thing about teaching your dog to use indoor grass as his toilet is not just that you are training him that he can go inside, but also that he can only do so in one place. This is what makes the training so challenging since when you first potty trained your pup, your only concern was that he go outside instead of inside.
The one thing you need to keep in mind is that once you have chosen a spot for his piece of indoor grass, it needs to stay there. Moving it around will only confuse him and make training him to use it that much more difficult. This training could take a few weeks for your pup to master completely, so be patient, work with him, and be sure to praise and reward him when he gets it right. 
Top
Getting Started
The best time to teach your dog to use indoor grass is when it is quiet with few, if any, distractions. You should already have decided where you are going to place this "indoor potty" ahead of time. Preferably, choose a spot in your home with a tile, linoleum, or stone floor as these will be easier to clean up. Other than this, you will need a few supplies, including:
Treats: You must have some way to reward your pup.

Strips of grass carpet: You may want to have more than one strip of indoor grass. This way you can keep a clean one handy at all times.

Leash: To walk your pet to his new "bathroom".

Time: This is going to take plenty of time to teach your dog.

Patience: All good things take time. Be patient and your dog will learn how to use his strip of indoor grass.

The rest is up to you, all you have to do is be ready to put in the time and effort. Your pup is an intelligent animal and is always open to learning new things. Take advantage of this and never, never punish your dog when he makes a mistake. 
Top
Pick a spot
Start by finding a spot in your home for the indoor carpet. Pick a spot with a hard floor underneath or place plastic under the carpet. This will be the only spot in your house for the carpet, do not move it, as this will only serve to confuse your pup and make it more difficult for him to learn how to use it.
Don't trust your pup
Even though your pup may already be fully potty trained to go outside, you can't trust that this will make him automatically want to use the artificial grass you have put inside for him.
Just like the old days
Do you remember back when you were trying to potty train your pup and you had to take him outside every 20 minutes until he learned to let you know he needed to go out? You need to put your dog on a leash and walk him to the indoor grass every 20 minutes until he finally goes on it. When he does, give him a treat and lots of praise.
Off the leash
Watch your pup closely when he is not in his kennel or on the leash. This will help you to prevent accidents. Encourage him to go to the grass each time he lets you know he has to go potty. Again, when he goes there and does his business, be sure to reward and praise him.
Practice makes perfect
Keep repeating this until your dog will walk over to the indoor grass and use it any time he needs to go. Patience is the key to success; be consistent and keep working with him until he gets it right.
The Establish a Routine Method
Choose the spot
Start out by choosing the spot in your home where you plan to place the indoor carpet. The area should be away from your pup's sleeping and eating areas and preferably one that is easy to clean up.
What's the frequency?
The frequency at which you take your pup to the indoor carpet is a vital part of the entire training program. You should take him there every time he takes a drink of water, eats, takes a nap, or has been busy playing. You should also take him right before bedtime and as soon as you get up.
Make him wait
Keep your pup standing on the indoor grass for at least ten minutes. Try using a command like "go potty!". If he goes potty, give him lots of praise and a treat.
If he won't go
If he won't go on the indoor grass after ten minutes, let him go but keep a close eye on him. At the first signs that he is thinking about doing his business, take him to the grass and wait.
Practice and positive reinforcement
Once your pup has successfully used the indoor carpet to go potty, the rest is all about repeating the process to reinforce the behavior. Remember this is not natural and it will take a while for your dog to catch on.
The Shrinking Area Method
Choose a room
Choose a small, uncarpeted room in your house like the bathroom that can be used to confine your pup. The room should be large enough he has room to move around in and play in.
Cover the floor
Start by covering the entire floor with indoor grass and confine your pup to the room. Each time he pees or poops on the grass, reward him and praise him.
Repeat this
Every three days, cut the size of the indoor grass down a little. When he still uses what's left to go the bathroom, be sure to reward and praise him. If he goes on the floor instead, put the rest of the grass back in place and try working with him again.
Down to the right size
Keep working with your pup, cutting the size of the indoor grass down every three days until it is the final size you have decided to use.
Final placement
Now that your pup is using the patch of indoor grass on a regular basis, you should be able to place it in its final location and let your pup see where you have moved it to. This will keep him from making a mess elsewhere in your home.
By PB Getz
Published: 11/10/2017, edited: 01/08/2021
---