How to Train Your Dog to Use the Toilet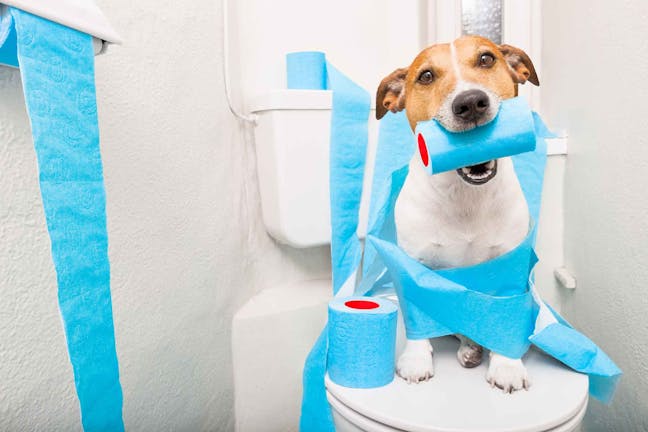 Introduction
You're snuggled up at night, finally drifting off to sleep when you hear your dog moan downstairs. He didn't want to go to the toilet when you took him out a couple of hours ago, but now it's the middle of the night he wants to go. If you don't take him out, you come downstairs to find he's relieved himself all over your clean floors. If he could go to the toilet in the house though, well that's one less job each day. He could just take care of himself when he needed to go--what a dream!
If he can go to the actual toilet, you'll never have to get up late at night again, or early in the morning. That means when it's winter, snowy and freezing cold outside, you can stay in the cozy warmth.
Top
Defining Tasks
While it isn't the easiest trick to teach your dog, it isn't as hard as some people might think. The challenging part comes in showing him how to use the toilet and encouraging him that it's the quick and easy thing to do. Once you've overcome that initial hurdle, he'll take to it like a duck to water. It's quicker if he's a puppy because he'll be easier to train. It may take just a few days or a week. If he's older with years of going to the toilet outside under his belt, then it may take a few weeks to drill this new behavior into him.
Get it right though, and you've saved yourself a daily hassle. You'll still have to remember to feed him, but he'll be more independent than half your kids! It means no more cleaning up a mess on the floor too.
Top
Getting Started
Before you can turn your dog into a fully fledged toilet user, you'll need a few bits. Treats or his favorite food will be used to motivate him to begin with. You'll also need a child's plastic potty to start with.
You'll also need time to commit to training when he's likely to need the toilet, after meals and in the morning and evening. A good degree of patience will also be required and some anti-bacterial spray for the first few attempts.
Once you have all of that, you can head to the bathroom!
Top
The Rise of the Potty Method
Take a potty with you outside
When he needs to go, the potty always needs to be there. Keep him on a short leash and encourage him to go in the potty. Use old feces and treats to encourage him to use it.
Lots of praise
When he does finally go in the potty, give him a tasty treat and lots of verbal praise. The happier he feels after going, the more likely he is to go there again. Practice this every day for as long as it takes for him to regularly go in the potty.
Move the potty inside
Place it by the toilet and give him the same encouragement to go. If he has an accident elsewhere inside, don't punish him, just clear it up and try to get closer to the potty next time.
Increase the height of the potty
You need to get him used to going about his business on a raised toilet, so secure at increasingly higher levels. As each day passes, put the potty higher and higher until it is the same height as the toilet. Continue encouraging and praising each time he uses it. Be prepared to wipe up any misfires to start with!
Place the potty seat on the toilet
Now he's used to going to the toilet on a raised station, he's ready for the toilet. The potty seat will make him feel comfortable the first few times, but then you can lose the potty and just use the toilet. Keep rewarding him until he's totally comfortable and will use it without the promise of food.
Take your potty on walks
Yep, you read that right. Before he masters the toilet, he needs to transition to going inside. So when you think he needs the toilet, place the potty down and keep him on a really short leash and encourage him to go in there.
Make it easier
Place some of yesterday's feces or urine in the potty. If he can smell he's been there before, he's more likely to go again. Make the potty the only choice. For example, if he hates going on concrete, take him somewhere where there is only concrete and the potty.
Reward heavily
When he does go to the toilet in the potty, give him a treat and loads of praise. Don't be disheartened if it takes a couple of days before he finally goes in the potty, this training requires patience. Just hammer home the praise when he does use it.
Take the potty inside
Once he starts using it outside, you can encourage him to use it inside. The first couple of times you may need to put him on a leash and walk him to the potty to make the transition easier. Over the next few days, move the potty closer to the toilet, until you can put it in the same room.
Place the potty in the toilet
When he's got the hang of the potty, place its seat on the toilet then lead him to it. He will want to go in the potty and will do so, but he'll also be getting used to the toilet. After a week, lose the potty and encourage him to go in the toilet. He'll probably do it all on his own at this point. When he uses it every time, you can stop giving him treats.
'Good toilet'
Every time he does his business as usual, say 'good toilet' or another phrase of your choice. Say this is an upbeat and friendly voice. He will soon associate this command with going to the toilet and then you can use it before he goes to the toilet to trigger him to want to go.
A wee pad
After a week or so, start giving the phrase just before you go out for the toilet. Only this time bring a wee pad with you and encourage him to go on there. They can be bought online and from local pet stores.
Encourage and reward
You may need to use treats and words of encouragement to get him to go on the wee pad. If it smells like him and home then he's also more likely to go on it. Also, ensure you give him some privacy. You wouldn't want to go to the toilet when someone is staring at you, so don't stare at him.
Bring the wee pad to the bathroom
It may take many days before he gets the hang of the wee pad, but when he does, start placing it in the bathroom. Then give the initial phrase as a toilet trigger and walk him to the wee pad in the bathroom. Continue doing this until he's comfortable and expects to go inside.
Place the wee pad in the toilet
The final stage is getting him to use the actual toilet. But to do that he'll need to see the wee pad in the toilet first. Leave the pad in there for a few days and then lose it. Then give the verbal command and walk him to the toilet. Once he's got the hang of it you can reduce the frequency of treats.
By James Barra
Published: 10/19/2017, edited: 01/08/2021
---