How to Train Your Dog to Walk Behind You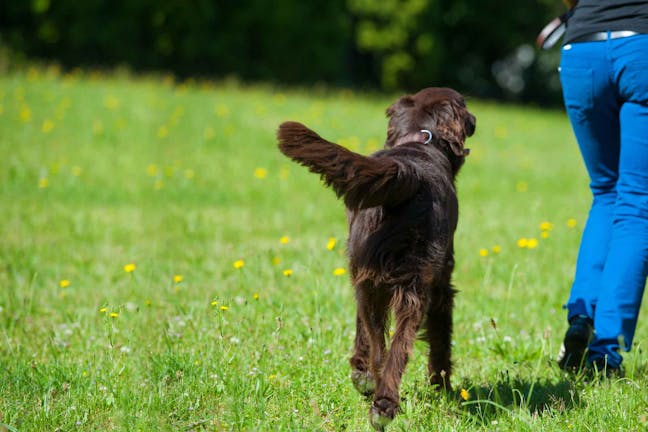 Introduction
 Your dog's natural pack instincts play a large part in every aspect of his behavior, and this includes his instinct to follow his pack leader. Of course, this means you need to establish yourself as the pack leader from the very beginning. Your dog will always look to you for direction as long as you maintain your status as pack leader no matter what you are doing. Training your dog to walk behind simulates the movement of the pack and can come in handy when you are going for a walk without his leash.
Imagine how much fun it will be going for a walk or jog down the beach, never having to worry about where your dog is. Why? Because he has been trained to walk behind you and maintain his position in the pack. Bear in mind that while this may an instinctive behavior, it will take time for your pup to master it.
Top
Defining Tasks
There are several positions you can train your pup to walk with you in. He can walk out front, he can walk beside you in the traditional "heel" position, or you can teach him to walk behind you. Most professional dog trainers prefer not to train dogs to walk out front, as doing so allows them to take the position of pack leader. You should never allow your dog to take this position as it can significantly change his behavior.
Ideally, you want your dog to be able to follow behind you without a leash, stay close, and not allow distractions to make him leave his spot. You will need plenty of patience, especially in the early phases of training. Make sure you have plenty of time to practice this every day, this will speed up the training process and allow you and your puppy to get plenty of exercise at the same time. 
Top
Getting Started
Before you begin training your dog to walk behind you, he should have already mastered the basic commands, 'come', 'stay', 'down', 'sit', and so forth. He should also be used to going for walks with you on his leash and to be well behaved while doing so. You won't need much in the way of supplies, but you will need:
Treats: Have a generous supply of your dog's favorite treats on hand to use as rewards.

Leash: To use in the early stages of training.

Clicker: If you have been using one for the rest of his training.

Places to walk: You need several different places to walk with and without distractions.

Patience: You need a generous supply of this!

Time: Plan for one or two 15-minute training walks per day every day of the week on top of his normal walks.

It can't be stressed enough that you need to maintain your role as pack leader at all times with your pup; this will help ensure he obeys your commands without hesitation. Also, you should never take your dog for a walk off his leash in an area that requires your pup to be on his leash. Not only could you face a fine, but you make things worse for other dog owners. 
Top
Establish yourself as pack leader
There are several things you can do to establish your position as pack leader. Always eat your meal before you feed him. Anytime you go out the door with your pup, make sure you always go first. When people come to visit, be the first one to greet them, do not allow your pup to preempt you. Be the one to start and end playtime.
Reinforce the basics
Go through a few days of working your pup through all of the basic commands. Doing so also helps to establish your position as pack leader and lets your pup know who's boss.
On the leash
Put your pup on his leash and be the first one out the door, allowing your dog to walk just behind you. Maintain a brisk pace so your pup doesn't have the opportunity to get in front of you. Start out in a quiet area at first to minimize the risk of distractions.
Add a command
Now that your pup has started to get used to being behind you, you may want to introduce a command word. You might simply say "behind", just keep it simple. When you go out the door with your pup on his leash, use the command word as he comes out behind you. If he assumes his position, give him a treat and lots of praise, then take off on your training walk.
Add distractions
It's time to add in people, traffic, other dogs, any type of distraction you can find. If your pup starts to break position, say "behind" and give a gentle tug on his leash. If he obeys, give him a treat. If not, make him sit, wait for a few seconds, and then take off walking using the command word. You may have to repeat this several times.
Off the leash at last
Time to start working with your pup and no leash. Start out as normal with your pup on his leash in a quiet area. Go for a short walk with him in his usual spot behind you, stop and have him sit. Give him a treat and then take off his leash. Take off walking, giving him the 'behind' command. Take several steps before you look back. If he has followed you, stop, have him sit, and give him tons of praise and his favorite treats. If he doesn't follow, call him to you and put his leash back on. Now go back through the whole process again. In time, he will follow you anywhere with no more than a simple command.
Collar and leash time
If your dog isn't already wearing his collar, put it on him and get ready to go out for a walk. Be the first one out the door.
Take off
Take off at a rapid pace, leaving your dog to catch up with you.
Stop and turn
At the moment he tries to pass you, stop turn in a different direction and say the word "behind" all at the same time. The idea is for him to the get connection between the word "behind" and needing to walk behind you, not trying to pass you.
Repeat, repeat, repeat
You may need to repeat the above step for several days or even weeks before your pup masters this. Less if he already sees you as his pack leader, as this will let his natural instincts to find his place in the pack kick in.
Quiet time
Finally, you can take your pup to a nice, quiet place to practice walking behind you without his leash. Take him out to your chosen training spot on the leash, make him sit, and remove his leash. Give a treat and a quick "good boy." Again, take off walking at a quick pace with the command "behind". If he follows you, be sure to offer plenty of praise and a few treats. Keep practicing over longer and longer distances, adding in distractions until the two of you can go anywhere.
A quiet place
Start by finding a quiet room to work in or if you have a fenced-in backyard, a quiet time of day.
Introducing the position
Have your dog sit in front of you. Hold a treat in both hands and hold the treat in the right hand out to him but don't give it to him yet. Once you have his interest, move the treat around the right side of your body with your dog following it. Show him the treat in your left hand and hold it behind you, marking his "heel" spot. Give him the treat in your left hand. Repeat two or three times and then try it without the treat. If he still follows, give him the treat in your left hand.
Introduce the 'heel' command
Now as your pup moves to the proper position introduce the 'heel' command with each repetition. Use a treat to reward him for getting it right. Repeat until he will go to your heel position on command without having to be lured there.
Poetry in motion
This time give your pup the 'heel' command and take one step forward. As your dog moves forward with you, give him a treat. Repeat this until your pup will follow you in the heel position behind you without the need for treats. Each time you come to a halt, tell your pup to sit and give him a treat.
Add in distractions
Now that your pup knows his place behind your, its time to start going for walks in places with distractions. Each time your pup gets distracted, stop--make him sit and wait for a few seconds before taking off again. It takes practice and patience, but in time you will be able to take off knowing your dog is right behind you.
By PB Getz
Published: 11/22/2017, edited: 01/08/2021
---