How to Train Your Stubborn Dog to Walk on Leash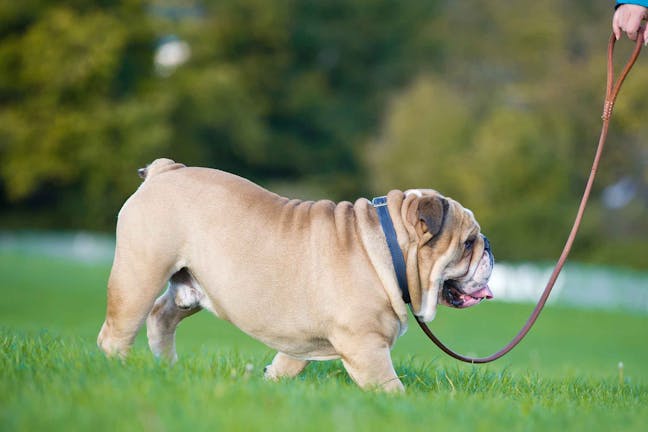 Introduction
On a dog walk, have you ever changed your route to avoid walking past a certain house?
The reason being that your dog pulls so hard on the leash that you don't want to be shown up in front of the friend that lives in that house. 
Not walking well on a leash is more than just an embarrassment, it can have real and serious consequences.  For example, there's the family dog that pulls a child into the road or the large dog that pulls you over on an icy sidewalk. 
The other side of the argument for teaching a dog to walk on leash is that it makes for pleasant walks. Strolling along, dog by your side, without constantly having your shoulder wrenched from the socket is a far more pleasant experience. 
Top
Defining Tasks
Not walking nicely on the leash is a common problem. Next time you go out, keep an eye on how many dogs you see pulling on the leash; you'll quickly realize you aren't alone. However, this is no reason to accept such behavior in your own dog. 
Teaching a dog to walk on a leash means having slack in the lead at all times, with the dog walking close to your heel. Simple really... now all you have to do is explain what's required to the dog.
Top
Getting Started
Getting a stubborn dog to walk on a leash can be frustrating for a number of reasons. Sadly, there's no 'quick fix' and retraining requires patience and an expectation of going nowhere for a few walks until the dog realizes what's required of him. 
In addition, you need basic equipment such as: 
Pea-sized training treats
A pouch or bag to keep the treats convenient while walking
A comfortable collar, halti, or front-attachment harness
A leash
Patience, plenty of it. 
Top
The From the Beginning Method
Understand the idea
Whether it's a puppy or a dog who isn't used to the leash, you need to teach the dog what's expected when he's on the leash. Remember, the dog doesn't know that a leash attached to his collar means he's meant to walk by your side and not fool around. With gentle instruction and rewarding the dog when he does the correct thing, you can teach him what's expected.
Get used to the leash
Some dogs behave badly when the leash is put on their collar, because they just don't understand what's going on. From his perspective, a long snake-like thing is attached to his neck and so he needs to outrun it. This leads to mad chasing around and a generally inappropriate reaction.
Take things slowly by attaching the lead during an indoor play session. Distract the dog with toys and praise him when he engages in the game rather than bothering about the leash.
Reward the dog as he approaches
Working indoors, so there are fewer distractions, now teach the dog he's supposed to pay attention to you while on the leash. During this training session, you have the dog on a collar and lead in the house. Make a noise to attract the dog's attention. Keep the lead slack and if he starts to come towards you, say "Yes" in an excited voice, give him lots of praise and a small pea-sized treat. Your aim is to have him realize that sticking close to you when on the lead is a good idea.
Add a cue word
Now add in walking slowly away from the dog. Make a noise to attract his attention and as he comes toward you, say a cue word such as "Heel". As he trots to you say "Yes!" and give him a reward.
Take training outdoors
Once the dog is accepting the lead without fooling around and is coming to heel indoors, you can start to practice outside where there are more distractions.
The Correcting Problems Method
Understand the idea
Many dogs walk badly on the leash, either by surging ahead and pulling or by lagging behind. This can become a deeply ingrained behavior and take a lot of work to resolve. Part of the problem is that pulling is self-rewarding, in that when the dog pulls on a walk, the action is rewarded by a trip to the park. In his mind, pulling got him to the park so it becomes his normal way of walking. Your task is to re-educate the dog so that he realizes there's little to be gained by pulling.
Stop in your tracks
When the dog pulls, stop in your tracks. Keep very still. The dog will continue to pull, but after a while (it may be several minutes) the dog will pause to look and see what the problem is. Take advantage of this pause to lure the dog to you with a treat. When he arrives at heel, give the reward and start walking forward again. Keep stopping each time the dog surges forward, and repeat the same protocol.
Be prepared to go nowhere
Obviously, this could mean you don't get anywhere. This is a necessary consequence of retraining, and an essential part of the dog realizing that pulling gets him nowhere.(Literally!) With this in mind, choose a time when you aren't under pressure to undertake this training.
Change direction
An alternative to stopping in your tracks is to change direction. This simply means when the dog pulls, you stop going forward and retrace your steps. This can lead to the dog zig-zagging to-and-fro, but eventually, he will realize that when he pulls, he loses ground. Then when he starts to walk by your side, give him lots of praise.
"When I stop, you get a treat"
This involves teaching the dog that when you stop walking, and he sits down, he will get a treat. Start indoors. Show the dog you have a small treat in your hand. Holding his attention, walk for a few steps. The dog should follow. Then stop. Don't give the dog any instructions, and wait for him to sit. he may well dance around wondering what he has to do to get that treat. Eventually, he will sit, while he thinks things through. Immediately when he sits, say "Yes" and give him the treat. Practice walking, stopping, and rewarding him for sitting.
Put this into practice
Once the dog has learned that when you stop he sits, practice this on the leash. As soon as the dog starts to take up the slack on the leash, as if to pull, stop in your tracks. The dog will sit for a reward, hence no longer pulling. Start off again and repeat as necessary. Most dogs will then keep pace, watching you carefully to see when you might stop so he can get a reward.
Avoid frustrating the dog
Dogs naturally walk faster than people. When an owner lags behind, the dog can get frustrated and pull in an attempt to speed the owner up. Try to reduce the dog's frustration by walking at a good pace in the first instance.
Keep the dog's attention
When you make yourself interesting to be around, the dog is more likely to stick with you. Make yourself irresistible by chatting to the dog in an excited manner, and praising him wildly when he walks nicely. Reward him from time to time when he's kept to heel for a distance. All these things help keep the dog focused on you.
Consider special equipment
If your dog wears a regular harness, then this spreads the force of their pulling over the whole chest area, and makes it easier for him to tug. Consider switching to a front-attachment harness or a halti-type headcollar. Both of these work by pulling the dog around to face you, when he pulls. This effectively uses the dog's own strength against him to halt the forward motion when he pulls. The dog soon learns that walking on a slack leash is the best way to get where he wants to go.
Never use prong or shock collars
Inflicting pain on the dog as a deterrent to pulling is immoral and unacceptable. That aside, shock collars can also make the dog nervous and frightened at the unpredictable nature of the shock, which can lead to even more undesirable behavior such as aggression.
Consult an expert
Teaching a dog to walk on a leash can be frustrating, especially if the dog has a deeply established bad habit. Be aware that a qualified dog trainer is well placed to give you a little extra help and guidance to get that pulling problem taped.
By Pippa Elliott
Published: 12/11/2017, edited: 01/08/2021
---