How to Train Your Dog to Wear Boots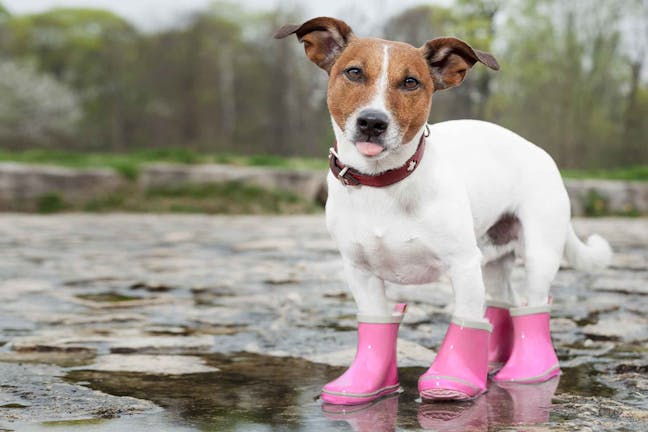 Introduction
There is nothing like seeing a dog walking next to his human buddy, both of them wearing boots to protect their feet from the snow. While at first, this might seem a bit funny, when you stop to look at the big picture, it makes great sense. A good set of puppy booties will protect your pup's feet not only from the wet and freezing cold snow, but they will also protect his paws from the chemicals used to treat the roads and any sharp objects that might be buried in the snow.
However, keep in mind that there is nothing about wearing boots that comes naturally to your dog. It is likely to take a bit of time and effort getting him used to wearing them. Be sure to go to a pet store to buy your dog boots. Just like you, your pup needs the right size boots to fit his paws. 
Top
Defining Tasks
In this case, the idea behind the command is that when you tell your pup "time to put your boots on" he comes over to you and patiently allows you to put his boots on before you go for a walk. Once he finally gets used to wearing them, you may find he starts asking for them and no longer wanting to get his paws wet. Be sure you take the time to make the boot fitting process as much fun as possible as this will go a long way towards getting him used to wearing them.
The more time you spend getting your pup used to wearing his boots, the easier it will be teaching him how to walk around in them. Most forms of training start with letting your pup get used to a new item or situation.
Top
Getting Started
The best place to start is at your local pet store that sells dog boots. Be sure you take your pup into the store with you and make a big fuss out of finding the right boots. At the same time, make sure the ones you choose fit him properly or he won't want to wear them. The only other things you need are:
Treats: For rewarding him when he agrees to wear the boots.

Time: You'l' need time for getting him used to wearing the boots and then for getting used to walking in them outside.

Patience: This task is going to take a bit of time, so be patient.

A quiet place to train: The best time to train your dog is when the house is quiet, as there will be fewer distractions.

One last thing, if your pup is already used to having his paws handled for things like nail trimming and fur trimming, you may find the training process goes a bit faster. Also, during the fitting process, just have your pup stand in the boots, do not let him try to walk around in them. Make it fun, make it a positive experience, and use plenty of treats and kind words. 
Top
Call him over
Call your pup over to you and have him lie down.
One paw at a time
Slip one boot on at a time, praising him and giving him a treat after each boot until he is wearing all four.
Keep him inside at first
Don't try to take him outside quite yet, there is still some indoor training to be done.
Bring out the toy basket
Bring out your dog's basket of toys and encourage him to play with one or more of them for a little while. This will help to keep his mind off those new boots on his paws, allowing him to get used to wearing them around the house.
Give him time
Give your pup plenty of time to play around the house in his new boots, this will let him see that putting on his boots leads to something fun.
Take him for a walk
After he has had some time to get used to the boots on his feet, take him outside and go for a walk. Be sure to keep an eye on the boots to make sure he doesn't lose one. Go out and enjoy walking in the rain and the snow knowing your pup's feet will be clean and dry when you get home.
Start on your regular grooming day
Have your dog come over to you for his regular grooming and lay down.
Slip a bootie on
While he is laying on the floor, slip one boot on and give him a treat, praise him for doing a good job.
Remove the boot
Take the boot back off and go on about his grooming.
Make the switch
The following day, switch the paw you put his boot on, repeating this process until he seems comfortable with them. Then try putting all four of them on.
Stand and deliver
Once your pup is comfortable laying there with his boots on, have him stand up and get used to standing in them. Enjoy watching your pup pick up a paw and shake his new boot around.
Off you go
Start off walking at a slow pace allowing your pup to get used to walking in the boots. Finally, you can go out on rainy days and not worry about your pup's feet getting wet and muddy.
Boots smell good
Place your pup's new boots on the floor and give him plenty of time to sniff around them and get used to them. Give him a few treats and lots of encouragement.
Call him over
Call your pup over and have him sit in front of you.
Show him a single boot
Pick up one front boot and show it to him then ask him to give you a paw. When he does, give him a treat.
Put the boot on
Put the single boot on his paw, fasten it in place and let your dog go. This is where you get to have fun watching him try to sling the boot anywhere but on his foot. The fun won't last long, but do try to hide your laughter for the sake of your pup's feelings.
Add one more
Once he has gotten used to the idea of having a boot put on his foot, add another, and another until he is used to wearing all four and walking around the house in them.
Practice inside first
Take some time to walk your pup around the house over various surfaces so that he can get used to walking in the boots.
The time has come
The time has finally come for you to take your pup out for a walk in his boots, just remember to start out slow and work your way back up to your normal walking speed. This will give him time to become acclimated to them and ensure a safe and fun walk, free of mess when you come in from a rainy walk.
By PB Getz
Published: 10/24/2017, edited: 01/08/2021
---