Famotidine treats stomach ulcers and other gastrointestinal diseases involving excess stomach acid. Famotidine is an antihistamine that suppresses stomach acid by binding to the membrane proteins that stimulate acid secretion. Below, we've covered dosage recommendations, efficacy, and some frequently asked questions about famotidine for dogs.
Dosage
The standard recommended dosage is between 0.25 mg and 0.5 mg per lb once every 12 or 24 hours, respectively. These are general guidelines and not a substitute for veterinary advice. If you have questions about famotidine, chat live with a vet now.
Famotidine is available in tablet and liquid form. Hospitalized pets may be given famotidine via injection. Some dogs don't like the taste of famotidine. Although famotidine works best on an empty stomach, it can also be given with food or a treat if your dog vomits or refuses to take it.
Efficacy
Famotidine is one of the most effective drugs of its class for controlling stomach acid secretion. Although this medication starts working within 2 hours, you may not notice any changes in your dog's behavior or appetite. If you're concerned that the medication isn't working, consult your vet. They can run tests to confirm the drug's efficacy.
Gastric acid suppressants like famotidine are commonly prescribed to dogs with liver disease. The dose is typically decreased for these patients, as these conditions increase drug sensitivity. However, some veterinarians question the efficacy of famotidine for dogs with liver disease and kidney disease. 
While liver disease increases a dog's chances of developing stomach ulcers, a variety of factors cause ulceration. This makes it difficult to determine the efficacy of famotidine and other acid suppressants in dogs with liver disease. Additionally, kidney disease rarely causes symptoms associated with excess stomach acid secretion, like the development of stomach ulcers and the erosion of the stomach lining. 
For these reasons, famotidine must be prescribed and administered with caution to dogs with liver or kidney disease.
Active ingredients in famotidine for dogs
Famotidine is an antihistamine. It works by binding to H-2 receptors to suppress the secretion of stomach acid. This facilitates the healing of stomach ulcers and relieves symptoms of acid reflux.
Side effects
Side effects are rare and typically mild. Possible side effects of famotidine include:
Dry skin

Vomiting

Diarrhea

Dry mouth

Lack of appetite

Slowed heart rate*

Low white blood cell count
*Associated with the injectable form of famotidine.
Considerations
Trace amounts of famotidine pass through the breast milk of lactating dogs. At the time of writing, no clinical studies have investigated famotidine's effects on pregnant dogs.
Obtaining an official diagnosis before starting famotidine is imperative to rule out a more serious condition. Symptoms of stomach cancer are similar to symptoms of stomach ulcers. An early cancer diagnosis is key to ensuring the best possible prognosis.
Drug interactions
Famotidine may interact with the following drugs by affecting the body's ability to absorb them:
Iron supplements

Heart medications (digoxin)

Immunosuppressants (cyclosporine)

Other acid reflux medications (cisapride)

Certain antibiotics (cefpodoxime, cefuroxime)

Selective serotonin reuptake inhibitors (fluoxetine)

Azole antifungal medications (ketoconazole, fluconazole, etc.)
You may need to give these medications at least one hour before administering famotidine to ensure absorption. If your dog is taking any medications, including over-the-counter drugs and supplements, be sure to let your veterinarian know.
Allergic reactions and sensitivity
It is possible for dogs to be allergic to famotidine. Some dogs may also be sensitive to famotidine and similar H-2 receptor antagonists. If you notice any signs of an allergic reaction or other adverse effects, talk to your vet.
Frequently asked questions
What does famotidine treat?
Famotidine is effective in alleviating nausea and chronic vomiting. Famotidine may also be prescribed to treat symptoms associated with the following conditions:
Do I need a prescription for famotidine for dogs?
Famotidine is available over-the-counter and as a prescription. However, before starting any medication, always seek an official diagnosis and guidance from your trusted veterinarian.
What should I do if I miss a dose?
Give the dose when you remember, unless it's nearly time for the next dose. In this case, skip the missed dose and return to your normal dosing schedule. Do not give double doses. Setting a reminder can help you remember to give your dog their medication on time.
My vet prescribed the liquid form. Do I need to refrigerate it?
No, liquid famotidine does not need to be refrigerated. Store it out of direct sunlight.
Is it possible for dogs to overdose on famotidine?
While overdose is rare, it can cause some serious side effects, such as:
Fatigue

Fainting

Vomiting

Diarrhea

Pale gums

Blurred vision

Restlessness

Irregular heartbeat

Difficulty breathing

Low blood pressure

Loss of coordination
Always administer medications according to recommended dosages and instructions. Keep medications out of your dog's reach. If you suspect your dog has overdosed on famotidine, contact your emergency veterinarian immediately.
Famotidine Questions and Advice from Veterinary Professionals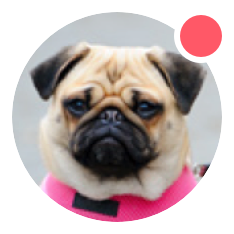 Need pet insurance?