Dog-friendly Road Trip Ideas in Los Angeles
Dog-friendly Road Trip Ideas in Los Angeles
By Mel Lee-Smith
Published: 09/29/2020, edited: 11/17/2021
Save on pet insurance for your pet
You don't have to choose between your pet and your wallet when it comes to expensive vet visits. Prepare ahead of time for unexpected vet bills by finding the pawfect pet insurance.
There's no doubt LA locals love their fur-babies, with tons of pet-friendly businesses and vacation spots in and around the City of Angels. If you love planning road trips with your dog in tow, you'll find an idyllic holiday destination in the LA area.

From pristine beaches to breathtaking mountains, there's something for everyone in Los Angeles. Read on to discover some of the best dog-friendly road trip ideas in Los Angeles. We've covered the top dog-friendly natural attractions, campgrounds, scenic drives, and more!

Where to play
Runyon Canyon Park
Runyon Canyon Park is one of the best dog-friendly parks in LA, if not California. The park consists of around 150 acres of rugged, dusty hills, covered in vibrant flora. The best thing about Runyon Canyon Park is many of its trails are off-leash, so your pup can bound around the park unrestrained. While not all the trails are off-leash, around 90 acres of trails are, so your pup will have plenty of space to roam. Due to the wild nature of the area, you'll want to train your dog to stay close to you if you haven't already. Need a helping paw? Enlist the help of a dog trainer near you before your trip.
If you're looking for perfect views of Hollywood, consider the 3.5-mile hike up to Indian Rock. The highest point in Runyon Canyon Park with an elevation of over 1,300 feet, Indian Rock boasts incredible panoramas of the city and surrounding countryside. If you'd prefer a shorter hike, consider the 2-mile Runyon Canyon loop trail. As mentioned, only certain areas of Runyon Canyon are off-leash, so do your homework before you visit, and pay attention to signposts.
Rosie's Dog Beach
No road trip to LA is complete without a visit to the beach, and one of the best dog-friendly beaches in the Los Angeles area is Rosie's Dog Beach. Your pup will love splashing around in the surf and digging holes in the sand. After Bella's had a ball on the beach, head to one of Long Beach's dog-friendly oceanfront eateries for a bite to eat. 
The beach isn't fenced, so keep an eye on your fur-baby to ensure they don't wander out of the designated area. Rosie's Dog Beach also has specific operating hours, so check current opening times before visiting. Pet parents need to pick up after their dogs — while doggy bag dispensers are available, you should bring your own just in case. 
Hollywood Sign via Griffith Park
The Hollywood Sign is one of the most famous landmarks in Los Angeles, and luckily you can explore the sign with your canine companion! Despite its intimidating terrain, the hike up to the top of the Hollywood Hills is only a 6-mile round trip. However, the trail elevates over 1,000 feet, so prepare for a steep trek. It's all worth it once you the top, with beautiful vistas across the city. You may encounter some local wildlife during your journey, including coyotes, bobcats, and mule deer, making this a great hike for nature watchers.
You're allowed to bring your woofer on your Hollywood Sign adventure, as long as you keep then on a leash. While you may see unleashed dogs on the trail, this isn't advised, due to potentially dangerous local wildlife, like rattlesnakes. This trek can be tiring, so ensure you bring along plenty of water and treats for you and your pup.
Bluff Creek Dog Park
If you're looking for a traditional dog park in Los Angeles, swing by Bluff Creek Dog Park. Located in Playa Vista, Bluff Creek Dog Park boasts a modern design with a mixture of turf and concrete. The park has different areas for small dogs and large dogs, so you don't have to worry about your pint-sized pup getting bowled over by an overeager Labrador. 
Despite being relatively small, the park is well-equipped with tennis balls, doggy bags, and dog drinking stations so your pup can stay well hydrated. The park's edge has shaded areas with benches where you can relax and keep an eye on your fur-baby. As with most dog parks across LA, Bluff Creek Dog Park has some strict pet rules, so check the park requirements before heading out on a road trip with your dog.
Point Mugu State Park
Escape the busy city at Point Mugu State Park. Located in the Santa Monica Mountains not far from Malibu, Point Mugu State Park features 5 miles of stunning seafront, with the Santa Monica Mountains providing a sublime backdrop. Point Mugu State Park is one of the best dog-friendly state parks in the area, with dogs allowed in all day-use areas. 
You'll find a variety of fun activities at this park, from fishing to scuba diving to nature watching. There are also 70 miles of trails for you and your doggo to discover. Point Mugu State Park offers pet-friendly overnight camping, in case you fancy spending a little extra time in this beautiful state park. Your mutt has to stay on a 6-foot leash at all times while in the park. They'll also need vaccinations, a license, and an ID tag. Pups under 4 months old are prohibited. If you're unsure about any rules, check with the park before visiting. 
Where to stay
Acton / Los Angeles North KOA
Perched upon the Santa Clara River, the Acton / Los Angeles North KOA is one of the best dog-friendly campgrounds in LA. Whether you're pitching a tent or parking an RV, you and Lucky will love this well-equipped campground. Once you've set up shop, let your fur-baby run wild in the Kamp K-9 dog run. 
The Acton / Los Angeles North KOA also provides tons of fun activities for all ages, with a swimming pool, summer slip-n-slide, and lots of family-friendly games. 
If you plan to bring your pupper, they won't be allowed inside any of the cabins or teepees. This KOA also has restrictions on certain breeds, including Rottweilers, Pit Bulls, and Dobermans. 
Table Mountain Campground
Traveling into the San Gabriel Mountains is an idyllic place to go camping with a dog. Table Mountain Campground is located in Angeles National Forest encircled by Blue Ridge, Circle Mountain, and Table Mountain. You'll find over 40 campsites here which are suitable for tent camping with dogs. Surrounded by tranquil pine forests, this campground is the "pawfect" place for a relaxing getaway.
The main draw of the campsite is the surrounding forests and mountains, with miles of trails to hike with your pooch. You'll find some steep and strenuous walking routes for you and your buddy to explore, with elevations of over 7,000 feet in some areas. 
If you're not big on hiking, relax with a spot of fishing or nature watching. Dogs must stay on a leash at all times. You'll also need to clean up after your dog, as bears are common in the area and are attracted by the smell. 
Hollywood RV Park
One of the best options for travelers RVing with a dog in Los Angeles is Hollywood RV Park. Located in Lake Balboa just 21 miles north of downtown LA, Hollywood RV Park provides dog-friendly RV sites with full hookups. 
Despite being so close to the city, this campground is surprisingly peaceful, with plenty of trees to drown out the street noise. There are also a few fun things to do around camp — catch a show at the Hollywood Playhouse or admire local art of murals at the on-site art gallery. While doggos are welcome, there are restrictions on the following breeds: Chows, Rottweilers, Pit Bulls, and Dobermans.
Where to eat
Los Angeles is one of the best cities in the world for pet-friendly restaurants, with many beachside bistros and eclectic eateries ready to welcome your pupper with open arms. Most offer outside seating on patios or decking, where you can chill in the shade and chow down on everything from Korean BBQ to New York-style pastrami sandwiches. Dog-friendly restaurants in LA usually provide a water bowl so your pup can stay hydrated in the Cali sunshine.
Not only do many of these restaurants let you bring your dog along, but some even offer dog menus! LA is so dog-friendly, there are even fast-food chains that sell dog biscuits and doggy ice creams. 
Where to roam
Los Angeles to San Diego 
The seaside drive from Los Angeles to San Diego is sure to put a sping in your step. LA and San Diego both have "pawlenty" to offer doggos, making this one of the best dog-friendly road trip ideas in the state. The drive is just over 120 miles and takes just over 2 hours. 
Along the way, you'll pass through several charming seaside towns, including Carlsbad and San Clemente. If you're looking for the perfect place for your pooch to cool off and burn off some energy on your way to San Diego, stop by South Carlsbad State Beach. Take Lassie for an on-leash walk or splash around in the surf. 
You'll undoubtedly want to spend the night in San Diego and explore the city before heading back to LA. The Chula Vista KOA is one of the best pet-friendly campgrounds in San Diego and boasts loads of fun activities, from climbing walls to saunas. 
If you're looking for a large outdoor area for you and your pup to explore, take a short drive northwest of the city to Mission Trails Regional Park. This 8,000-acre park features dozens of miles of tracks that meander through the region's rugged valleys. Dogs are welcome on the trails but must be kept on an 8-foot leash at all times. 
Los Angeles to Leo Carrillo State Park
One of the best day trips you can take with your pup is a scenic drive to Leo Carrillo State Park. Located near Malibu, Leo Carrillo State Park is around 43 miles from downtown Los Angeles and won't take you longer than an hour to reach. 
After making the short drive to this state park, take your woofer to the dog-friendly 1.5-mile-long beach. This gorgeous stretch has many unique features, including tide pools, reefs, and caves. While your pup is able to explore the beach, they're not allowed on the backcountry trails. 
If you do want to explore the nearby countryside with your canine, consider making a short drive up the coast to Point Mugu State Park. Pet parents looking to go camping with dogs at Leo Carrillo State Park are in luck, as this park has a sizable dog-friendly campground. While camping, keep your pup on a 6-foot leash. 
Where to learn
Los Angeles is home to some of Cali's best attractions, with tons of family-friendly excursions and cultural activities to enjoy. Unfortunately, some of the best places to have fun in LA don't allow you to bring your pup along. If you're planning on visiting some of Los Angeles' exciting attractions, why not book an LA dog walker with Wag!? Dog walkers through Wag! will keep your fur-baby entertained while you take in some of the best sights in the city.  
Universal Studios Hollywood
The City of Angels has several theme parks, and one of the best in town is Universal Studios Hollywood. You'll find several exciting areas in this park. Get in touch with your wizarding side and enjoy a butterbeer at The Wizarding World of Harry Potter. Or, stop by Springfield U.S.A and catch up with America's favorite cartoon family, The Simpsons. After you've had your fill of the park's rides, grab some seafood or fried chicken at one of the park's unique themed restaurants.
The Getty Museum
Art enthusiasts will love perusing the Getty's amazing collection of works. With over 1.5 million visitors every year, the Getty is one of the most popular museums in the US. You'll find paintings by world-renowned artists, such as Paul Cezanne, Peter Paul Rubens, and Edouard Manet, among the hundreds of works on display. One of the most famous pieces of the museum's collection is Irises by Vincent Van Gogh. The museum also hosts shows and special events, so make sure you look ahead to see when's best to visit this world-class institution.
Los Angeles Zoo
One of the best attractions in LA for families is the Los Angeles Zoo. Home to over 250 animal species, you're sure to find some unusual critters at this zoo. Kids of all ages will love seeing the lions, giraffes, and elephants. There are also some incredible and mysterious animals on display, such as African painted dogs, okapis, and Gila monsters. If you get peckish after touring the zoo, stop by the on-site eateries for a craft beer and a burger.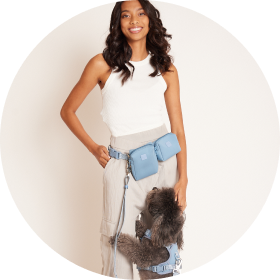 Need to upgrade your pet's leash?