How Can Pet Parents with Elderly Pets Prepare for Wildfires?
How Can Pet Parents with Elderly Pets Prepare for Wildfires?
By Adam Lee-Smith
Published: 09/02/2021, edited: 09/02/2021
Save on pet insurance for your pet
You don't have to choose between your pet and your wallet when it comes to expensive vet visits. Prepare ahead of time for unexpected vet bills by finding the pawfect pet insurance.
Published: 9/2/2021

Wildfires are an increasingly worrisome problem for people and pets across North America. A report by the National Interagency Fire Center (NIFC) states that 41,768 wildfires had burned across the US in 2021 as of August 26th. These fires burned 4.8 million acres, an area just short of the size of New Jersey. And with issues such as climate change not going away, these wildfires are only going to worsen. 
Wildfires spread like, well, wildfire, making evacuations difficult. Smoke inhalation can cause an array of health problems in humans and animals. Keeping your family and fur-babies safe is the top priority, but how can you prepare your elderly pets for wildfires? Here are a few tips for keeping your elderly pets safe during a wildfire.
Take extra steps to help with your dog's mobility issues
When planning a wildfire evacuation, you'll want to account for your pet's health concerns. Mobility issues caused by health problems such as arthritis are common among elderly pets, so keep their movement in mind when planning an evacuation. 
Getting an elderly pet into your car quickly can be tricky, especially if they're a large dog breed like a Great Dane. To make life a little easier, consider picking up a set of pet stairs or a ramp so your pet can get in and out of your car without any fuss. Pet stairs can also be helpful if your dog is blind or partially blind. 
Due to your pet's mobility issues and other health problems, you'll want to allow extra time for evacuation. Practicing your evacuation will not only make the event feel normal to your pet, but it also enables you to track how long it'll take to get your pet on the road. After a few practice runs, you can adjust the time allowed accordingly to ensure a smooth evacuation.
Make your pet easily identifiable and keep them up-to-date on vaccinations
Any natural disaster can be disorientating, and that's especially the case with wildfires. With thick smoke in the air and a raging fire getting closer by the second, it's easy to become separated from your fur-babies. 
If your elderly pet gets separated from you during a wildfire, there's a chance they'll come in contact with other animals that can spread a range of diseases, including rabies. Therefore, you'll want to ensure your elderly pet is up-to-date on their vaccinations.
To keep your fur-babies as safe as possible, ensure they have a collar with an ID tag with all necessary contact information. You should also get your pet microchipped. 
While a microchip doesn't have GPS to track your pet, it'll make them much easier to identify if they're picked up by an animal shelter or your local humane society.
There are also ways you can prepare if a wildfire is suddenly at your doorstep and you're not home. Placing "pet inside" stickers on your windows will let emergency services know that there's a pet inside that needs to be rescued. These stickers usually have space for you to fill in information about your pets.

Take extra steps to protect your elderly pet from smoke inhalation
The most dangerous part of any wildfire is smoke. When your pet breathes in smoke, they're inhaling a bunch of harmful chemicals, including carbon monoxide and cyanide. And smoke can travel over 100 miles, putting your pet at risk even if a fire is far away. Older pets that suffer from lung or heart disease are especially at risk of smoke inhalation and should be monitored closely. 
There are ways you can monitor the air quality in your area to tell if you should be worried about your pet inhaling smoke. AirNow is a government-run website where you can enter your zip code or city and find out the current air quality.
If there's a wildfire in your neck of the woods and your pet spends most of their time outdoors, bring them inside and shut all windows and doors. 
If you have a dog and they need to go to the bathroom, bring them straight back inside after they've done their business. You'll also have to avoid any outside activity, including walkies.

Symptoms of smoke inhalation
You'll want to keep an especially close eye on your elderly pet for signs of smoke inhalation. If your pet is showing any signs of smoke inhalation, contact your vet immediately. Common symptoms of smoke inhalation include:
Eye irritation

Wheezing or coughing

Difficulty breathing

Loss of appetite

Lethargy
If the smoke in your area is especially bad and you're concerned for your dog's wellbeing, you may want to consider evacuating early, even if the wildfire isn't very nearby.
Set up a "clean" room
Setting up a "clean" room is also a good idea during a wildfire. Choose a well-ventilated area like your bathroom or basement, and remove any items harmful to your pet. Then, set up a portable air filtration system in the room. 
If you're worried about your elderly pet staying in rooms where the air quality is slowly deteriorating, put them in this "safe" room until it's time to evacuate. Have a member of your household stay in the room with your pet so they don't become distressed. You can then leave your pet in the room for the time being so they breathe in as little smoke as possible.
Pack a pet evacuation bag
Wildfires can change direction in an instant, so it's wise to pack a pet evacuation bag so you can leave at the drop of a hat. This way, you won't be scrambling around to get everything you need, shaving precious moments off your evacuation time. When packing a pet evacuation bag, you'll want to include: 
3 days of canned food and water

extra leash/harness

doggy bags/litter

portable food and water bowls

vaccine information

extra ID tags

treats

comfort items (toys, blanket, etc.)

a hard-sided crate

information on local shelters

medication
When preparing an emergency bag for an elderly pet with health issues, ensure you have enough medication to get them through the evacuation. Speak to your vet about this eventuality and see how much medicine you can get in advance. 
You'll also want to pay close attention to the evacuation shelters in your area. Unfortunately, most shelters don't allow pets unless your pet is a service animal under the Americans with Disabilities Act (ADA). 
It's worth calling around to see if any shelters do accept pets. You should also consider contacting your local humane society or your vet for advice on pet-friendly accommodation options during a wildfire.
Try to present a calm demeanor to reduce stress
Your pet will usually read your body language and tone of voice to know how to react in a strange situation. Try your best to maintain a calm demeanor during a wildfire. If you behave frantically, your pet is more likely to become anxious and stressed, which could be detrimental to an older pet's health. 
As mentioned, practicing an evacuation every once in a while is an excellent way of getting your pet used to the situation. Pretending the evacuation is a normal part of your day will make your elderly pet much calmer. 
You can also try to arrange an activity to distract your pet. A small puzzle toy with a few of their favorite treats will keep them mentally stimulated while you monitor the progress of a nearby wildfire.
Teach your old dog some new tricks
If you have a dog, brushing up on some old training techniques will make evacuating during a wildfire a lot easier. Depending on your pup's age, reinforcing their training may not be possible, so consider what your dog is capable of in their advanced age. 
There are plenty of other tricks and commands which might be useful during a wildfire. For example, if your dog wanders off, "come when called" and "stay" could save your dog's life.
While it'll be more difficult to teach your old dog some new tricks, it's not impossible. For example, it's totally possible to crate train an elderly dog. Crate training can be beneficial during a natural disaster, as it makes transporting your pet much easier. You can also crate train a cat, which might come in handy during an evacuation.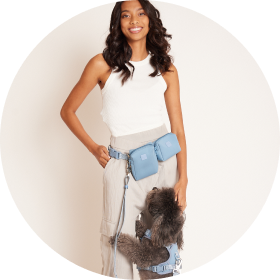 Need to upgrade your pet's leash?