How to Train Your Dog to Use A Crate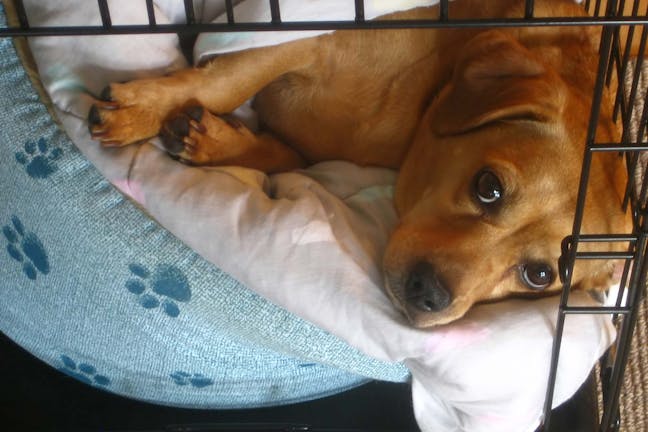 Introduction
Crate training dogs can become an important part of everyday life for your family. Puppies take comfort in their crates while their owners are away. If your puppy is going to be left alone for extended periods of time while you are working or out of the house, think of your dog's crate as her personal bedroom. As you begin to crate train her, give the crate a special name that she will recognize as her special place to go and be safe while you are away. Keeping your dog crated while you are out of the house will keep your belongings safe from puppy attacks. Many owners find their couches saved from chewing, doors, and baseboards saved from marking, and the dog left feeling safe, comfortable, and self-contained within a confined space when using a crate. Puppies, especially, can become overwhelmed when left alone in your home while you are gone. If left to the entire house alone, your puppy could get into garbage or household cleaners, which could cause harm. Children's toys could also be destroyed, or other household items such as your furniture. For a puppy or an adult dog, an entire house with free reign is a lot of space to wreak havoc while you are away.
Top
Defining Tasks
A crate big enough for your dog to stand up and turn around is big enough for your dog to rest, sleep, and quietly play while you are away from her. While you will want a crate that is big enough for your dog to stand up and turn around in, you want to make sure that it's not too big. Too much space could make your dog feel uncertain and unsafe. If left with too much space, your house training dog may use part of the crate to urinate, separating a sleeping area from a potty space. This could mean if you have a dog who is going to grow a lot over the first two years of her lifetime you may need to partition a large crate off or use different crates as your puppy grows into a larger dog.
Depending on the age of your dog, it may take about two weeks and possibly up to four weeks to get your dog not only used to the crate but also feeling as if the crate is her home away from home when you are not around. It is important to use the same word each time you command your dog to go inside her crate.
Top
Getting Started
You will need:
An appropriate crate for the size of your dog.
Treats for rewarding your dog and enticing her to get into the crate.
Bedding and toys for comfort and entertainment while your dog is in the crate.
Some owners provide a small dish of water for their dog while in the crate. However, if you plan to be gone for an extended period, your dog may have an accident in the crate, leaving her feeling discouraged
Remember, do not use the crate as punishment. It should be a safe place for your dog. If she associates the crate with punishments, she is not going to want to be in her crate when you are away for extended periods of time.
Top
The General Crate Training Method

Introduce the crate to your dog
Place the crate in a busy area within your home such as your family room or near your kitchen to introduce the crate to your dog.
Encourage her to enter
Bring your dog over to the crate with the door open for her to sniff and explore. Set a small treat inside and encourage her to go inside and walk around. Do this several times over the course of the first day you have the crate.
Feed inside the crate
If possible, you can give your dog a meal inside the crate to create a level of comfort for her.
Increase duration
Once your dog can spend approximately 30 minutes inside the crate with you at home without fear or anxiety, place her in the crate with a treat, your verbal command, bedding, and toys.
Leave the house for a short period
If possible, the first few times you leave the house should be short trips. Take a walk around the block, make a trip to the grocery store, or run an errand or two. When possible, try not to make her first time in the crate without you home a full day for you at work, for instance.
Repeat
As much and as often as you can, repeat this process to get your dog used to the crate for longer times. Note that a house training puppy may only be able to make it for a few hours without the need to go outside.
The Night Sleeping Method

Location
If you are training a puppy to sleep in a crate at night, you may want to start with the crate in your bedroom or any hallway near your room, so your dog feels close to you and safe.
Introduce and encourage use of the crate
Using the method above, introduce the crate to your dog with verbal commands and treats.
Leave her in the crate
Using a keyword and treats, leave her alone for small periods of time.
Tucking in
Begin your nighttime routine with your dog in the crate and the door open.
Close the door
Once your dog settles down, you can close the door while still talking to her and letting her know you are nearby.
Head to bed yourself
If you do not like the crate in your bedroom or a hallway near your bedroom you can move it once your dog is comfortable understands the verbal commands such as "let's go night-night" and begins to enter the crate on her own when she is ready for bed.
The Luring Your Dog into the Crate Method

Strategy
If your dog is uncomfortable with the crate training process, you can lure her into the crate.
Use a food lure
Place her food inside the crate as a lure.
Encourage her to enter
With a soft voice, encourage her to get inside.
Keep her in while eating
Sit with the door open, blocking the doorway as she eats.
Encourage her to stay inside
Provide a comforting voice and tone while she is inside the crate.
Reward on release
When it is time for her to come out of the crate, make a big deal of releasing her. Tell her she is a good pup, and offer her a special treat reserved just for crate release time.
Repeat
Each time you need to place her in the crate, try this method until she understands she is safe and secure as well as loved.
Understanding
This method works for dogs who may have been abused or locked in small cages or crates for extended periods of time without love and encouragement. An abused dog may associate a crate with a past life and will be fearful of it. Showing her she is safe, and you will return while providing her love and attention will teach her to trust you and her safe space more over time.
By Amy Caldwell
Published: 09/27/2017, edited: 01/08/2021
---