How Expensive Is It to Own A French Bulldog?
How Expensive Is It to Own A French Bulldog?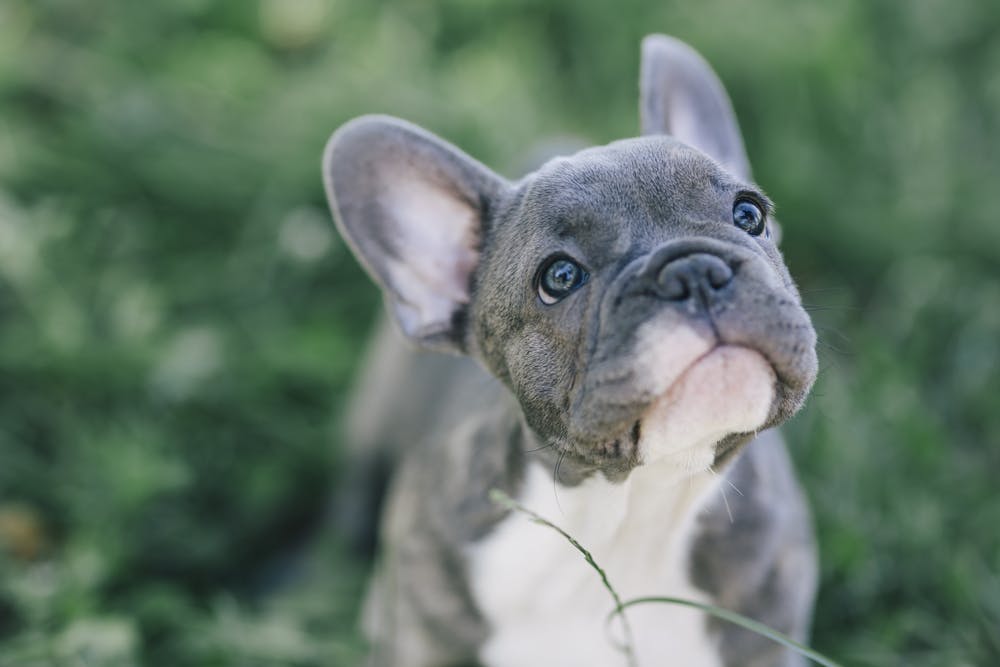 By Kim Rain
Published: 01/08/2022, edited: 05/18/2023
Save on pet insurance for your pet
You don't have to choose between your pet and your wallet when it comes to expensive vet visits. Prepare ahead of time for unexpected vet bills by finding the pawfect pet insurance.
Overview
Small, playful and simply pawdorable, French Bulldogs were created by crossing the large and stocky English Bulldogs with small Terriers to create a cuter, lighter and smaller version of the breed. They were soon imported into France where they became quite pupular, and gained their famous name.
Eventually, Frenchies made their way to the States, where they were officially recognized as their own breed by the AKC in 1898. Since then, the breed has continued to gain quite a following in the U.S., UK and Europe, and has become one of the most sought after dogs year after year.
Due to their high demand, French Bulldogs can be quite expensive to own. If you are looking to add one of these little furballs into your life, we've done the research and found the average annual costs involved with owning a Frenchie, though these may vary based on your location. Let's take a look!
How much does it cost to own a French Bulldog?
There are a lot of expenses with raising and owning a dog, including food, toys, supplies, grooming, obedience training, and most importantly health care. Here's a yearly breakdown of what to expect with a Frenchie.
Buying or adopting a French Bulldog puppy: $50 - $10,000
Vet care (routine/preventative care only): $400 - $600
Supplies: $165 - $540
Grooming: $20 - $120
Training: $300 - $600
Food: $180 - $330
Grand total: $1,115 - $12,190
Buying or adopting a French Bulldog
Frenchies are in very high demand across the United States, and can be quite expensive to buy. Factors that can change the cost of a French Bulldog puppy include their appearance, their age and their location.
The cost for purchasing a standard French Bulldog puppy ranges from $1,500 to $4,500, with an average cost of $2,800 per pup, but some can be much higher. Adult Frenchies are on the cheaper side, and average around $1,500. And because of the demand, you may need to get on a waiting list for your desired pup, which can cost between $300 to $500.
So, what can make a French Bulldog so expensive? First of all, they have a very hard time breeding, and need medical assistance both getting pregnant and giving birth. Then, there are the many variations of coat and eye colors which can change the price considerably. Official "show" standard colors include solid or combinations of white, cream, fawn, and red. Rare colors, including lilac, chocolate, merle or tan will raise the price, as will orange eyes. And if you get a blue or fluffy coated Frenchie, you'll be looking at costs of $8,000 to $10,000!
While you can find backyard breeders or puppy mills offering puppies at only $1,000 to $3,000, often the health of the dogs can suffer due to the breeder cutting costs and poorer conditions, and usually these litters won't be recognized by the AKC. Where you buy can also make a difference, as breeders in certain states will charge higher prices on average per pup.
Save a down on their luck pooch by giving them a second chance, and cut your costs considerably and safely by adopting your new furry bestie! Adopted Frenchies average between $50 to $250, and usually the shelter has included spaying/neutering procedures, vaccinations, and microchips in the cost. 
Vet care
Though the Frenchie is mild-mannered, playful and sweet, they do come with a host of health problems. That cute face that we all love is actually a product of selective breeding, which has deformed the breed's face, nose and bones in such a way that has made certain medical issues a breed standard, such as breathing and respiratory issues that cause their low energy levels and high risk of heat stroke.
Common health conditions
While there are several medical conditions you'll need to keep an eye on with your Frenchie, the most common include:
Preventative care costs
While a puppy may need three or more trips to the vet in their first year, adult dogs can usually be fine with one annual checkup. All Frenchies will need vaccinations, parasite prevention treatments, and other preventative care during their lifetime. An average cost for common annual preventative expenses for French Bulldogs include:
Annual vaccines: $120
Heartworm prevention: $120
Flea and tick prevention: $150
Wormer: $40
Source: Dr. Linda Simon, MRCVS, MVB
Preventative care for pets can be expensive, and pet insurance plans usually don't cover these costs. Wellness packages can reimburse up to 100% of the cost of routine exams and diagnostic tests within 24 hours. To find the right option for your pet and budget, check out our wellness plans.
Vet care costs for French Bulldogs can be expensive
Use Wag!'s pet insurance comparison tool to find the right plan for your pup and save over $270 a year.
Supplies
All dogs need more than just medical care, so be sure to consider all the supplies your Frenchie needs to thrive. Just like any dog, they'll need the basics, such as toys, brushes, leashes and a bed.
Due to the presence of brachycephalic syndrome in the breed, they also need an appropriate harness that puts less pressure on their neck. And since many dogs also experience skin allergies, a shampoo for sensitive skin may also be in order. Puzzle toys are a good option for Frenchies to help keep them mentally and physically engaged without running the risk of exacerbating their breathing issues.
A typical breakdown of annual expenses for supplies includes:
Toys: $25 - $100
Walking supplies: $30 - 100
Grooming supplies (brush/shampoo/nail clippers): $30 - $100
Food/water bowls: $20 - $40
Bedding: $40 - $100
Crate: $20 - $100
Grooming
A Frenchie's fur is short and easy to groom, and they don't shed much. A brush once a week is all they'll need to keep tidy. Due to the breed's prevalence for skin allergies and issues, you'll want to bathe them only as needed, as too much bathing and shampooing can strip the oils that normally keep their skin and hair healthy. Don't furget about your Frenchie's teeth which should be brushed three times a week to avoid dental issues.
Many pet parents enjoy getting their dogs groomed, but French Bulldogs naturally sport a short, sleek coat that doesn't need to be regularly cut or trimmed. You will, however, need to keep their nails trimmed and ears cleaned. An average cost of a nail trim or an ear cleaning at a professional groomer is around $10, while packages that include a shampoo and bath range from $40 to $60. These estimates can vary based on location. 
Dog training
With a laid-back attitude and low energy level, French Bulldogs may seem to be hard-wired for good behavior. And while that is generally true, they can exhibit undesirable behaviors.
Frenchies are very loving and friendly to their family, but at times can exhibit guarding behavior with strangers or visitors. Providing lots of socialization while they are growing can help, but you may need to train your Frenchie out of their guarding behavior by teaching them to accept strangers and remain calm while in their presence.
French Bulldogs are also generally quiet, but some can bark for attention. You can train your Frenchie to stop barking, but also be sure to provide activities and games to keep these dogs occupied while not over exerting themselves physically.
The average dog training facility can charge around $200 to $600 per week, with classes ranging from $30 to $80 each. Or you can work with a personal trainer who can zero in on your dog's needs. In-home and digital dog training with Wag! averages around $60 per session.
Dog food
Since your Frenchie is a small dog breed, they aren't going to be racking up the food bill. But since they do tend to have allergies, you'll want to provide a high-quality food with real meat proteins and low to no grains, additives, dyes, fillers or artificial flavors.
On average, a Frenchie eats between 1 ½ to 2 ½ cups of food daily, divided into two meals, but this can vary depending on your dog's age and metabolism. Providing small kibble bites and wet foods are easier for your little dog to chew.
Some pupular and healthy dog food brands for your Frenchie include:
Your French Bulldog will likely go through one 30-pound bag of food every two months, which can range from $30 to $55. That makes your yearly average around $180 to $330. Healthy and yummy treats are also loved by Frenchies, and will add to your cost. 
Related: Best Dog Food for French Bulldogs

Other costs
 While there are plenty of other costs involved with owning a French Bulldog, they are optional and based on your dog's needs and location. If you work long hours, a dog walker or daycare may be beneficial to curb your little Bulldog's separation anxiety and give them some low impact activity. Or if you plan to travel, you may need to find overnight care for your pooch.
Here are some average yearly costs for these optional expenses:
Doggy daycare (1 full day per month): $240 – $720
Dog sitting (1 week per year): $275–$425
Dog boarding (1 week per year): $335–$475
Dog walking (once a week): $520 – $3,120
For on demand and planned pet care services, download the Wag! app to choose the right dog boarder, dog sitter or walker for your Frenchie's every need today!
Tips for saving money
Owning a Frenchie is expensive, but here are some furbulous ways to cut your costs.
#1. Adopt your Frenchie.
French Bulldogs can range from expensive to incredibly expensive, so if you are looking to add one into your home, consider adopting one to save on your costs. These pups are rescues or surrenders that are just as loving and sweet as a dog direct from a breeder. Save a life, give a dog a furever home, and save your money for spoiling them instead!
#2. Invest in pet insurance.
Since Frenchies always come with health problems, a good pet insurance that includes congenital conditions is the best way to help curb your veterinary costs. In addition to the wide range of breathing, respiratory and joint issues this breed suffers from, accidents and illnesses can also happen when least expected, and pet insurance can help cover thousands of dollars of care.
#3. Find a good wellness plan.
Many pet insurance providers don't cover preventative care costs and annual wellness visits, so choosing a solid wellness plan that does can considerably lessen your costs. From exams to vaccinations to parasite prevention, keeping your dog healthy before problems arise is not only good for your pocketbook, but also for your pup's wellbeing.
#4. Groom your Frenchie yourself.
Since Frenchies don't require a lot of groom time, you can save on the groomer by learning how to trim your pup's nails and clean their ears at home. Always be on the lookout for any irregularities or issues to bring up to your vet, and set up a regular schedule to keep your pooch looking and feeling great.
#5. Create your own dog toys.
Frenchies have low energy and suffer from respiratory issues, which means long trail walks and intense physical activity is not in the cards for them. However, you still need to provide mentally stimulating activities to keep them behaved and fulfilled. Making your own DIY puzzle toys at home is a great way to keep them engaged and active while not overexerting themselves.
Sharing your life with a French Bulldog is a woofderful experience, full of love, laughs and fun. But always consider the high cost of the breed and their health issues when looking to add this pup to your family. As a high demand breed with inherent congenital conditions, you may be paying more for this dog than most others.
Despite the expense, Frenchies are loving members of the family who aim to please, and are pawfect companions for low-impact lifestyles and smaller living spaces.
Got more questions about French Bulldogs?  Chat with a vet today for answers to all your concerns about this pupular pup and more!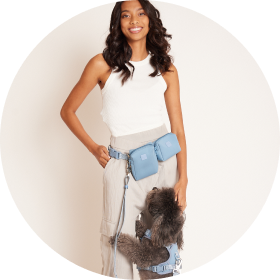 Need to upgrade your pet's leash?