Introduction
Although not many people have heard of the Africanis, this canine kid has been around since ancient times. Developed naturally as a wild dog in South Africa, the Africanis is thought to be a cross between a wild dog and a fox, coyote, or wolf. A medium to large dog, they can range from 60 to 80 pounds and are athletic but slender with long legs and a coat of many colors. Even though this feisty breed has been around for over 7000 years, it is not recognized by any major kennel club. However, the Africanis has been the official original dog of Africa since the 21st century.
Africanis Dog Names in Pop Culture
Featured Famous Dog with an Africanis Dog Name
Anubis
Anubis was the Egyptian God who was the son of Osiris, the god of mummification, and the patron god of lost souls. Also one of the oldest gods in Egypt, Anubis had the body of a man (or a god) and the head of a dog or a jackal, which is a wild dog related to a fox, wolf, or a coyote. They look like a mix of a fox and a German Shepherd. The experts believe that Anubis was a descendant from the older jackal god named Wepwawet. 
You can find images of Anubis on tombs of the royals from the First Dynasty of Egypt, which was during the years 3150 through 2890 BCE. He had already developed a cult following before these years for him to be portrayed on the tomb walls for the protection of the passing loved ones. The ancient Egyptians claimed that he was brought about by wild dogs and jackals that dug up newly buried corpses during the Predynastic Period in Egypt, from 6000 to 3150 BCE. 
The name Anubis was previously thought to be known as Inpu or Anpu, which means royal child in Egyptian. Two other names associated with Anubis include Imyut, which means "he who is in the place of the embalming" or Nubtadjser, which means lord of the sacred land. Anubis' main concern was the funerary cults and the care of the dead, thought to be the inventor of embalming, which he first used on Osiris, his father. 
Osiris was one of the most important gods of ancient Egypt and was the local god of Busiris in Lower Egypt. The experts believe that Osiris was a personification of the underworld god of fertility. But Anubis was thought to be even more important than Osiris, and although they have not found any temples where his followers were located, they believe there were shrines and mastabas with his name or image on them. 
This ancient dog god (ironic naming coincidence) was thought to have superhuman strength, vitality, stamina, and resistance to death or harm. Anubis also had some magical skills such as crossing dimensions, shapeshifting, perceiving spirits, and firing energy blasts from his eyes. The only weakness he had was that he could not harm anyone who held an ankh, which is the Egyptian symbol of life. 
The mother of Anubis was thought to be Nephthya; however, some say that he is the son of Isis or Bastet instead. Whoever his mother was, this ancient god was well-known as the god who ushered souls into the afterlife and was in charge of the weighing of the heart, which determined whether or not the soul would be allowed to enter the realm of the dead. 
Africanis Dog Name Considerations
The Africanis breed of dog is thought to have come over to Africa with the Neolithic herdsmen from the Middle East approximately 7000 years ago before the time of the Egyptian dynasties. The energetic and stealthy pupster started being noticed around 200 CE when they came with their Bantu owners. However, the earliest record of a domestic dog was in 570 CE in the Ellisras district near Botswana. What makes these amazing pooches so incredible is that they were bred by nature rather than people and they evolved to survive in the harsh conditions in Africa. And although they do not have a uniform appearance like Western breeds, they are typically brown and white with a ridge of hair on their back like a Ridgeback. 
These special pups are rare, and if you are lucky enough to find and procure an Africanis, you better come up with an excellent moniker for them. Because they are an African breed, many Africanis owners choose to give them an African name such as Hond, which is Afrikaans for dog, Pharaoh, the Egyptian name for king, or Zambia, which is a beautiful country in southern Africa. Similarly, Mali is a country in Africa and a cute name for a dog and Gazelles are found all over Africa, so Gazelle would be a perfect name for a tall, sleek, dog like the Africanis. Here are more Africanis names that we found. 
Votes
Name
Vote
0

Anubis

The ancient Egyptian god with the head of a dog

0

Tezi

Means one who stays in African

0

Zanzibar

A pretty island off the coast of Africa

0

Duma

The African word for lightning, for that fast doggo

0

Minzi

African for protector and perfect for a guard dog

0

Togo

An African country and cute for the dog who always has "To-Go"

0

Atlas

A large mountain range in Africa and ideal for a huge pup

0

Nile

The longest river on earth, which is in Egypt

0

Sphinx

An ancient Egyptian statue

0

Uje

Afrikaans name for happiness and a awesome for a fun dog

0

Tita

The African name for prince, for a regal puppy

0

Cherika

Ethiopian and Amharic for the moon

0

Sama

Hausa for heaven or sky

0

Zuvan

Means sun in Shona and great for a yellow pup

0

Pharaoh

The Egyptian name for king

0

Stanley

One of the largest waterfalls in Africa

0

Zoser

An ancient Egyptian king

0

Tut

The child king, King Tut

0

Ramses

The name of several Egyptian kings

0

Congo

A large river in Africa

0

Samba

For the dog who likes to dance

0

Khufu

An ancient king of Egypt in the Pyramid of Giza

0

Hannibal

A famous Carthaginian general

0

Impala

Perfect name for a brown dog who runs fast

0

Fez

A fun name for a red dog

0

Rudolph

One of the great lakes in Africa

0

Nechos

An ancient Egyptian pharaoh

0

Kinshasa

The capital of the African country of Zaire

0

Scarab

A beetle used for jewelry in ancient Egypt

0

Zambia

A country in southern Africa
Female Africanis Dog Names
Votes
Name
Vote
0

Sahara

The world's largest desert and great for a sandy-colored dog

0

Sheba

The Arabian Queen of Wisdom

0

Cairo

The capital of Egypt and a cute dog name

0

Nefertiti

An ancient Egyptian queen

0

Egypt

A fantastic name for any dog

0

Kafi

Means quiet in African and perfect for a quiet pooch

0

Savannah

One of the most popular female African names

0

Wuba

Amharic and Ethiopian for beautiful

0

Enyi

The Old African name for friend

0

Nandi

The African word for sweet and good for a friendly pup

0

Victoria

A lake in Africa

0

Abebi

African word for blessing, because your dog is a blessing

0

Titi

Afrikaans name for flower

0

Ashaki

The West African name for most beautiful

0

Obi

The African name for heart, perfect for a red dog

0

Kinania

Means dawn in Kikuyu language

0

Sauda

Means dark beauty in Swahili and great for a black dog

0

Giza

A busy city in Egypt near Cairo

0

Nyota

The Swahili name for star

0

Osumare

Yoruba for rainbow and fun for a colorful dog

0

Zahra

The Swahili name meaning flowering

0

Nibia

A region in Africa that used to be a kingdom

0

Shakina

African for the beauty is near

0

Abla

Means rose in Swa and great for a red doggo

0

Voodoo

For the dog that has a spell on you

0

Sanura

Swahili for kitten and great for a small pup

0

Mali

A country in Africa and cute name for a dog

0

Gazelle

Awesome name for a graceful and fast pooch

0

Cleo

Short for Cleopatra, the Queen of Egypt

0

Kianga

African for sunshine and great for a yellow pup
Community Dogs With Africanis Dog Names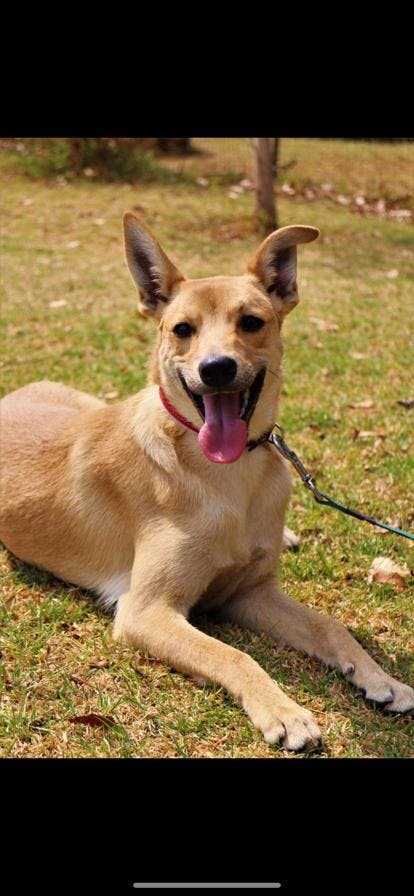 Hunter
Male
Africanis
Johannesburg, MI
We decided to put all the names we wanted into a box and pick 3 names each, place those into a box and shake them pick 1 name each, place those into a box and pick 1 name. Turned out to be Hunter 🙏🏻❤️