Introduction
Adding a Boykin Spaniel to your family is an exciting decision. The Boykin Spaniel is an American breed that has been an avid hunter in the Carolinas. Their specialty is wild turkey and waterfowl, however, their happy-go-lucky spaniel personality also makes them a favorite companion for the entire family. The Boykin Spaniel is a medium-sized dog with a solid brown coat that can range in color from liver to a deep chocolate. They have a unique quality that sets them apart from all other spaniels, they have webbed toes. The Boykin Spaniel is the official state dog of South Carolina. This special spaniel needs a name that is fitting for a water-loving, happy dog. Keep their personality in mind when choosing a name for your new puppy.
Book First Walk Free!
Boykin Spaniel Dog Names in Pop Culture
Featured Famous Boykin Spaniel Dog
Phisher
There is a new ball boy for the Lexington County Blowfish, located in unincorporated Lexington County, South Carolina. The Blowfish is a collegiate team in the Coastal Plain League. The Blowfish announced on May 31, 2018 that they had hired a new ball boy. This was not the typical ball boy; he is more a ball dog and is a 1-year-old Boykin Spaniel named Phisher. This unconventional teammate made his debut at the season opener for the Blowfish at Lexington Blowfish Stadium. In order for Phisher to properly do his job as ball boy, he had to have a special backpack made that will hold bottles of water and balls. He will take the water and balls to the umpires during home games. Blowfish owner, Bill Shanahan announced that Phisher's official title will be Director of On-Deck-Circle Operations. Shanahan, after speaking with veterinary technicians at the Batesburg-Leesville Animal Hospital about having a dog visit the ballpark, he decided to hire Phisher for a very special job. Phisher is owned by Geri Perano, a veterinary technician. The Batesburg-Leesville Animal Hospital became a Blowfish sponsor this season. Phisher's new job is not a part of the sponsorship, but he has brought much publicity for the animal hospital. Since Boykin Spaniels are a retrieving breed and the state dog of South Carolina, it seemed only natural to choose this special dog. 
Phisher had to have special training to become a well-trained ball dog. He has been training since December with Kirk Sharpe, a dog trainer from Lexington, South Carolina. Sharpe expects Phisher to shine in his new role with the team once he learns his routine. Phisher's training is mostly been obedience training and also hunting. Sharpe is hopeful that by the end of the season, Phisher will be retrieving bats for the team as part of his normal duties. He is full of energy and eager to please. Phisher is not simply the ball dog, delivering water and balls to the umpires; he is also the leader of the Blowfish Pooch Parade that will be held during every Tuesday home game. The Pooch Parade will wind around the bases and this event is part of a promotion called Dog Day Tuesdays. During this promotion, Phisher will help bring awareness to the Lexington County Animal Services. Homeless dogs will be brought in and an adoption event will be held during the games. Phisher has a lot on his plate, but he is a very smart, happy dog willing to do anything to please his trainer. 
Boykin Spaniel Dog Name Considerations
Being an American breed, the Boykin Spaniel should be well-known. That is not the case; they are even considered rare. People in the southern states are more familiar with the Boykin Spaniel and understand these medium-sized spaniels are loyal, smart and fun to have around. When you decide to add a Boykin Spaniel to your family, you will be adding a happy, devoted companion. Your new friend will need a name that fits their larger-than-life personality and is also unique to those four-legged friends throughout the neighborhood. You do not want to be calling your dog at the local dog park and have several other dogs with the same name come running to you for treats and praise! Being an American spaniel, your new Boykin will do well with a traditional American name such as Cooper, Jack, Tucker, or Sally. Finding a name that fits their personality and one that everyone in the family likes may be a bit of a challenge, so take your time and do not rush when deciding on a name for your new puppy. Fun names such as Milo, Toby, Bonnie, or Lucy may also be ideal. No matter what name you decide for your new Boykin Spaniel puppy, it will be an exciting time for the entire family.
Male Boykin Spaniel Dog Names
Votes
Name
Vote
2

Cooper

Barrel maker; cask seller

2

Hunter

To hunt; last name of one who hunts

1

Milo

Merciful or peaceful

1

Marley

From the lake meadow

1

Dexter

One who dyes; right-handed

0

Duke

A royal title

0

Ollie

Short for Oliver; olive tree

0

Jasper

Gemstone; one of the Magi

0

Finn

Fair or white

0

Kobe

A city in Japan

-1

Jack

Jehovah has been gracious

-1

Tucker

To torment

-1

Cody

A helpful person

-1

Charlie

Free man

-1

Louie

Famous warrior

-2

Rocky

Diminutive of Rocco; battle cry

-2

Toby

Good is Yahweh

-2

Gizmo

Gadget or mechanical device

-2

Jackson

God has shown favor

-2

Brody

From Brodie; the Gaelic broth or ditch

-2

Teddy

Wealthy guardian

-2

Luke

Light giving

-2

Winston

From a friend's town

-2

Joey

May Jehovah give an increase

-2

Bruno

Armor or protection; brown

-2

Chance

Take a risk for good fortune

-2

Frankie

Frenchman; free man

-2

Tyson

Fire brand

-2

Brady

Spirited; determined

-2

Rudy

Famed wolf
Female Boykin Spaniel Dog Names
Votes
Name
Vote
2

Delilah

Amorous temptress

2

Hazel

God sees; hazelnut tree

2

Phoebe

Bright and shining

0

Ava

Living one; bird

0

Holly

An evergreen holly tree or bush

0

Mia

Wished-for child; rebellion

0

Shelby

Willow farm

0

Grace

God's favor

0

Ella

Beautiful fairy

0

Sadie

Princess; a form of Sarah

0

Luna

Moon; another name for Artemis the moon goddess

0

Allie

Harmony; noble

0

Maya

Illusion; brook or spring

0

Willow

Graceful; slender

0

Roxie

Bright; star

0

Lily

Pure; flower

0

Ruby

Red gemstone

-2

Sally

Princess; female royal

-2

Josie

Jehovah will add

-2

Bonnie

Attractive; pretty

-2

Sydney

Wide meadow

-2

Lucy

Born at dawn

-2

Chloe

Blooming; young green shoot

-2

Madison

Strong fighter

-2

Lacey

Belonging to Lassy

-2

Hannah

Favor or grace

-2

Macy

Weapon; name of famous department store

-2

Callie

The most beautiful

-2

Zoe

Life

-2

Maddie

Tower; women of Magdala
Community Dogs With Boykin Spaniel Names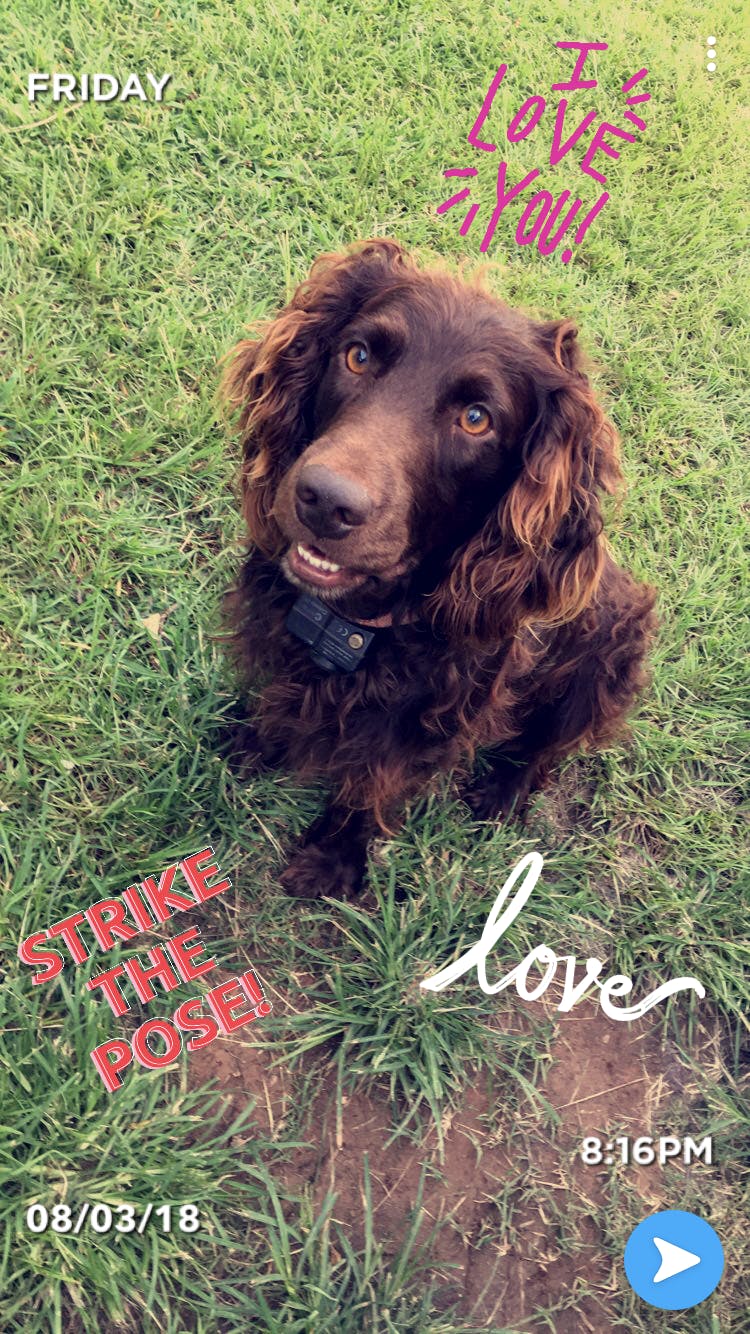 Muddy
Male
Boykin Spaniel
Lagrange, ME
When I was little I always wanted a puppy and my dad is a huge hunter, so when we went to pick up this puppy I was going to name it. When I saw his dark, curly hair I knew this is muddy.