Introduction
What happens in Vegas stays in Vegas. At least this is the mantra that many adopt after a wild weekend in the city that never sleeps. There are times, however, when memorializing a favorite part of Las Vegas is important. There are many pooches out there with Vegas inspired names that bring a smile to their owners' faces and fondness to their heart. Naming your new puppy after a favorite performer, casino or even street is a great way to honor your love for Vegas. Dogs of all backgrounds, sizes and colors are sporting names that are inspired by the city that never sleeps. 
Vegas Inspired Dog Names In Pop Culture
Featured Famous Dog With a Vegas Inspired Name
Lucky
When thinking of dogs in pop culture, it may be difficult to think of a dog with a Vegas inspired name that has captured our attention. There is one particular star-studded pup that not only has a Vegas inspired name but also has an owner who is very much at home performing in Las Vegas. Britney Spears is a well-known pop icon and a huge dog lover. She can be seen with her precious pooches almost everywhere she goes.
Britney Spears has had five loveable toy dogs that have shared the spotlight with her and shown the world what it truly means to be a pampered pup. One of her little friends is named Lucky and is a tiny Chihuahua. Lucky was a constant companion of Britney's until her relationship with Kevin Federline heated up and Lucky became a little bit jealous of the time Britney spent with Kevin. Even though there was tension between Lucky and Kevin, Britney doted on the little Chihuahua and made her into a true celebrity. There are many pictures splashed across the internet of Britney cuddling one of her pups close while facing down the paparazzi.
However, eventually Lucky's jealousy caused her to become overly possessive of her human mom and she was a bit too aggressive towards Kevin. According to several sources, Britney had to find a new home for Lucky when Kevin gave her the ultimatum of him or Lucky. But, Britney still visited Lucky when her schedule permitted.
Other dogs have made a splash within the limelight of Vegas in the Popovich Comedy Pet Theater. This is a family oriented show that features Gregory Popovich along with several of his animal co-stars. While many of the 30 pets featured in the show do not necessarily have Vegas inspired names, the simple fact that they perform in Las Vegas has many people scanning their names for a potential name for their new pet.
While not a dog, Mr. Diamond of the Popovich Comedy Pet Theater has a truly inspired Vegas name and dog owners can take inspiration from this adorable miniature horse. While Diamond is generally a good name for a female dog, by adding Mr. to the front, it becomes a lovable name for any male dog, big or small. Gregory Popovich brings into his show not only laughter, but also sound training advice for the novice dog owner and has even published books sharing his love for training and living with pets including his book "Doggy Gone Good".
Vegas Inspired Dog Name Considerations
You may decide to name your dog a Vegas inspired name simply because you love the city and have fond memories of being there or you may have a love for gambling. New puppy families like to think of something that really inspires them when they are choosing their puppy's name and Vegas invokes images of lights, fun and entertainment. Maybe your favorite entertainer has a show in Vegas, such as Wayne Newton or Celine Dion. It could be that your favorite singer has a pooch with a name that grabs your attention, such as Britney Spears' Chihuahua, Lucky.
Perhaps you are inspired by casino games and find inspiration in your favorite card game or slot machine. Names like Ace and Blackjack come to mind when thinking about puppy names derived from card games. Casinos also can be an inspiration for finding the right name for your newest addition. Names that remind you of a favorite hot spot in Vegas can also be fun, such as Gio for the Bellagio or Wynnie for the Wynn Resort and Casino. For instance, naming a puppy Fremont, after the famous Fremont Street in Las Vegas is a creative way to remember good times had while visiting Vegas. 
Male Vegas Inspired Dog Names
Votes
Name
Vote
8

Elvis

Many times called "The King of Vegas"

7

Seven

In gambling, the luckiest number

7

Sinatra

Frank Sinatra put Vegas on the map with the Rat Pack

6

Davis

After Sammy Davis, Jr. who performed in Vegas

5

Blackhawk

After Buffalo Bill's train car on display in Vegas

5

Caesar

A famous casino

5

Clark

Las Vegas is located in Clark County, Nevada

5

Mirage

A casino located on the famous Strip

5

Monte

After the famous Monte Carlo casino

5

Newton

As in Wayne Newton

4

Ace

Top card in most card games

4

Cosmo

After the Cosmopolitan Las Vegas Hotel

4

Gio

After the Bellagio Hotel and Casino

4

Venny

As in the Venetian Las Vegas

3

Dion

After Celine Dion who has an act in Vegas

3

Excalibur

After the Camelot-themed casino and hotel, Excalibur

3

Gambler

A person who plays casino games

3

Roulette

Popular casino game

2

Vegas

The city that never sleeps

0

Banger

From the microbrewery in Las Vegas: The Banger Brewery

0

Blackjack

A very popular casino game

-1

Bally

As in the Vegas hotel and casino that was the MGM Grand

-1

Fremont

Famous street in Las Vegas

-1

Jackpot

Winning big in the casino

-1

Joker

Wild card used in many card games in Vegas

-1

Rocky

After the Red Rock Casino, Resort and Spa

-1

Vic

From the famous Vegas Vic cowboy located on the Glittery Gulch

-2

Dealer

As in the one controlling the card games

-3

Parlay

To double a bet in roulette

-5

Trump

As in the trump card
Female Vegas Inspired Dog Names
Votes
Name
Vote
6

Debbie

For Debbie Reynolds' act in Vegas

6

Hilton

From the famous hotel chain

6

Viva

The ultimate thing to experience in Vegas is the Viva Vision Light Show

5

Britney

Pop star Britney Spears has an ongoing show in Vegas

5

Sahara

After the famed Sahara casino in the Strip

4

Bella

As in the Bellagio hotel and casino

4

Madison

After Holly Madison the famous showgirl

4

Mira

The Mirage, a famous casino

4

Presley

As in Elvis who performed in Vegas often

4

Sammi

As in Sammy Davis, Jr. who performed in Vegas

4

Vada

Taken from Nevada; state where Las Vegas is located

3

Cali

For the California Casino just off of Fremont Street

3

Carat

From the casino table game baccarat

3

Encore

For the Encore Resort located within the Wynn Resort

3

Goldie

As in the Golden Nugget

3

Wynnie

After the Wynn Resort and Casino

2

Vickie

From Vegas Vickie, the popular cowgirl sign of Glitter Gulch

1

Celine

After Celine Dion who has a continuing act in Vegas

1

Holly

From the Planet Hollywood Casino and Hotel

0

Carla

After the Monte Carlo casino

0

Priscilla

Elvis' wife who accompanied him to Vegas many times

-1

Capri

As in the Isle of Capri

-1

Diamond

A suit of cards or the Queen of Diamonds

-1

Lucky

As in Lady Luck or wins a lot when gambling

-1

Mandy

From the Mandalay Bay hotel

-1

Penny

As in penny slots that many play in casinos

-1

Vega

As in Las Vegas; shortened for a girl

-2

Treasure

After the Treasure Island Hotel and Casino

-3

Burlesque

Vegas is said to be the birthplace of this risqué dancing

-3

Hennessey

From Hennessey's Tavern on Fremont Street
Community Dogs With Vegas Inspired Names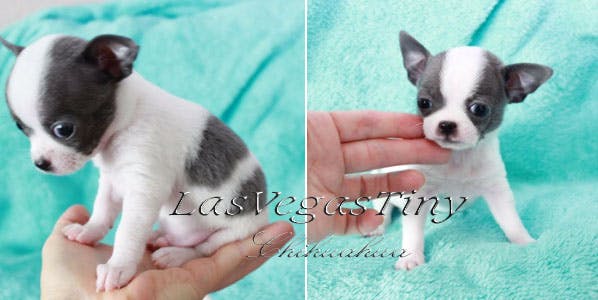 Dice
Male
Chihuahua
New York, NY
Personality
Playfull and sweet
when he was born in "Las Vegas tiny chihuahua" he loves to eat.Breeder call him DYSON(vacuum all in his mouse: milk and food. ,but he moved to New York, we decide to call him more las Vegas Inspired Name))but close to his original name and called him Dice,because he has cute blue spots on his body,as dice . Love him so much.
Vegas
Female
German Shepherd
Kansas City, KS
My mom and dad got married in Las Vegas so they named her vegas