Introduction
The Cherokee tribe has always been considered one of the most socially and culturally advanced of the Native American tribes. Since the tribes very first interaction with European explorers back in the 16th century, the Cherokee were interested in growing, developing, and progressing. It is this resilient and curious nature that allowed the tribe to thrive for so long and so well before the Europeans ever stepped foot in their land. It is also this same nature that helped the tribe to survive when settlers came in for their search of gold during the year 1829. This rush for wealth caused the Cherokee to lose their native lands, and be driven out along the Trail of Tears to the "Indian Territory" that exists today. This tribe is full of wonderful people and beautiful names that represent their culture and beliefs so well.
Cherokee Dog Names in Pop Culture
Featured Famous Dog with a Cherokee Name
Beta
In the Cherokee culture, there are many fascinating and beautiful legends that live within the stories of these people. One of these legends is about a pair of dogs that guard the path to the land of souls. Their names are Alpha and Beta. According to the legend, if one wants to walk down the path, you must bring food to appease these dogs. If you give the food to Alpha, he will let you pass, but it is extremely important to remember to bring enough food to also feed Beta; because should one forget to do so, that person will be trapped between the two dogs forever.
While no one can actually meet this spotlight pair, there are a few other dogs that bear the name "Beta" in real life that we can learn more about. The first Beta that we are going to learn about is a beautiful Australian Shepherd who is owned, and trained, by Jenilee Gobin. When Beta first came to Gobin, the 2 1/2 year old Aussie was being retired from a breeder's program after having 2 litters of puppies. Because Beta had not been properly socialized when she was a puppy, the young dog was skittish, snappy, and fearful around people. It took a lot of work and patience on Gobin's part, but with positive training programs and lots of love, Beta is now a more confident and happy dog around all different kinds of people. 
The second "Beta" that we are going to introduce is one who represented the University of Virginia. He was first known at the University in 1929 where he came to live in the  Beta Theta Pi House on Rugby Road, which is where he so fittingly got his name. Sadly, Beta was hit by a car in 1939 and his funeral was a statewide event. He was transported from his home at the Beta House to the University's Cemetery. There, over 1,000 people came to see him laid to rest. Although this is a sad story, it goes to show just how important a dog can be to the people around them. 
All of the "Beta" dogs in our spotlights were important to those who interacted with them. The Beta in Cherokee legend allowed travelers to pass on their journey to the final rest; Gobin's Beta shows just how far a bit of love and hard work can go; and finally, the University of Virginia's Beta allows us to see how much one animal can touch the hearts of many. 
Cherokee Dog Name Considerations
Any dog breed can fit extremely well into this category. Because the Cherokee cherished the idea of names and their importance, the biggest factors that will play into choosing a Cherokee name for your pup will be personality. Traditionally, the maternal grandmother of a family would name the girls, while the senior male of the father's lineage would name the boys. A name was chosen from many things, such as a dream, a trip to find their spirit animal, or a great act. As children, personality was the main factor (and sometimes appearance) that would determine what moniker a child would receive. The same principle can be applied when choosing a name for your dog! For instance, if you have a dog that loves to swim (such as a Golden Retriever) then the name "Ama" may be perfect, as this name means "Water". As far as appearance goes, perhaps you have a Siberian Husky or Malamute that has an appearance or coloring similar to a wolf, the name "Waya" means "wolf" and could be a great choice; there are also names such as "Mohe" meaning "elk" and "Salal" meaning "squirrel" that can work for coloring and coat markings as well.
Votes
Name
Vote
5

Waya

Meaning "wolf"

4

Dakota

A name that means "allies or friends"

2

Degataga

Or Taga for short, this name means "standing together"

2

Chitto

Meaning "brave"

1

Sequoyah

A lovely name meaning "sparrow"

1

Austenaco

Can be shortened to Austen or Naco, meaning "chief"

1

Dyami

Another name that means "eagle"

0

Mohe

A name meaning "elk"

0

Oukonunaka

Can be shortened to Naka and means "white owl"

0

Atohi

A simple name meaning "woods"

0

Dustu

Meaning "spring fog"

0

Gawonii

A name that demands attention with the meaning "he is speaking"

0

Kanuna

A cute name meaning "bullfrog"

-1

Salal

Meaning "squirrel"

-1

Attakullakulla

Kulla for short, this moniker is another version of "chief"

-1

Oconostota

"Warrior of Chota"

-1

Rayetayah

A name that means "hanging maw"

-1

Yonaguska

Another variation of "chief"

-1

Ahmik

A name meaning "beaver"

-1

Chatan

This name means "hawk"

-2

Adahy

Meaning "In the oak woods"

-2

Chea

Chea Sequah means "red bird"

-2

Galegenoh

This strong name means "stag"

-2

Atsadi

This name means "fish"

-2

Diwali

This unique name means "bowl"

-2

Tsiyi

This name means "canoe"

-2

Unaduti

Perfect for a Malamute, this name means "wooly head"

-2

Chuquilatague

While long, this name can be shortened to Chuqu and means "doublehead"

-2

Kanagagota

A name that means "standing turkey"

-2

Koatohee

Meaning "chief corn tassel"
Female Cherokee Dog Names
Votes
Name
Vote
5

Ahyoka

A lovely name meaning "she brought happiness"

3

Adsila

A lovely name meaning "blossom"

3

Hialeah

This name means "beautiful meadow"

3

Cherokee

The name of an Indian tribe

2

Awenasa

A perfect name for a loyal companion meaning, "my home"

2

Usdi

This is a perfect name for a puppy as it means "baby"

2

Galilani

Meaning "friend" this name is perfect for man's best friend, the dog

2

Sequoia

A Redwood tree

2

Tsistunagiska

This name means "wild rose"

2

Charu

Meaning "graceful"

1

Amadahy

This name means "forest water"

1

Galilahi

For any of your lovely pets, this name means "attractive"

1

Hiawassee

A fun name that means "meadow"

1

Inola

This gorgeous name means "black fox"

1

Nanye-hi

Nanye for short, this name means "goes about"

1

Yona

This name means "bear"

0

Leotie

Meaning "flower of the prairie"

0

Salali

Female name for "squirrel"

0

Ghigau

Meaning "beloved woman"

0

Ninovan

A name meaning "our home"

0

Papoose

Another name for "baby"

-1

Awinita

An adorable name that means "fawn"

-1

Ayita

Meaning "first to dance"

-1

Immookalee

Mookalee or Mook for short, this name means "waterfall"

-1

Tayanita

Meaning "beaver"

-1

Ama

A simple name that means "water"

-1

Immokalee

Or Kalee for short, this name means "tumbling water"

-1

Knasgowa

Meaning "heron"

-1

Tsula

A cute name meaning "fox"

-1

Tayanita

Meaning "young beaver"
Community Dogs with Cherokee Names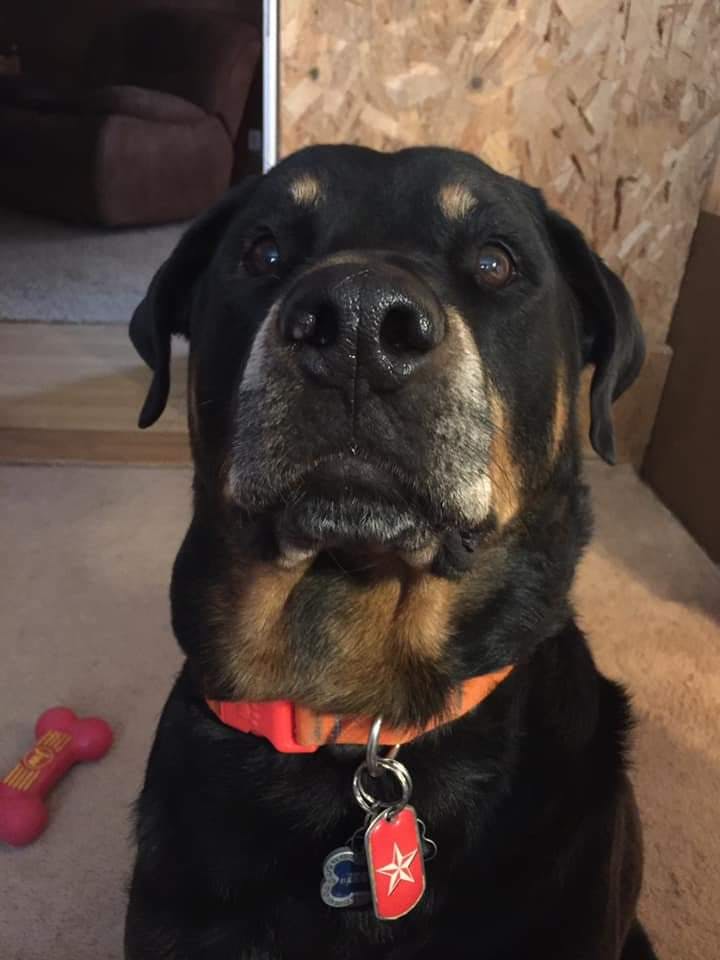 Kota
Male
Rottweiler
Tonopah, AZ
Kota is very loyal and loving. I have had him since he was 6 weeks old. Kota is now 8 years old. He is MY best friend and companion. Kota is also my service k9.