Introduction
When we say exotic, we mean: strikingly, excitingly, or mysteriously different or unusual (according to Merriam Webster). Who wouldn't want such a name for their poochikens? After all, they lend excitement to our lives. Each one of our pups has their different, unique characters, are striking to us and bring love and joy to us. But most of all, when we just get them, they are a wonderful mystery. We don't know what they will turn out to be, character wise. We found the names, all you have to do is choose the most strikingly unusual one. If you can!
Exotic Dog Name Considerations
Featured Famous Dog With An Exotic Name
Dante
Our dog in the spotlight this time is Dante, from the Disney / Pixar movie: Coco. Not a real dog, but really loved, nonetheless! Let's look at a few interesting facts about the breed of dog Dante is based on, which is the Xoloitzcuintli breed, or Xolo for short. This breed originated in Mexico and can be traced back over 3000 years. Now Dante has a cutesy, clumsy and comedic personality and the unique quality that he can travel back and forth between the lands of the living and the dead. This is based on the mythical beliefs that the Aztecs held about this breed, that they were guides to the underworld. This belief extended into our day as well and many people believe these dogs have mystical powers to ward off evil, making them excellent watchdogs, beyond the traditional sense. These awesome creatures have a strange, tufty appearance due to a serious lack of fur. If that was not enough, they also have a propensity to lose teeth - hence the lolling tongue Dante is known for! His overly long tongue is not only for comedic effect but accurate, Xolos also have longer than usual tongues. 
Dante made people fall in love with his puppy personality, stuck in an adult body which stole the movie. We can think that quite a few owners and dog lovers that can relate! Xolos are also used in soothing therapy, as they are known for being really warm. hugging one of these, bring a sense of comfort that is quite hard to explain, think 'living breathing hot water bottle' (Admit, you're considering getting a Xolo now). Another interesting fact is that in the 30's and 40's, Xolos were really trendy pets to own if you lived in Mexico. This was due to the popularity of pre-Hispanic art and a lot of National sentiment of the time. Although we have no idea why they could not be as trendy now, this is a really exotic breed of dog. Now you have a lot to go by for this one name: Dante. Is your dog loyal, fun and comical most of the time? A healer and companion and maybe even a wee bit scruffy looking? Maybe he is a fierce guard dog, even overprotective. Either way, we feel that Dante is a strong and lovable name that carries with it the idea of dignity, devotion and fun.
Exotic Dog Name Considerations
Who does not want an exotic name for their beloved pet? But this can be daunting, where do you even start? There are many exotic things we can consider, but this really depends on your view of exotic. To someone accustomed to one culture or another, something from that culture will not be seen as exotic. We looked at different origins, from languages and cultures, to classic literature and mythological creatures. Characters that inspire some traits, like fierce loyalty, sneaky villainy or ridiculous stubbornness are also sprinkled in the mix. There are words that inspire exotic feelings (check out the "fragrance of the ocean" for instance). Also, words that we as dog owners can relate to, like 'loved' 'cherished' and 'blessed'. From the ethereal to the mysterious, from the fierce and fiery to the docile and lazy, we found inspired names of characters, era words, and exotic origins. Some of these names are even just a word for the color of your dog. So we sifted through all the funny sounding and the really austere, to leave you with the pronounceable and eloquent. All you need to do now is scroll, consider, pronounce and decide. Now let's have fun!
Votes
Name
Vote
3

Orin

Celtic for 'white'

3

Amias

Latin for 'loved'

1

Kenji

Second son, intelligent, strong and vigorous - borrowed from Japanese

1

Zalko

According to the Urban Dictionary means 'one who mingles' so, a sociable or interactive one

1

Huckle

A play on Huckleberry Finn (Tom Sawyer)

1

Sawyer

From Tom Sawyer

-1

Dante

An ancient boy name and famous classical writer that lived between 1265 - 1321

-1

Lysander

Also from "A Midsummer Night's Dream" the man of Hermia's dreams

-1

Alceste

Encompasses the idea of bravery, prowess and strength, from Greek origin

-1

Briley

Noble and strong, English origin

-1

Othello

The protagonist hero from Shakespeare's play

-1

Iago

From Shakespeare's "Othello" - the villain of the play

-1

Mercutio

From Shakespeare's "Romeo and Juliet"

-1

Benvolio

From "Romeo and Juliet"; Romeo's cousin and thoughtful friend

-1

Balthasar

From "Romeo and Juliet"; Romeo's dedicated & loyal servant

-1

Marlow

Protagonist in Joseph Conrad's "Heart of Darkness"

-1

Wiglaf

The kinsman who helps Beowulf fight in the first dragon scene

-2

Diones

A shortened form of Dionysus, the mythological god of debauchery (steals your shoes?)

-2

Laszlo

One who rules with glory - Hungarian origin

-2

Bredon

Celtic for sword

-2

Chamwri

A play on Chachamwri the mythical helper for Arthur (Celtic)

-2

Eghan

Meaning 'little fiery one' - Celtic origin; also the name of Ghanaian soccer wonderkid, Shadrach Eghan

-2

Owyn

Celtic for little fighter

-2

Coen

Aboriginal for 'experienced advisor', but the name sounds pretty cool (pronounced 'koon')

-2

Kolya

Slavic for 'victorious warrior'

-2

Abahu

Aramaic for 'the Lord is my father'

-2

Egeus

The catalyst from Shakespeare's "A Midsummer Night's Dream is the character who tries to prevent his daughter, Hermia, from marrying her true love

-2

Theseus

The owner of the 'musical pack of dogs in Shakespeare's "A Midsummer Night's Dream"

-2

Atticus

From "To Kill a Mockingbird", the father of Scout

-2

Tybalt F

From "Romeo and Juliet"; he is on the Capulet's side, Juliet's cousin
Votes
Name
Vote
0

Airlia

Meaning ethereal in Greek, so think petite and dainty

0

Allegra

Which means joy in Latin, very appropriate!

0

Imani

Kiswahli for 'faith'

0

Kali

'Pure' or 'energetic', depending on whether you want to lend from Greek or African origins

0

Maile

A Hawaiian vine, also very mysterious sounding

0

Aife

Mythical woman warrior of great beauty - Celtic origin

0

Aithne

Celtic for fire

0

Putri

Indonesian for Princess

0

Sabra

Related to the Arabic word 'Sabr' meaning 'patience' or 'perseverance'

0

Emrys

Meaning 'immortal' - Celtic origin

0

Svana

Icelandic for 'swan'

0

Zaliki

Egyptian for well born

0

Ziva

Of Hebrew origin meaning 'brilliance'

0

Quenby

This is Swedish for 'womanly' - queenly, if you want

0

Neema

Swahili for born in prosperity; denotes the idea of being idle or lazy, according to the Urban Dictionary

0

Zaliyah

Is one that is stubborn in the Urban Dictionary

0

Fiacra

Meaning 'eagle' in Celtic

0

Zaloe

Just a fun name!

0

Zakira

A play on Shakira and Arabic for remember'

0

Kiah

Of African or aboriginal origin and means 'God is strength'

0

Adlai

Is Aramaic, and means 'Refuge of God' - Good name for a rescue?

0

Alcestis

The strong minded woman who gave her life for that of her husband in Greek classical literature

0

Hermia

From Shakespeare's 'A Midsummer Night's Dream"

0

Brielle

Is a contemporary name and means "God is might" and has a possible French origin

0

Adara

Noble, exalted, beautiful and chaste - all in one word; from Hebrew origin

0

Ahava

Hebrew and carries the meaning of a 'cherished one'

0

Elysia

Greek for 'blessed home'

0

Éire

Meaning Ireland in Celtic times - also sounds dainty and ladylike

-1

Abella

Meaning "breath" in French

-1

Umika

Japanese for 'fragrance of the ocean'
Community Dogs With Exotic Names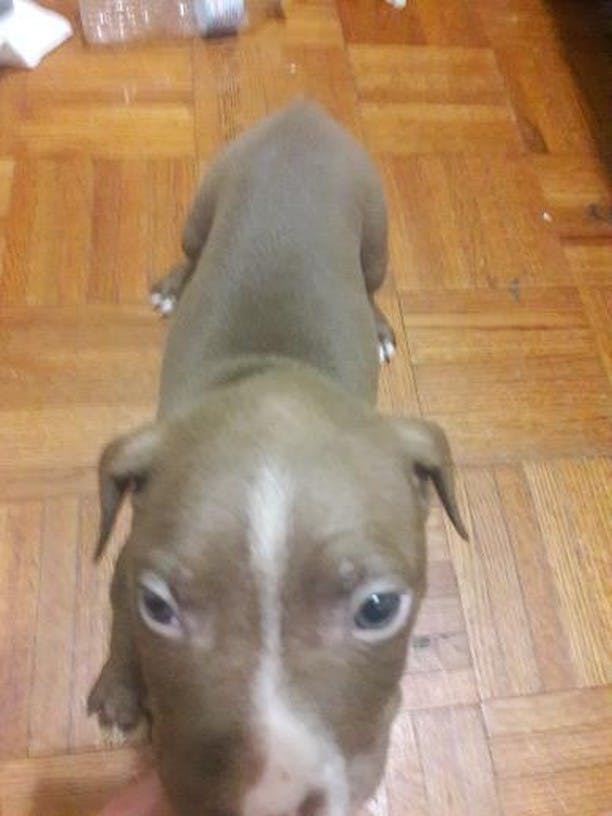 Avagadril
Male
Pit Bull
Philadelphia, PA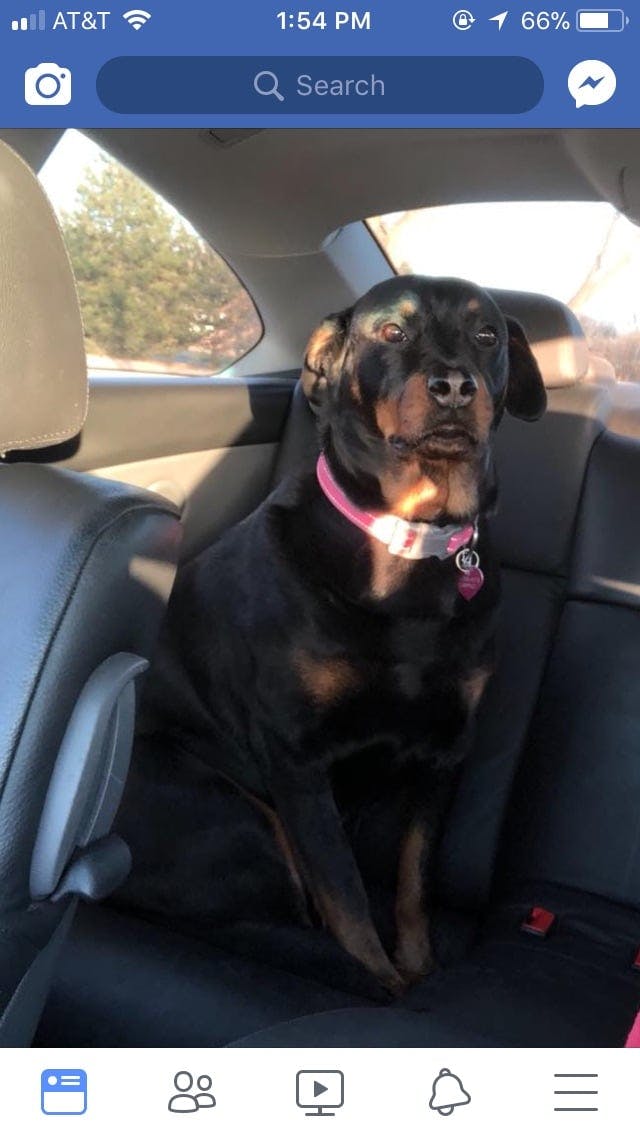 Keeva
Female
Rottweiler
Wichita, KS
It is an Irish name meaning beauty, gentleness, and beauty.