Introduction
The Samoyed, also known fondly as the "Smiling Sammy", is a breed that absolutely embraces the idea of all things lovely. From his gentle and affectionate personality to his long, cloud-like fur, the Samoyed is quite a popular breed. At the very beginning, Samoyed's were creatures of legend that told of the Samoyed people, travelling ever northward across the never-ending ice and snow, with these faithful white dogs by their sides to help as guides. Used for herding reindeer, pulling sleds, and keeping their humans warm at night, the Samoyed had always been a faithful companion and still is to this very day. No matter the task, whether it is just playing with his people or being a showman in the ring, there is no doubt that the Samoyed will do his very best and love every minute. Choosing a name for this intuitive and attractive breed will be an easy task!
Samoyed Dog Names in Pop Culture
Featured Famous Dog with a Samoyed Name
Harvard Dangerfield
Officially dubbed Champion Skilo Bear's Ivy League C.G.C. Samoyed Sir Harvard, Harvard Dangerfield is an 13 year old Samoyed who has taken the internet by storm through the platform, Instagram. His mother, Dana Sullivan, first knew that Harvard was for her when the tiny puppy wouldn't leave her side. Sullivan's mother bred Samoyed's and used them for show and so seeing lots of Samoyed babies running around wasn't something new to her. However, when the time came for Sullivan to start thinking about a dog of her own, she wasn't quite expecting to find one that was so attached to her right from the get go. Upon visiting a litter of Samoyed puppies, one male in particular was quite persistent in his advances!  Harvard wouldn't let Sullivan out of his sight and cried furiously whenever she would leave, so it was only natural that Sullivan had to take her new little shadow along home with her. From there, Sullivan began training Harvard to be a therapy dog (which ran in the family thanks for Sullivan's mother) and at just 6 months old, Harvard was visiting nursing homes and hospitals to provide fluffy, soft, support to those who occupied those rooms.
Although he was well loved, Harvard didn't become well-known in Boston until Sullivan made him a Facebook account as a joke. Her friends had thought it was funny to see Harvard "create" his own posts, so he was shared through multi-media. Being an extremely photogenic and gorgeous dog, it didn't take long at all for people everywhere to fall in love with Harvard. Facebook was fun for a while, but once Sullivan stumbled upon Instagram, where a picture of Harvard captured lots of attention, it was clear that Harvard's amazing personality was meant to be shared much farther than he could reach on his own; so his own Instagram account was created. This in itself is not what makes Harvard so special, however. Anyone can have an Instagram account, but what makes Harvard Dangerfield so popular, is what he does to the hearts of those who see him. As can be seen with Harvard, a Samoyed makes a wonderful therapy dog. Their fluffy coat is perfect for hugging, the ever smiling face lifts spirits, and the calm personality is so affectionate that you can't help but feel loved around the breed. 

One of Harvard's biggest moments of support was when the Boston Marathon Bombing took place on April 15th. Sullivan and Harvard were present at the race that day, cheering on all of the individuals who were running to the finish line. Harvard knew something was up, and when the first of the bombs went off, the pair were far enough away to not be hurt; the noise just resembled that of distant cannon fire. Luckily, both Sullivan and Harvard were uninjured and made it safely back to their hotel after hearing the second of the bombs exploding. The next day, Sullivan heard about an owner who was taking her two Pugs to the Commons for free hugs and support. Sullivan and Harvard decided to go as well, with a sign that read "Free Hugs". They stayed there all day, providing therapy, love, and comfort to anyone who needed it. While there is no doubt that Sullivan did this out of the kindness of her heart (and no desire for fame), the local and national news still picked up the story of Harvard and his free hugs. From there, Harvard's popularity grew and he received messages from people all over, thanking him for touching their lives even from so far away. 

The name "Harvard Dangerfield" is one that has quite a weight to it and is noble as they come. It seems to be the perfect fit for this intelligent, affectionate, and all around champion personality. Harvard is a Samoyed who provides smiles and happiness to all who see him. 
Samoyed Dog Name Considerations
A name that embraces the loving nature and elegant appearance of the Samoyed may be the perfect way to go when thinking up a title for your new pup. Due to their interesting history that sings of legends and great adventure, there are lots of great monikers that can represent the beautiful white dogs of the North. Some names that follow a bold and noble theme might capture the true personality of your Samoyed; while on the other hand, you may find that their fluffy white fur and likeness to that of fresh, new snow may call for a title that reflects a more gentle and fantasy feel. 
Regardless of which name you decide to choose, there is no doubt that it should always fit the personality of your dog best. Even if it takes a couple days of owning him or her before choosing that special name, once you understand the personality, everything else will fall into place! For example, if you own a smaller, gentle Samoyed with a love for naps, a name such as Frost may be perfect. On the other hand, a sturdy and high energy Samoyed with a burning desire for all things adventurous may fit best with a more bold name, such as Vaughn, which means "royal" in Russian. 

Votes
Name
Vote
42

Koda

Popular name from the Disney film "Brother Bear" meaning "my little bear"

28

Snow

Perhaps after the King of the North, John Snow?

28

Bear

Polar bear, Teddy bear, whichever you like with that big fluffy coat

26

Alaska

Large state that contains a lot of beauty and wonder

24

Winter

Both manly and perfect for that gorgeous white coat

15

North

The direction that the Samoyed nomads traveled

12

Luka

"Light" in Russian

11

Frost

Gentle, quiet, and beautiful

3

Blizzard

Completely white and wild, this name may be perfect for your spirited pup

1

Ghost

For those with a mysterious personality and clean, white coat

-2

Aster

"Star" in Russian

-4

Nanook

"The Polar Bear" in Eskimo (Inuit)

-6

Nikoli

"Victorious" in Russian

-6

Yukon

Wild, mountainous territory in northwest Canada

-6

Topaz

A precious gem that is clear and bright

-11

Beau

Another name for "boyfriend", or in this case "best friend"

-11

Nikita

Russian for "unconquered", popularized by the film "La Femme Nikita"

-12

Luda

"Love of the people" in Russian

-13

Lixue

"Pretty snow" in Chinese

-13

Jack

Just like the all time winter trickster, Jack Frost

-14

Vaughn

"Royal" in Russian

-14

Lev

"Lion" in Russian

-15

Quilo

Roman reference for the North Wind

-17

Vale

Alternate spelling for a popular ski resort in Colorado

-18

Borya

"Fighter" in Russian

-18

Zircon

Precious, colorless gemstone

-20

Maksimillan

"Great" in Russian

-22

Gennadi

"Noble, generous" in Russian

-25

Grigory

"Watchful" in Russian

-26

Oleg

"Holy" in Russian
Votes
Name
Vote
33

Luna

Latin name that means "the moon"

27

Aurora

Meaning literally "the dawn", but also associated with the Aurora Borealis

26

Crystal

A clear gemstone that is sturdy and beautiful

15

Diamond

Precious gem

12

Stella

"Star" in Latin

12

Misty

Perfect for the light and fluffy fur of the Samoyed

11

Mila

"Favorite of the people" in Russian

8

Sapphire

Precious stone that has a beautiful, pure, blue or aqua color

0

Jade

A beautiful gem that has a green hue to it, like the Northern lights

0

Opal

White birthstone of October

0

Kari

"Covered in snow" in Turkish

-2

Bella

A fairy like name, short for Isabella

-2

Misha

"Who is like the Lord", Russian with Slavic origin

-4

Elena

"Light" in Russian

-6

Anastasia

"Resurrection" in Russian, also a princess

-6

Nadia

"Hope" in Russian

-6

Buttons

To represent the big, black eyes that stand out against the white fur

-8

Khione

Greek goddess of winter

-9

Selena

"Moon Goddess" in Greek

-9

Iclynn

A clever and unique way to change the word "ice"

-10

Calina

"Beautiful, lovely" Greek

-11

Frostine

A twist on the word frost; lovely and light

-16

Anna

"Grace" Latin origin

-16

Sasha

"Defender of Mankind" in Russian

-16

Faddei

"Brave" in Russian

-17

Dinara

"Breath" in Russian

-19

Neige

"Snow" in French

-21

Tatiana

Russian name that means "female of Roman family Clan Tatius"

-22

Galina

"Calm, tranquil" in Russian

-22

Alba

"Bright and white" in Latin
Community Dogs with Samoyed Names
Baldur
Male
Samoyed
Pollok, TX
Baldur is Nordic meaning white
Blue
Male
Samoyed
El Cajon, CA
Personality
Sweet
Energetic
Happy
Me and my friend thought of it together
Chi chi
Male
French Bulldog
Neylandville, TX
It was an easy process because it is the 3rd letter in the Greek alphabet and in Latin it means Christ
Laika
Female
Samoyed
Erie, KS
Laika pretty much means "Barker" in Russian
Laika
Female
Samoyed
Erie, PA
Personality
Bold
Outgoing
Pretty much "Barker" in Russian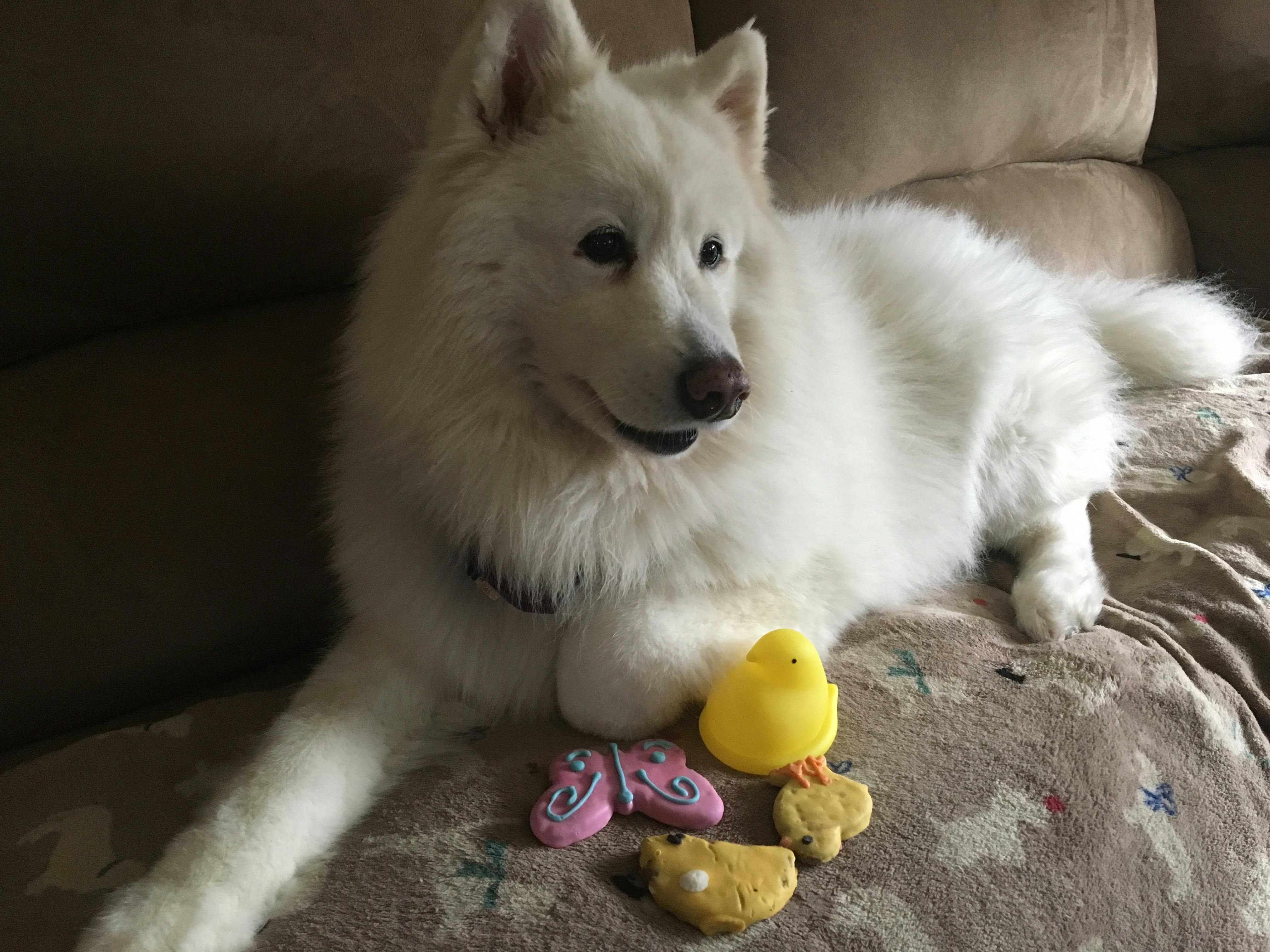 Glacia
Female
Samoyed
Holbrook, ID
Personality
Loving, energetic, fun
Glacier White Ice was her fathers name. So since she's a girl, we decided to name her Glacia. She is loved by the entire town. Everyone knows Glacia when she walks down the road or when her head is out the window when she goes for car rides
Everest
Female
Samoyed
Baltimore, MD
Personality
Kind
Adventurous
I just thought that a mountain-like name would be ideal for how fluffy they are!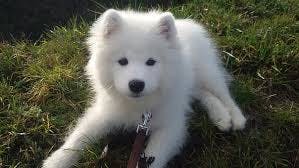 Stella
Female
Samoyed
Memphis, TN
Personality
Sweet
Energetic
Protective
Mystie
Female
Samoyed
New York City, NY
as soon as my cousin and I saw her we knew she'd be a mystie, loves to explore mysteries, meaning she would be down to explore anywhere.
Deja
Female
Pit Bull
San Angelo, TX
Her full name is Deja vu, but most of the time I just call her Deja. She is a blue nose pit bull, but they won't let me add her as that. Deja vu means a feeling of having already experienced the present situation.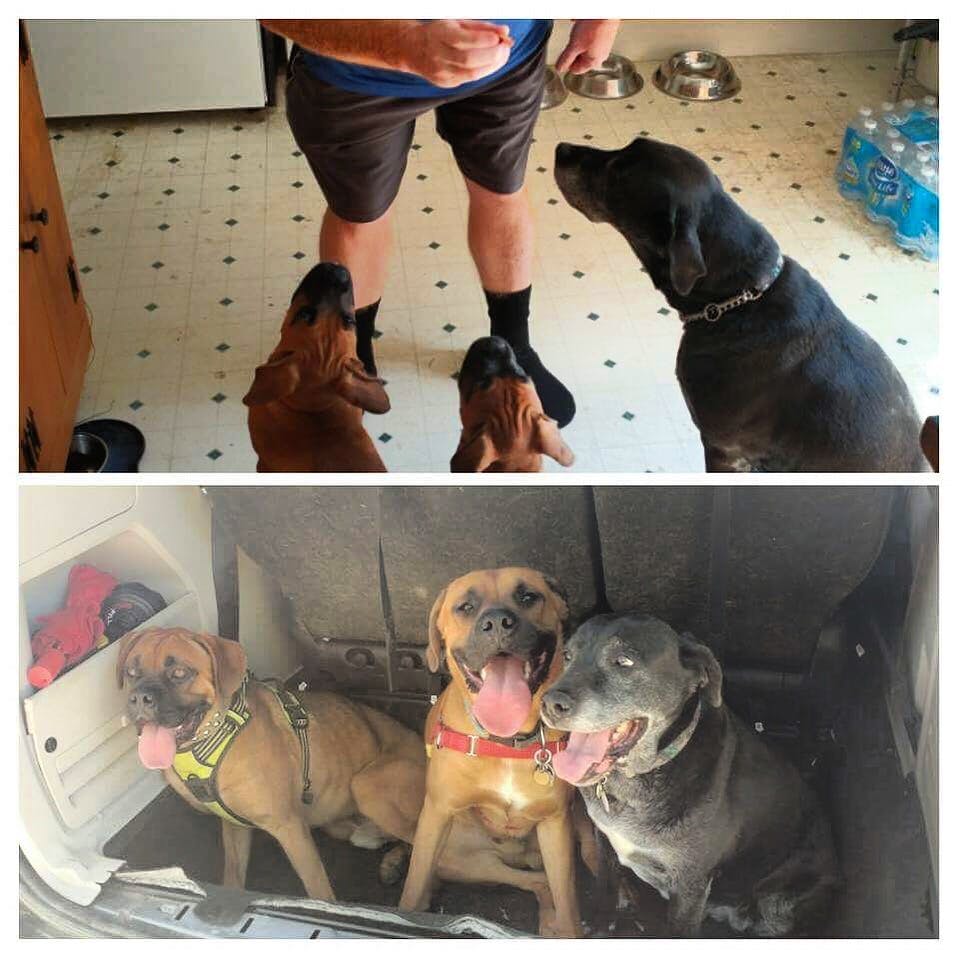 Cotter
Male
Boxer Shepherd
Ottawa Lake, MI