Introduction
With a series of 700 islands and more than 2,000 rocks and cays in the western Atlantic Ocean, the Bahamas features some of the most beautiful beaches and the clearest water on the planet. Whether you have vacationed there or are just dreaming of going there someday, you may want to name your dog for this splendid tropical paradise.
The Bahamas - which geographically speaking is an archipelagic state, a term for island countries that consist of an archipelago - gets about 315 days of sunshine each year. Thanks to the warm waters of the Gulf Stream, the country has a tropical marine climate that is punctuated by miles of gorgeous white-sand beaches that are rimmed by crystal clear blue water.
Bahamas Dog Names in Pop Culture
Featured Famous Bahamas Dog
Oreo
A famous dog from the Bahamas is Oreo, a "potcake" dog. A potcake is a unique mixed breed dog that is native to the Bahamas and the Turks & Caicos Islands. Rescued from the dump at Treasure Cay, Oreo is the friendly watch dog for Linton's Beach and Harbor Cottages in Green Turtle Cay. Lee Linton chose Oreo from a group of rescue puppies being driven around Green Turtle Cay in a laundry basket on the back of a golf cart.  Now a favorite with hotel guests, the outgoing dog makes frequent golf cart trips into New Plymouth.
The Bahamian Potcake, often called the "Island Dog," gets its name from a rice and pea mixture that local residents once fed to stray dogs. Similar to a German Shepherd in both intelligence and temperament, the Potcake is a great pet since it less likely to suffer from hip dysplasia, lives a longer life and sheds less than the German Shepherd.
Another dog that has ties with the Bahamas is Crusoe, the "Celebrity Dachshund." Crusoe describes a visit to Eleuthera in the Bahamas in his travel blog. The article features some great photos of the cute wiener dog enjoying himself on the white-sand beaches of the Bahamas.
Bella is another popular Bahama dog, thanks to an amazing YouTube vide. Boat tour operator Adam Dreffin took the video of his dog Bella, a Schipperke, swimming with a dolphin in the clear Bahamian waters. Both animals seem delighted with each other as they play and bond.
The Bahama Islands were a favorite port for pirates. In fact, infamous pirates known to have lived in the Bahamas and operated out of the surrounding waters include Blackbeard (Edward Teach), Sir Henry Morgan, Calico Jack (John Rackham), and Mary Read and Anne Bonny. Anne Bonny (a great choice for your dog's name) and Mary Read are two women who disguised themselves as men and sailed under the direction of Calico Jack. They both had fiery tempers in their own right and were known to be ruthless pirates. Jack the Bulldog is the name given to the mascot of the Georgetown University Hoyas athletic teams. This famous "Jack" has been so named for generations. The moniker was first given to a Bulldog mascot for the school in 1962 and has since been used no less than 5 times.
Bahamas Dog Name Considerations
If you have a pup with an eye patch look (think the Target mascot), you may want to consider a Pirate name for fun. Does your dog look like he has a beard (perhaps an Scottish Terrier or a Schnauzer), what about Blackbeard for a name choice? If your dog is multi-colored, how about Calico Jack?
Consider your dog's personality when making a name choice. If your dog seems relaxed and eager to please, an island-themed name will reflect that trait. Although they are big, Mastiffs are usually quite calm and laid back. When it comes time for some exercise, you may even think that your Mastiff is operating on island time as she rolls over for some more shut-eye. Nassau, the capital city of the Bahamas, might be the perfect name for such a dog. What about Cay (a small island of low elevation) as a name for your pint-sized dog?
Since much of the life in the Bahamas centers around its beautiful beaches, you can pay homage to the island country with tropical or beach-related names for your pet. Sandy, Surfer, Reef, Seashell and Paradise are a few that come to mind. Does your dog have clear blue eyes like the crystal-clear water surrounding the Bahamas? Then consider Crystal, Turquoise or Marine as appropriate island-themed names. "Blue" is also a great time-honored dog name.
Votes
Name
Vote
3

Reef

The Bahamas boasts the world's third most extensive coral reef system

2

Nassau

For the capital city

1

Coconut

For those coconut palm trees

1

Blackbeard

For the ruthless pirate who lived and worked in the Bahamas

1

Moore

Moore's Island

1

Fin

Many fish surround the islands

1

Ray

As in the stingray

1

Rum

An island beverage of choice

1

Marlin

The National fish

1

Woodes

Woodes Rogers, first Bahamas royal governor

1

Harbor

Seaport inlets

1

Tainos

Native people of the islands

1

Clarence

Clarence Town on Long Island

1

Bimini

One of the islands

1

Palmer

A play on palm trees

0

Abaco

One of the islands in the Bahamas

-1

Bahama

For the island chain

-1

Tommy Bahama

A nod to the island-themed clothing company

-1

Calico Jack

For the famous pirate

-1

Surfer

California is not the only place for surfer dudes

-1

Snorkel

A favorite pastime in the islands

-1

Scooter

A form of transportation

-1

Andros

One of the islands

-1

Scuba

Popular sport

-1

Captain

Title for many pirates

-1

Pirate

Terrors of the sea

-1

Baja Mar

Spanish for shallow water

-1

Freeport

City in Grand Bahama

-1

Salvador

For San Salvador, one of the islands

-1

Aqua

As in the color of the ocean
Votes
Name
Vote
0

Alvernia

Mount Alvernia on Cat Island

0

Cay

Sandy island on a coral reef

0

Sandy

For the beautiful beaches

0

Coral

For the stunning reefs

0

Eleuthera

One of the islands

0

Crystal

The water is crystal clear

0

Turquoise

The shade of the water

0

Marine

In honor of the habitat

0

Mayaguana

One of the islands

0

Paradise

You've found it here

0

Mary

Mary Read who posed as a male pirate

0

Flamingo

The National bird

0

Inagua

One of the islands

0

Sunny

The sun is always shining

0

Bama

A play on Bahama

0

Bammy

A play on Bahama

0

Lucaya

Lucayan National Park in Grand Bahama

0

Annie

Anne Bonny, pirate

0

Bahama Mama

Island mama

0

Exuma

One of the islands

0

Guanahani

A name for the islands

0

Montagu

Oldest fort in the country

0

Calico

As in Calico Jack

0

Moonlight

Moonlight reflects over the sea at night

0

Ardastra

Ardastra Gardens, Zoo and Conservation Center in Nassau

0

Coco

For Coco Cay, part of the Berry Islands

0

Alice

For Alice Town on North Bimini

0

Star

For the sea star, large spiny and orange

0

Queen Conch

An ocean floor resident that is a staple of Bahamian cuisine

-1

Atlantis

The lost city
Community Dogs With Bahamas Names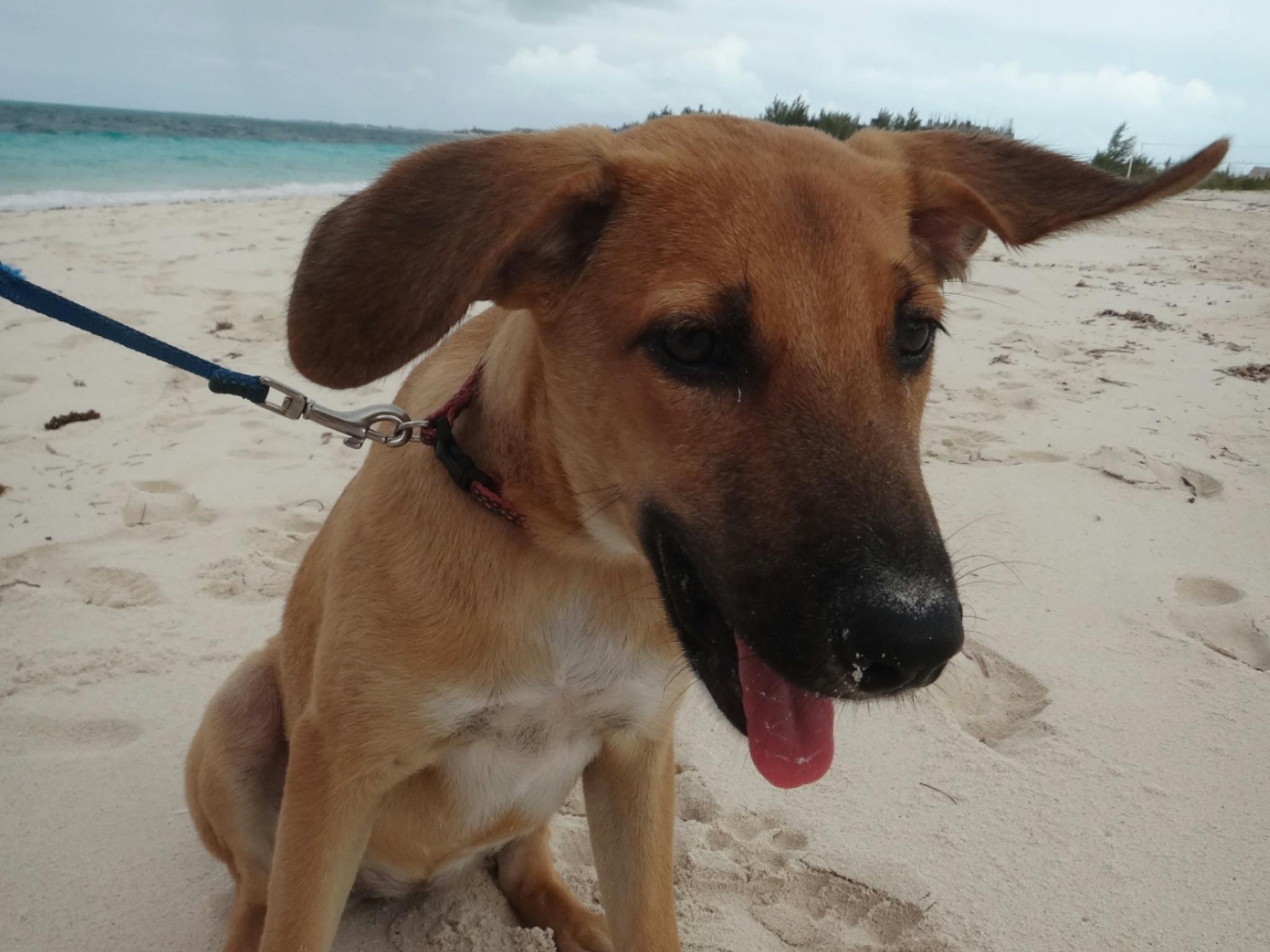 Reef
Male
Mutt
Livermore, CA
We found Reef on the beach as a puppy!