Introduction
One of the more popular and most watched sports in the world is basketball. The game, invented in 1891 by James Naismith, is usually played as a team sport with five players on each team, basketball is also played three-on-three, two-on-two and one-on-one. Basketball is commonly played among youth, as well as in high school, college and at the professional level. For those that love the game (whether playing, watching or both), a basketball inspired name may be just the thing for your new canine pal. Each time you call your dog's name, you will experience the excitement that you feel when hitting the court or cheering on your favorite team.
Basketball Inspired Dog Names in Pop Culture
Featured Famous Dog with a Basketball Name
Eastwood
Recently, a dog crossed paths with a basketball coach in the National Basketball Association (NBA), where he earned himself quite a following. Eastwood, a Labrador, was picked up in North Michigan as a stray. Unfortunately, the pup, who was around a year old, had numerous health problems, including being almost completely blind. Likely because of his health problems, many families passed on the opportunity to adopt Eastwood. He was brought along with 21 other animals to an "Empty the Shelters" event, where everyone but him was adopted. This led to the shelter posting a special message on Facebook in order to find a home for the sweet pooch; ultimately 80 households applied to adopt Eastwood.
One of the families hoping to adopt Eastwood included Stan Van Gundy, the coach of the Detroit Pistons, his wife and their four children. His wife even posted a message on Facebook from the other pets in their household, inviting Eastwood to join the family and letting him know that the people in the home are "really nice". Ultimately the Van Gundy's were chosen as the family for Eastwood, who has since moved to his home and after some time with a behaviorist, appears to be adjusting well.
Buddy, or Air Bud, is a basketball playing canine in the movie 1997 movie Air Bud. Buddy is a homeless dog until he meets Josh, a twelve-year-old boy who has recently relocated after the death of his father. Josh, a shy boy, is afraid to try out for his middle school basketball team and instead becomes the team manager. While he is practicing basketball, he encounters Buddy and soon realizes that Buddy has some amazing basketball skills. Josh ultimately is able to keep Buddy as his dog and his presence helps him gain the confidence to try out for the basketball team. During a game, Buddy escapes from the backyard and runs onto the court, becoming a crowd favorite after scoring a basket and becoming the team's mascot. Upon learning of Buddy's skills, his prior owner appears to claim him; as he has the proper papers, Josh's mom lets Buddy go. Josh is concerned Buddy is being abused and ultimately rescues his pal, though that is not the end of the fight to keep his new friend, who helps the basketball team win the championship.
Basketball Inspired Dog Name Considerations
Basketball fans struggling to come up with the right name for their new pooch may discover that a name that evokes thoughts of their favorite sport is the best way to go. Your new canine pal may remind you of a particular player that you have admired, thereby earning his name; perhaps through his ability to jump, for example.
As a fan of the game, you may think to honor your pup by giving him the name of a favorite player; upon calling his name you will be reminded of the plays you have witnessed over the years or the off-court efforts that have made the player important to you. You can also choose the name of a coach who you have found inspiring for his leadership, or name your pooch after your favorite team (or the city where that team is from). Naming your dog after basketball plays is another option to consider for a fan of the game.
A basketball inspired name will bring to mind the feelings of excitement you feel when watching or playing this exciting game each time you call out to your new friend. 
Male Basketball Inspired Dog Names
Votes
Name
Vote
6

Spalding

A brand of basketball equipment

5

Hoops

Some who play the game say "let's go shoot some hoops"

5

Shaq

For Shaquille O'Neal, known as Shaq; played in the NBA for 19 seasons

5

Kobe

For Kobe Bryant, who had a 20 year career in the NBA all with the LA Lakers

5

LeBron

As in LeBron James, currently a member of the Cleveland Cavaliers

4

Hoosier

For the Indiana Hoosiers basketball team from Indiana University

4

Naismith

For the creator of the sport

4

Duncan

As in Tim Duncan, who has spent his career with the San Antonio spurs, where he has made 15 All-Star appearances

4

Net

Inspired by the New Jersey Nets as well as what players shoot the ball through

3

Barkley

A former NBA player, Charles Barkley is currently an analyst on Inside the NBA

3

Spur

Inspired by the San Antonio Spurs, an NBA team

3

Barclay

For Barclays Center, home of the Brooklyn Nets

3

Edmund

Named after the Edmund P. Joyce Center, home stadium of Notre Dame

3

Pablo

Pablo Prigioni played in the Spanish and Argentine leagues and in 2012 became the oldest rookie in NBA history when playing for the Knicks

3

Spartan

For the Michigan State Spartans basketball team

3

Kareem

Kareem Abdul-Jabbar is the leading scorer in the NBA to date with 38,387 points

2

Spud

For Anthony Webb, known as Spud, a former NBA player who won a slam dunk contest while being one of the shortest players in league history at five feet seven inches

2

Rocket

For the NBA team the Houston Rockets

2

London

For the London Olympics of 2012, where the United States men's team won the gold medal

1

Hurricane

For the University of Miami Hurricanes, a good name for a busy pup

1

Gator

For the University of Florida Gators

1

Bull

After the the Chicago Bulls

0

Knick

As in the New York Knicks, an NBA team

0

Cameron

Cameron Indoor Stadium is the home stadium of Duke's basketball team

-1

Pauley

For Pauley Pavilion, the home stadium of the UCLA Bruins basketball team

-1

Dunk

Dunk: for the slam dunk, when a player jumps in the air and puts the ball right into the basket

-2

Piston

For the NBA team the Detroit Pistons

-2

Marv

For Marv Albert, a broadcaster who is often referred to as the "voice of basketball"

-2

Nat

For Nat Hickey who is considered to be the oldest to have played in the NBA at 45 years 362 days
Female Basketball Inspired Dog Names
Votes
Name
Vote
6

Izzo

For Tom Izzo, longtime basketball coach at Michigan State University

6

Jordan

For Michael Jordan, considered one of the all-time best basketball players

5

Storm

For the Seattle Storm, a WNBA team

5

Pippen

For Scotty Pippen, a former NBA player who won six NBA titles with the Chicago Bulls

5

Red

For Red Auerbach, an NBA coach for 20 seasons

5

Sue

For Suzanne Brigit Bird, known as Sue, who has played for the Seattle Storm in the WNBA and won four Olympic gold medals

5

Rio

The United States Women's basketball team won Olympic gold at the Olympics in Rio de Janiero

4

Sky

For the WNBA team the Chicago Sky

4

Pat

For Pat Summit, coach of the University of Tennessee Lady Volunteers basketball team from 1974-2012, coaching her team to 8 NCAA championships

3

Dream

For the Atlanta Dream, a WNBA team

3

Jazz

For the NBA team the Utah Jazz

3

Jersey

For the team shirts worn by the basketball players

2

Madison

For Madison Square Garden, the home of the New York Knicks

2

Becky

The first female full-time member of an NBA coaching staff; hired as an assistant coach with the San Antonio Spurs

2

Ming

Yao Ming, a basketball player from China who played for the Shanghai Sharks in the Chinese Basketball Association and the Houston Rockets in the NBA

2

Nugget

For the NBA team the Denver Nuggets

1

Knicky

For the New York Knicks NBA team

1

Valerie

Valerie Ackerman, the first president of the Women's National Basketball Association

1

Magic

For the NBA team the Orlando Magic

1

Rose

The home of the Portland Trail Blazers was formerly known as the Rose Garden; now known as Moda Center

1

Riley

A popular coach in the NBA who won five championships

1

Senda

Senda Berenson was known for organizing the first women's basketball team at Smith College in 1893

1

Dribble

How a basketball player gets the ball from one end of the court to the other

1

Metta

For Metta World Peace, a longtime NBA player and current coach who changed his name from Ron Artest; Metta is a traditional Buddhist word for loving kindness and friendliness towards all

1

Tamika

Tamika Catchings played for the Indiana Fever in the WNBA for 15 years and won four Olympic gold medals

0

Cynthia

Cynthia Cooper, a guard who played at the University of Southern California, the Houston Comets and the USA Team; also a coach

0

Alley

For the offensive play called an "alley oop"

-1

Lisa

Lisa Leslie, a three-time MVP in the WNBA

-1

Daly

A coach at the college level, as well as in the NBA and of the 1992 Olympic team that won the Gold Medal

-1

Diana

Diana Taurasi has played in the WNBA (Phoenix Mercury) and won four Olympic gold medals
Community Dogs with Basketball Names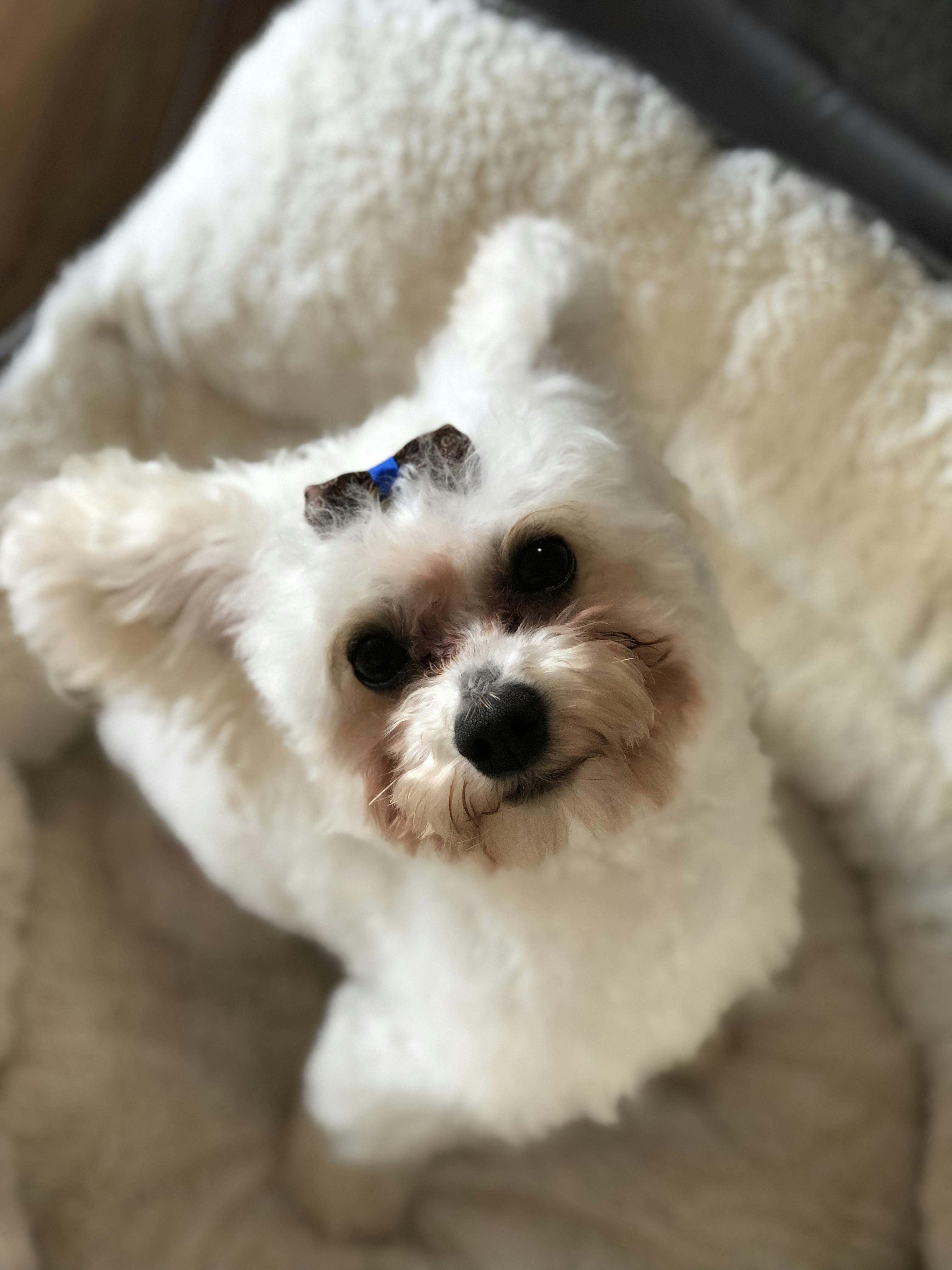 Dubs
Male
Maltese
San Mateo, CA
My son love the Golden State Warriors. His fave player is Stephen Curry. He wanted to name our puppy after him, but we decided on DUBS, another name for the Warriors. We love it. Go #Warriors! #DUBS #DUBNATION