Introduction
When you first get your darling puppy you will probably think she is beautiful and as she grows up those feelings won't change. There is just something so soul reaching when you stare into the eyes of a canine. You know that the little rolly polly puppy will grow into your best friend. A real little buddy.
You are probably researching names to bestow on your furry bundle of joy but you might be hitting a few roadblocks trying to come up with something that truly reflects how lovely you think your sweet little pooch is. Well, one of the best ways you can think of the perfect name is to start going throw a list of names that you think reflects real beauty, grace, and loveliness. You can even focus on a name with the same magic for a male dog.
Beautiful Dog Names in Pop Culture
Featured Famous Dog with a Beautiful Name
Beauty
One of the most famous pooches named Beauty was a make-believe dog but still helped form the imaginations of millions of young girls. Beauty was owned by the fictional character and iconic doll Barbie. Beauty emerged as Barbie's beloved dog in 1978. She was a lovely Afghan Hound. Mattel Inc., the maker of everything Barbie, mass-produced the dog toy and it was well received by young girls who were avid Barbie doll fans.
The Beauty toy dog was very popular because it boasted lovely long hair that little girls could brush and groom. The toy came with a doggy bed, blanket, food bowl,  brush, a straw hat with a flower, dog collar, leash, and best-in-show ribbons. The entire toy was very realistic looking and appealed to virtually every girl who loved Barbie. The dog featured posable legs so it could sit, stand and lay down which only added to its realism. Today, the furry dog toy has become a valued collector's item.
On March 9, 1959, the fashion doll Barbie made its debut. It became the 'must-have' doll for every little girl. It is estimated that Mattel has sold over a billion Barbie dolls throughout the years. With Barbie's popularity emerged the demand for a bevy of items such as clothing, cars, dollhouses, other doll friends, shoes, dollhouse furniture, horses, and, of course, pets. Every little girl wanted Barbie to have a pet dog that they could pretend to take for walks, groom, feed, bath, and love.
Barbie has always been known for her attractive features. She boasted stunning blonde hair, blue eyes, and a perfect figure. Such a pretty woman deserved a striking dog that was just as stunning as its famous owner. The Mattel company focused on an Afghan Hound with its silky flowing hair that was reminiscent of Barbie's own perfect locks. They then searched for a name for Barbie's beloved dog. What better name then Beauty? A beautiful dog for a beautiful doll. It was perfect and Beauty emerged as the pampered canine companion of Barbie.

Beauty, the Afghan Hound, inspired the imaginations of a generation of girls. It was one of the most desired toys for Christmas in 1978. Many girls sat on Santa's lap asking for Beauty, Barbie's pet Afghan dog, as their most desired present. From 1978 to 1979, Beauty ruled as a desirable toy. Throughout the years, many Barbie dogs have been created but Beauty remains the first and the most memorable.
Beautiful Dog Name Considerations
Many things might spur you to name your beloved dog something that boldly proclaims its beauty. Everybody likes beautiful things and dogs are definitely stunning animals so why not cater to their good looks by giving them a name to showcase their unique loveliness.
If you bestow a handle on your dog that screams beauty then everyone will probably step back and admire the animal. However, a name is also about attitude. Even if your dog is just a typical, run-of-the-mill mutt it can still have a name that sparks pride because physical beauty is only skin deep but a heart of gold in a loyal canine companion is something to provoke true pride in an owner's heart.
When considering a name that portrays beauty you might want to think outside the box and remember that the world is full of languages and thoughts that inspire wonder and marvel. Those names may not be English but they are nonetheless beautiful even in a foreign language. Also, giving your pooch a foreign name instantly brings the exotic to mind and many people will do a double take when they learn your dog's unusual foreign moniker. Friends and family will probably ask you questions about the name's meaning.
Votes
Name
Vote
5

Qiao

Chinese for handsome/beautiful

4

Kyle

Irish for handsome

4

Madasir

Arabic for one who is handsome or beautiful

4

Maclean

A strong Gaelic name for a regal pooch

4

Keely

Irish for handsome/beautiful

4

Hasan

African for handsome

4

Keefe

Irish for handsome, beautiful, and lovable

4

Kanu

Hindi for beautiful/handsome

4

Cullen

Irish for beautiful and good-looking

4

Faron

Biblical name meaning beautiful or handsome servant

4

Enver

Turkish for handsome/beautiful

4

Keane

Celtic for handsome/beautiful

3

Sabeh

African for handsome

3

Beau

French for beautiful/handsome

3

Bellamy

French for beautiful and handsome friend

2

Bevis

French for handsome or beautiful face

1

Naufal

African for handsome

1

Jedrek

Polish for strong and handsome man

1

Ekon

African for strong and handsome

1

Paris

French for handsome prince of Troy

1

Macallan

Scottish for beautiful son of a handsome man

0

Allen

Celtic for handsome/beautiful

0

Teague

Irish for beautiful/handsome poet

0

Calix

A nice Greek for name for your handsome pup

-1

Winn

Welsh name that will suit a perky, cute pup

-1

Keven

Irish for handsome or beautiful child

-1

Aden

Biblical for handsome and adorned servant

-1

Nordin

Use this Norse name for a handsome dog

-2

Alano

Spanish for handsome

-3

Ajmal

Arabic, great name for a sleek and gorgeous pup
Female Beautiful Dog Names
Votes
Name
Vote
7

Donatella

Donatella means beautiful in Italian

6

Nelly

English for beautiful woman

6

Callista

Greek for beautiful

6

Sapphire

Hebrew for beautiful gem

6

Shaina

Hebrew for beautiful

6

Rosalind

Latin for 'pretty rose'

5

Calla

Beautiful and delicate

5

Anahi

English for beautiful

5

Venus

The Roman goddess of beauty

5

Jamilla

Arabic for beautiful

4

Joli

French for beautiful

4

Amara

African for strong and beautiful

4

Lillybelle

Beautiful lily

3

Bonnie

Scottish phrase for beautiful

2

Yedda

English for beautiful voice

2

Hermosa

Spanish for beautiful

2

Isa

Spanish for beautiful

2

Amara

Means strong and beautiful

2

Mei

Chinese for beautiful

1

Naava

Hebrew for beautiful

1

Kaytlyn

Smart and beautiful

1

Bella

Bella means beautiful in French

0

Tazanna

Native American for beautiful

0

Orobelle

A combination of Spanish and French meaning beautiful

0

Tegan

An English term that means beautiful person

-1

Adina

The term comes from Israel and translates into beautiful

-2

Rachel

Hebrew for beautiful

-2

Iowa

Native American for beautiful

-2

Fayre

English for beautiful

-3

Meadow

A beautiful field
Community Dogs With Beautiful Names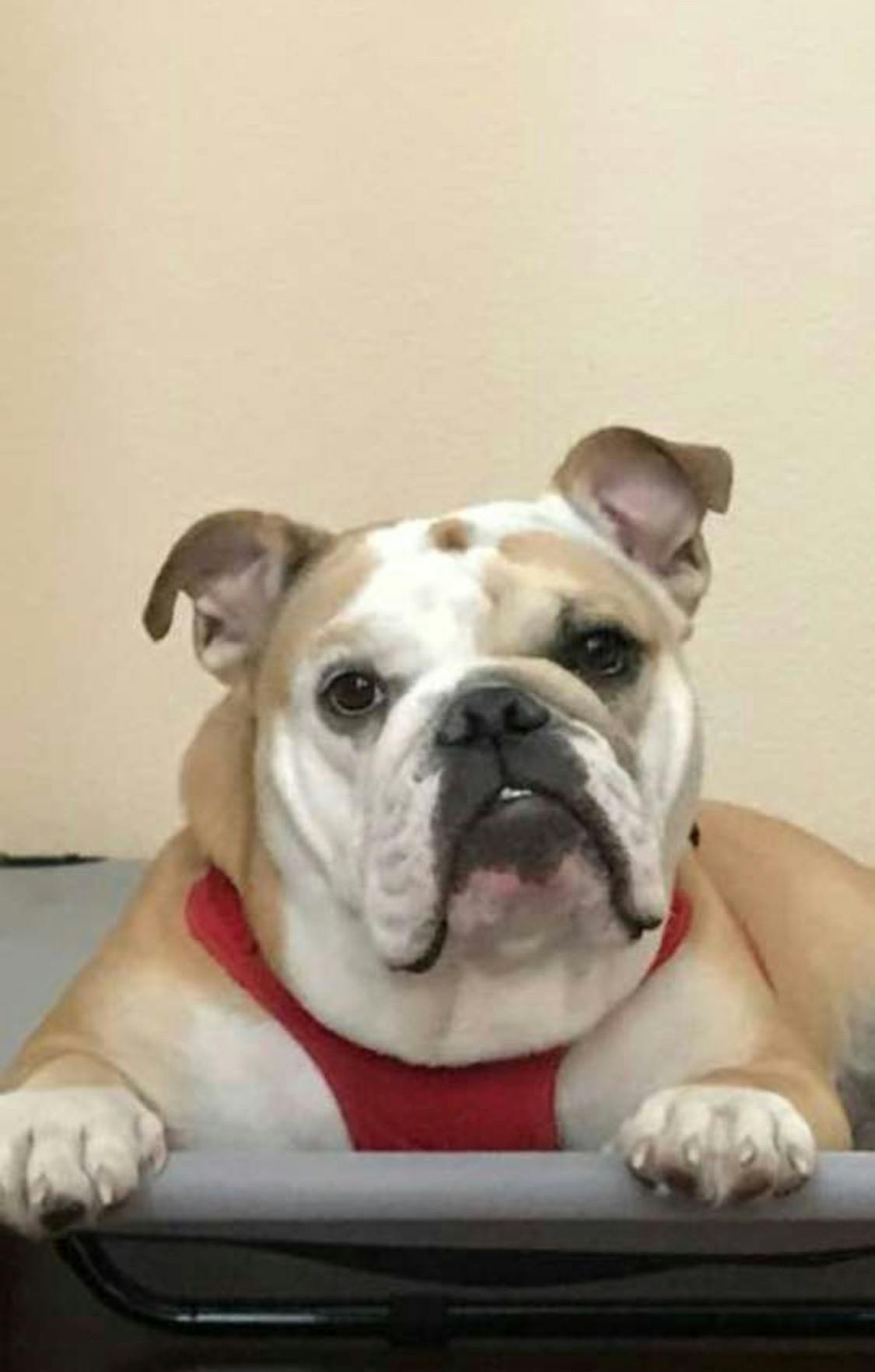 Honey
Female
Bulldog
Las Vegas, NV
Personality
Sweet
Friendly
We named her cause her fur color is like honey