Introduction
Even if you don't know what to name your new puppy, you might know how many letters you want to use in a name, and that is a start. Maybe you've decided on five letters, because it isn't too short, nor long. It's easy to use a five-letter name, because training your puppy, or calling them to you, won't require such a long name. Maybe you find super short names too witty, or even lazy, for your taste. Whatever your reasoning, the perfect name for your dog is out there. Here are some five-letter name ideas to get you started.
Best 5-Letter Dog Names in Pop Culture
Featured Famous Dog with a Best 5-Letter Name
Angus
You might know him as Angus, arguably the star of the old cartoon show, and film, Mr. Magoo. In the live action film in particular, Magoo is a wealthy, half blind man who finds himself smack in the middle of trouble. Luckily, his dog, Angus, is there. He wakes up, puts Magoo's clothes on the bed, and then awakens his beloved owner. But that's not all Angus can do. This dog jumps into the water, uses a fishing hook to stop a thief, and uses his powerful scent of smell to uncover even the most dubious, disguised of criminals.  
Another famous dog with a 5-letter name is Astro, the dog from The Jetsons, an old cartoon show from the 1960's. The show was so iconic, it stayed actively on air until the 1990's. And Astro was a huge reason why! Not only was he a handsome, grey dog, he was also a great motivator. Always ready for a walk, or an outright gallop, he would keep his owners fit, much to their dismay. Despite the fact that he was just another ordinary dog, and certainly what you might expect from a 1960's portrayal, Astro still managed to come out memorable, affectionate and funny, often leaving his master alone on the speedy treadmill as he watched from the sidelines with the family's cat. 

Finally, there's Balto, the Siberian Husky known for preventing a deadly epidemic in Nome, Alaska. Back in 1925, diphtheria was a serious issue, and Anchorage was over 500 miles away. It was the closest place where the proper medication could be obtained, and it was up to the sled dogs to retrieve it just in time. The journey was a 650-mile route through the wilderness, in the snow and the piercing wind, known as the Iditarod Trail. Twenty mushers volunteered for the "Great Race of Mercy," among them 3-year-old Balto. Compared to the other more experienced dogs, some even 12 years of age, Balto was essentially the underdog, the outcast, but renowned hero, as well. He was the miracle dog in real life that inspired an animated movie featuring Kevin Bacon and Phil Collins. In the 1995 movie, children and adults alike got to see how captivating Balto was, how heroic, and how he led a dog sledding team to victory, just in time to save many human lives in the middle of freezing Nome, Alaska, a place where survival is a luxury. 

Best 5-Letter Dog Name Considerations
When selecting a dog's name, it is important to keep a few things in mind. For one thing, it helps to get a goal. Maybe your dog is very serious in nature, always straight-faced and ready to greet anyone at the door with a bit of sternness. A name that reflects their character would be a great goal, and one that will certainly limit the countless name options out there. Suddenly, instead of sifting through name after name, you can just focus on the ones that sound very serious. 
Another thing to consider is the dog's appearance. Dogs with white coats tend to be named after winter, usually related to snow, the wind, or even ice. Meanwhile, dogs with darker coats, like brown or black tend to vary. Sometimes they're named normal names, but other times, they steer more toward darkness, mystery, or superstition.  
 Finally, consider the length of the name. What is your ideal length? Short names, long names, they can all be either serious, or witty, funny, or sweet. Ultimately, it's important to adhere to a length that is convenient for you. Maybe a long name is just too long for you, and you prefer not to have to use a nickname? 
Male Best 5-Letter Dog Names
Votes
Name
Vote
8

Rufus

Perfect for a short, fluffy pooch

5

Leroy

The perfect name to scream when you're angry or on a mission

5

Caden

Not a common name, in Arabic means companion

4

Kenny

Rogers? It's possible, but he needs to love the country

4

Davie

For the cute boy that loves to play

4

Linus

An uncommon name taken from the Peanuts franchise

4

Jimmy

A Hebrew moniker, If you want a more human name

4

Lukas

In Latin means light; a fancy spelling of a classic name

2

Luigi

Assuming your other dog is named Mario

2

Orson

If he's well-read

2

Mario

Assuming another one of your dogs is named Luigi

2

Maury

For the shy, awkward dog

2

Jayce

It's an edgy boy's name

1

Bryan

For the serious gentleman

1

Ozzie

If he looks good in round sunglasses

0

Marco

Imagine playing Marco Polo

0

Rocky

If he loves Sylvester Stallone

0

Ottis

After Milo and Ottis

-1

Hardy

For that fashionable dog

-1

Craig

If you love the new Bond

-1

Julio

If he's fiery tempered

-1

Aaron

It's a classic go-to name and means exalted

-2

Elton

If he can howl or sing, it's a must

-2

Homer

If he's a smarty pants

-3

Claude

For the dog that goes around solving crimes

-3

Rhett

A Welsh name, for the country dog

-3

Heath

If you miss Heath Ledger

-4

Adolf

It's a serious name, come on now

-5

Philo

If he loves dough, cooking, or food in general

-5

Hideo

If you love Hideo Kojima
Female Best 5-Letter Dog Names
Votes
Name
Vote
7

Abbey

For the cute gal

6

Irene

If you want a more human name

6

Loree

For the older lady

5

Ginny

A nerdy name

4

Hanna

If she's outgoing and curious

3

Honey

Another sweet girl name

3

Aisha

Meaning life, a name for a precious pup

2

Daisy

For the sweet girl, it means for the day's eye

2

Dixie

Perfect if you live on a farm

2

Molly

If you just want a standard girl's name you can't go wrong with this choice

2

Calla

Sounds exotic

1

Adria

A beautiful Latin name that sounds old school

1

Jodie

If you love Jodie Foster

1

Jewel

If she likes the singer

1

Halie

If she's a girly girl

1

Helga

If she's rather hefty

1

Lovie

For the cute, adorable, playful pup

0

Olive

If she's peaceful and laid back

0

Josie

Not Josie and the Pussycats though

0

Heidi

Means nobility and is great for the affectionate girl

0

India

If both of you live and breathe for curry

-1

Junie

If she was born in June

-1

Dolly

After Dolly Parton

-1

Essie

Sounds like a surfer dog's name

-1

Chloe

Another classic go-to option, meaning blooming

-1

Brynn

It's a girl's name, but it's not overly girly

-2

Adele

After the singer

-2

Holly

Perfect if you get her around Christmas time

-3

Agnes

The name of Hemingway's nurse crush

-3

Kirby

If your dog looks like a Pokemon, look no further
Community Dogs With Best 5-Letter Names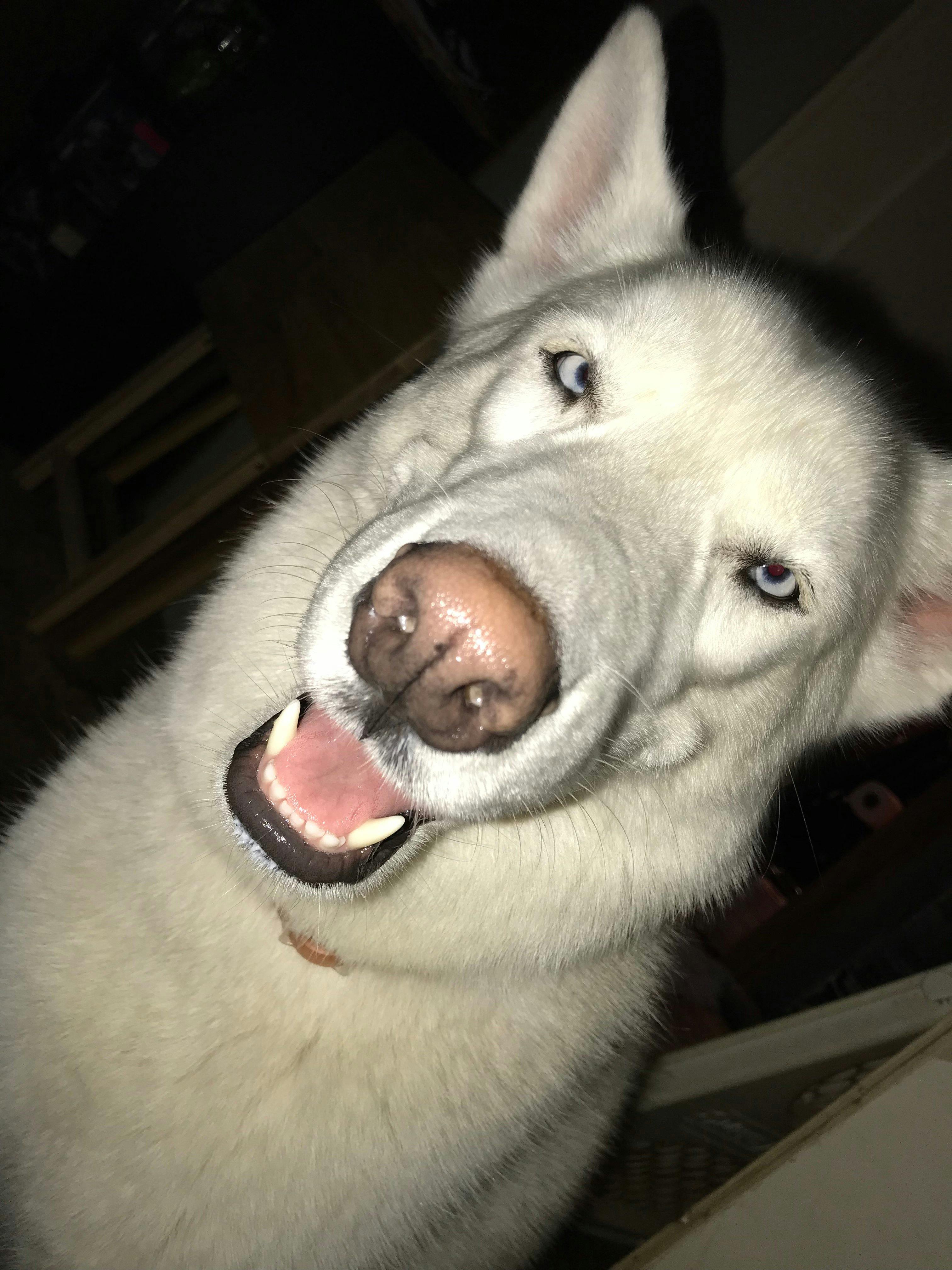 Romeo
Male
Alaskan Husky
Marengo, IA
He's pure white and super sweet. Hence his name. The charmer. The lover of hoomans. Lol.