Introduction
The Bluetick Coonhound, named for its color and "tick" markings, is brilliant in both appearance and intellect. On many days, it may be found tracking scents on trails or playfully interacting with families. At home in the wide open country, in spacious fenced-in yards, and among dense forests, the Bluetick Coonhound connects with its history of the nighttime prowl. In fact, Blueticks were bred and prized by early American settlers who longed for hunting companions that could follow week-old spoors and eventually discover the hideouts of wild game. Famous for its inherent, high prey-drive and signature bay, these all-American, energetic hunters are also known for their friendliness, loyalty, and obedience. The Bluetick Coonhound is a sharp problem-solver that seeks to perform and to please and protect its owner. Speedy and determined, this sleek, speckled breed still dazzles us today. Indeed, a creature of such beauty and skill certainly deserves a name that dazzles as well!
Book First Walk Free!
Bluetick Coonhound Dog Names in Pop Culture
Featured Famous Dog with a Bluetick Coonhound Name
Smokey
For well over half a century, the nation has adored the University of Tennessee Knoxville's Bluetick Coonhound, "Smokey," on the sidelines of sports events and at many other UT-sponsored occasions. Whether you cheer for the Vols or not, it's hard to resist the four-legged, lovable stud. Those beautiful brown eyes possess the power to capture and melt the hearts of both devoted fans and feisty rivals alike.
Making his official debut in the fall of 2013, Smokey X is the current live mascot, and he hails from a distinguished line of hounds that date back to 1953. UT actually recognized the Bluetick Coonhound decades before the American Kennel Club (AKC) finally chose to do so in 2009. Prior to football games, he is the central and most celebrated figure in Neyland Stadium, as he leads the team over the orange and white checkerboard end zone and through the giant T. The Saturday home crowd ― and dog-lovers across the U.S. ― can't get enough of the stunning, muscled specimen.
Back in 1953, the university's pep club actually hosted a contest for the Vols' new live mascot. They wanted a hound but told local newspapers to encourage participants to bring something special: "This can't be an ordinary hound. He must be a 'Houn' Dog' in the best sense of the word." During halftime at a Mississippi State game, fans cheered as the last dog was introduced. "Blue Smokey" actually threw his head back and howled into the air. The stadium went wild for the very vocal Bluetick, and Rev. Bill Brooks soon found himself with the prize-winning entry. Smokey the First had spoken, and UT had discovered its lucky charm as well as the beginning of a bloodline that would yield Dixieland canine delight in the Tennessee family for years to come.
When Smokey X isn't the center of UT's world, he's the center of the Hudson family's for sure. He spends his days playing in miles of Tennessee land and snuggling up with his owners, Charles and Cindy Hudson, and their children. After Rev. Brooks passed away in 1986, his wife Mildred continued caretaking duties until 1994 when she handed the reins to her brother, the late Earl Hudson who then passed the responsibility to Charles. Thus, the family tradition and Smokey lineage live on ― Big Orange strong. Reportedly, Smokey X jumps with excitement when he sees Charles packing the suitcase for their football weekend outings. This celebrity Bluetick Coonhound is a bold and fun-loving dog on the go, bearing a name that reminds us of both his whimsical coat and the Great Smoky Mountains of good ol' Rocky Top.
Bluetick Coonhound Dog Name Considerations
When choosing a name for your Bluetick Coonhound, consider their history in the United States. These strong nocturnal hunters led their masters to desired meat and skins. They blazed the trails. Their bawls and bays into the night might startle or even annoy some, but for early settlers, the howls signaled moments of joy and celebration: the task was complete, the battle won. Even today, you'll find that Blueticks are playful yet driven. They are inquisitive and devoted, quick to frolic but also to safeguard their owners.
Further, much inspiration may be found in their striking appearances. The stunning, mottled coat of black, blue, gray, brown, and white affords many color- or pattern-based names. Their childlike energy combined with a somewhat regal air makes them perfect for bearing both humorous and sophisticated titles. On the one hand, you might call him Huck because he boasts a sort of southern charm and dark, mischievous eyes. On the other hand, Etta may fit best because she's more careful and astute. She's the head of the household ― at least in her mind. Ultimately, choose a name that suits your Bluetick's personality and unique physical traits.
Male Bluetick Coonhound Dog Names
Votes
Name
Vote
1

Blu

Blue (Italian)

1

Chase

Represents the innate spirit to hunt

1

Hunter

Perfect for the breed that competes and trees

1

Tracker

One who tracks by following a trail

0

Alexander

Guardian of man (Greek)

0

Archie

Meaning valuable or bold

0

Beacon

A prominent light used to warn, signal, or celebrate

0

Blaze

Fitting for one who makes a path or route

0

Bruiser

One who is tough and aggressive; also reflective of the coat's blue-black color

0

Captain

Perfect for the determined leader of the group

0

Dallas

Surname stemming from "meadow" and "dwelling" (Scottish)

0

Denim

Because he's sturdy and typically blue

0

Dudley

"From the people's meadow" (British)

0

Dusky

Dark in color and reflective of nightfall

0

Fumo

"Smoke" (Italian)

0

Hardy

For the remarkably robust and tough

0

Herne

God of the hunt in English folklore, often depicted with his pack of baying hounds

0

Holt

Son of unspoiled forests (English); or the den of an animal

0

Howler

One who howls; also a humorous mishap

0

Huck

Nickname of the famous animated Bluetick "Huckleberry Hound"

0

Jaeger

"Hunter" (German)

0

Jet

Adorned with glossy black ticks and patches

0

Lad

Symbolic of youth and energy

0

Midnight

In deep darkness, he hunts

0

Odin

Norse god associated with the wild hunt, accompanied by wolves

0

Orbit

A sphere of activity and adventure

0

Orion

Zeus sent this giant hunter to live among the stars

0

Rigel

Bluish-white star that represents the hunter's foot in the Orion constellation

0

Seeker

One attempting to find or obtain something

0

Spoor

The track or the scent of an animal
Female Bluetick Coonhound Dog Names
Votes
Name
Vote
1

Dali

In Georgian mythology a Greek goddess that grants success to obedient hunters

1

Iris

Blue-purple ornamental flower; representative of those blue tones

1

Sapphire

A transparent blue stone

0

Alexia

Guardian of mankind (Greek)

0

Ashen

Resembling the color of ashes

0

Atalanta

Virgin huntress in Greek mythology who grew up in the wilderness

0

Azure

Bright blue in color

0

Bonnie

Pretty, attractive

0

Bridget

Strength or exalted one

0

Brielle

"Hunting ground" (Celtic)

0

Charmer

She's one with an engaging personality

0

Clamor

Strongly expressed protest similar to her signature bay

0

Dottie

To represent the coat's dark dots

0

Etta

"Estate ruler" (Scottish)

0

Farrah

Happiness; joy

0

Ginger

Pep or liveliness

0

Hazel

"God sees" (Hebrew)

0

Isa

"Strong-willed" (German)

0

Mabel

Lovable (Latin)

0

Maira

Mentioned in the Quran, meaning "light" and "swift"

0

Lapis

A bright blue metamorphic rock

0

Lorelei

For her bawl; in German legend, a maiden who lures fishermen with her song

0

Lou

Short for Louisiana, where the Bluetick is believed to have been first bred

0

Luna

"Moon" (Latin)

0

Patina

Ideal in describing her fur, which resembles a film or sheen over bronze

0

Pepper

To represent the dark flecks and/or spots on the coat

0

Sooty

Covered with or colored like soot

0

Star

Reflective of a nighttime hunt

0

Steely

Because she's determined and even favors the bluish-gray alloy

0

Winda

An African word for "hunt"
Community Dogs with Bluetick Coonhound Names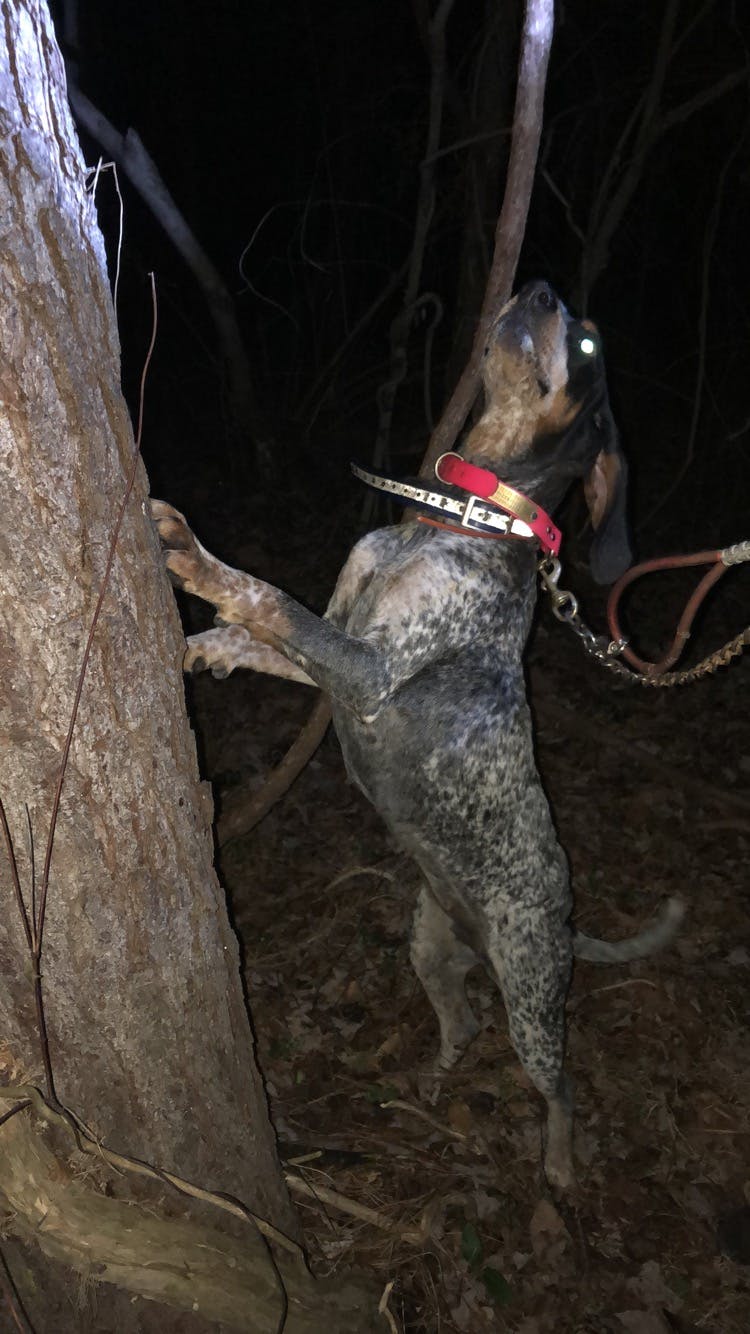 Bluebelle
Female
Bluetick Coonhound
Wallace, NC
Personality
Sweet
Hypnotic
Funny
Just saw her spots, and she was white when we got her, so named her bluebelle
Doc
Male
Goldendoodle
Hixson, TN
Personality
Friendly
Crazy
My stepmom works at a hostel so "doc" just came easy