Introduction
Thinking about naming your cat after your favorite celeb? To say you're spoiled for choice is an understatement. From actors and musicians to athletes and politicians, you have tons of celebrity names to choose from.

We've sniffed out some of the best celebrity-inspired names for cats. Weird, wacky, plain, puntastic — we've covered all the bases. Keep reading to discover some unique celebrity cat names for your fur-baby.

Celebrity Cat Names in Pop Culture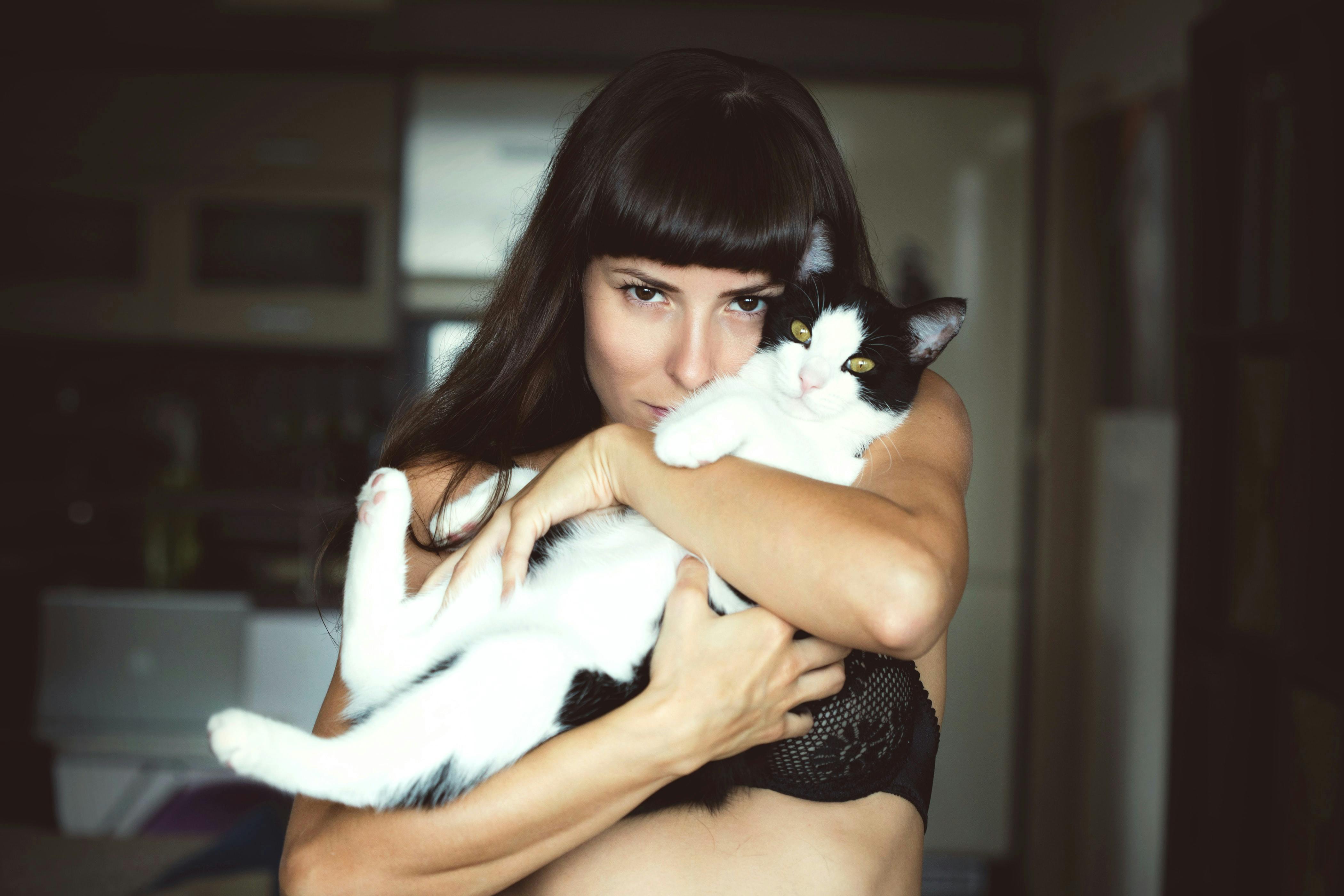 Featured Famous Celebrity Cat Name
Kitty Purry
Kitty Purry was the beloved fur-baby of — you guessed it! — Katy Perry.
They say some things are meant to be, and the bond Katy shared with her cuddly tabby cat is one of those things. On social media, Katy shared the story of how they met, recalling a heavily pregnant Kitty Purry crawling through her then-boyfriend's window. Needless to say, it was love at first meow!

Kitty Purry went on to become one famous feline. She appeared in the music video for Katy's hit song "I Kissed a Girl" and served as the KatyCats' mascot. An inflatable likeness of Kitty Purry's face featured as part of the stage decor during the HelloKaty tour.

Sadly, Kitty Purry passed away in 2020 after being a loyal, loving companion to her human for 15 years. Katy's friends and family members shared stories of Kitty Purry's affectionate yet independent nature, remembering how the tabby would jump in their laps and purr loudly.

The cat love doesn't stop there. The pop star's fans call themselves KatyCats, a fitting moniker for the fanbase of a lifelong cat lover. Katy Perry's two perfumes, Purr and Meow, come in purple and lavender glass bottles shaped like cats. Katy also named one of the shades of her CoverGirl lipstick line after her fur-baby. Coincidentally, she told Vogue the Kitty Purry shade was her favorite.

Celebrity Cat Name Considerations
How do you choose the right celebrity-inspired cat name? We recommend taking some time to think about your favorite movies, TV shows, and musicians.
Then, decide whether you want something simple or special. Celebrity cat names like Paul (Newman), Gary (Oldman), and Norman (Reedus) won't raise any eyebrows. But if you really want to stand out and choose a wacky name, why not put a punny spin on your chosen celebrity? Hugh Catman, Henry Catvill, and Bill Purry are just a few examples.
Don't "furget" to consider your cat's temperament. Lucy Liu is a good choice for a feisty cat quick to draw her talons. Rebel (Wilson) fits the bill for a stubborn cat who never listens to you.
Votes
Name
Vote
0

Prince

A fitting name for regal cats and rockstars alike.

0

Hugh Catman

"Pawfect" for a kitty with Wolverine-like talons.

0

Keanu

A 2-for-1 reference to the famous actor and the Warner Bros. film

0

Norman

Walking Dead star Norman Reedus says his cat is his "best friend".

0

Snoop Catt

The famous rapper has 11 dogs and 2 Siamese cats named Frank Sinatra and Miles Dabus.

0

David Meowie

"Cat People" is among David Bowie's many hit singles.

0

Sylvester

Name your kitty for the Rocky star or the Looney Toons character.

0

Antonio

For actor Antonio Banderas, who voiced Puss in Boots in Shrek 2.

0

Tomcat Hanks

Can't get much more famous than the Forrest Gump star.

0

Henry Catvill

A punny cat name that fans of The Witcher are sure to appreciate.

0

Benedict Cumbercat

A winner for fans of Doctors Who and Strange alike.

0

Freddie

Classic rock icon Freddie Mercury gave his cats their own Christmas stocking each year.

0

Morrissey

The English singer is just as famous for his love of cats as he is for his music.

0

Iggy Pop

This punk artist once saved a cat while on the set of Blood Orange.

0

Johnny Cash

A furrific name for a "Mean-Eyed Cat".

0

Davy

A sweet homage to the lead singer of The Monkees.

0

Joe Purry

A punny twist on the name of Aerosmith's lead guitarist.

0

Ramone

For the frontman of the Ramones, who once had a three-legged ginger cat.

0

Ringo Starr

Who could "furget" the iconic pic of Ringo in a red coat posing next to a tabby?

0

Zappa

Frank Zappa had a cat named Fighty Bitey and recorded a song called "Yo Cats".

0

Paul

Famous actor Paul Newman created his own cat food line.

0

Drew

Drew Carey, host of The Price is Right, ends the show telling viewers to spay/neuter.

0

Elton

Among music legend Elton John's many hits is "Honky Cat".

0

Lionel

Inspired by famous athlete Lionel Messi and can be shortened to Lion.

0

Macklemore

The rapper's cat, Cairo, has his own Instagram!

0

Donald

After Donald Glover, famous rapper and voice of Simba in the Lion King remake.

0

Bill Purry

A spin on Bill Murray, who voiced Garfield in the 2004 film.

0

Bruno

A "furrific" choice for Bruno Mars fans.

0

Gary

Harry Potter star Gary Oldman has a cat named Soymilk.

0

Ron Purrlman

Google "cats that look like Ron Perlman". You won't be disappointed.
Female Celebrity Cat Names
Votes
Name
Vote
0

Lucy Liu

A cute name for a kitty with ninja-like reflexes.

0

Maggie

Dame Maggie Smith played Professor McGonagall in Harry Potter, who transformed into a cat.

0

Rebel

A gender-neutral name after the actress who voiced Jennyanydots in the movie "Cats".

0

Kat Dennings

The "Two Broke Girls" star said she'd rather stay home with her cat than go to parties.

0

Eva

Disney fans will love naming their kitty after Eva Gabor, who voiced Duchess in The Aristocats

0

Penelope

For actress Penelope Cruz or Looney Toons cartoon cat Penelope Pussycat.

0

Opurrah

A puntastic tribute to TV's favorite talk show host and philanthropist.

0

Thandie

Westworld star Thandie Newton trained her cat to use the toilet during the COVID-19 lockdown.

0

Catty Couric

Famous news anchor Katie Couric says she loves her "grandkitties"!

0

Angelina Jolie

The movie-star mogul voiced Master Tigress in Kung Fu Panda.

0

Jessicat Biel

Jessica Biel starred in 10 episodes of the animated series, Pete the Cat.

0

Eartha Kitty

An homage to the accomplished singer and actress who played Catwoman in the '60s.

0

Bjork

A ginger cat stars in Bjork's music video for "Triumph of a Heart"

0

Cher

The singer loves sharing snaps of her cats on social media.

0

Jett

In a 2018 interview, Joan Jett revealed she FaceTimes her 2 cats while out on the road.

0

Janis

One of the most famous pictures of Janis Joplin shows a cat in her lap.

0

Dolly

You'll find several pics of Dolly Parton holding cute kittens.

0

Ginger

Pet parents who love Golden Age films staring Ginger Rogers will love this cat name.

0

Patti

Patti Smith is famous for her love of animals, notably cats.

0

Dusty Springfield

The British singer included her cat Nicholas in her will!

0

Meryl

The iconic actress rehearsed her lines to her cat.

0

Miley

Pop star Miley Cyrus is also a cat parent!

0

Beyonce

Queen B. voiced Nala in the Lion King remake.

0

Zendaya

Inspired by the talented actress and philanthropist.

0

Judi Dench

The legendary actress played a lead role in "Cats".

0

Rita

After British pop star Rita Ora.

0

Uzo

Uzo Aduba starred in "Orange is the New Black" — the perfect name for a calico.

0

Kaley

"Big Bang Theory" fans will love this name inspired by Kaley Cuoco, who plays Penny.

0

Dakota

Dakota Fanning starred in "The Cat in the Hat".

0

Aubrey

"Parks & Rec" star Aubrey Plaza voiced Grumpy Cat in a Christmas special.
Cats with Celebrity Names