Introduction
The Chinese Shar-Pei is a dog breed known for its coat of wrinkles and Shar-Pei translates to "sand coat" in Chinese. The Shar-Pei is known for being loyal and affectionate, but also independent and reserved. The Shar-Pei breed originated in China, which might have you thinking of naming your Shar-Pei a name related to the breed or it's heritage. Initially bred in China for farming and hunting, the Shar-Pei is a unique and smart breed of dogs. By considering a name that reflects the heritage or characteristics of your Shar-Pei, you might discover a name that stands out to you among the rest.  
Chinese Shar-Pei Dog Names in Pop Culture
Featured Famous Chinese Shar-Pei Dog:
Paddington
Paddington is a Shar-Pei that lives in Tasmania located in Australia. Paddington rose to social media notoriety by posing for amusing photos staged by his owner, Annie. Paddington and Annie have had many photo shoots together and Annie has said that Paddington knows when the camera comes out it's time to pose. Some photos feature Paddington dressed as a businessman, dinosaur, and shark. Not one to shy away from self-expression, Paddington displays a range of expressions through his various photo shoots.
 Defying the myth that dogs and cats can't be friends, Paddington is often spotted with his housemates in the photos. Paddington lives with not one, but three house cats named London, Sailor, and Butler who make cameos in his photos and also dress up, too. Owner Annie said that the household is a peaceful one when it comes to dog and cat cohabitation.
Paddington first rose to popularity a few years ago when Annie bought a camera and began taking snaps of her photogenic pup back in 2013. He is a cream colored Shar-Pei with a horse-coat. The Shar-Pei can come in various colors including black, fawn, lilac, red, and blue, and have coats that are described as horse-coat, brush-coat or bear-coat. The horse-coat is rather rough when brushed in one direction, but soft when brushed in the other. The brush-coat is identified as a longer hair coat than the other two coats. A bear-coat is a shaggier coat, with dog hair extending longer than an inch and typically softer than the brush or horse-coat.
While Paddington is not a bear-coat Shar Pei, his social media tells of stories similar to his namesake Paddington the Bear, the fictional character made popular from children's literature. Like his namesake, Paddington often finds himself in various character situations, as Paddington the Bear did. Paddington the Bear was also known for getting in trouble and if you have seen Paddington the Shar-Pei's social media, you would know that from time to time this character gets in sticky situations, too.
Paddington is a great name to consider for a Chinese Shar-Pei given that the Shar-Pei is adventurous, confident, independent, and in some cases bear-coats themselves. When considering a name for your dog, maybe Paddington will be the winning name if it suits your Shar-Pei.  
Chinese Shar-Pei Dog Name Considerations
Selecting a name for your dog can be a difficult experience as you ponder names that fit your dog. It can be easy to select a name, but perhaps you want the name to be associated with the breed, China, characteristics of your dog, or all of the above.
When naming your Chinese Shar-Pei, you might want to connect a few concepts such as its coat, heritage, and breed characteristics, and it's good to take a look at a number of options. Be sure to consider your dog's personality or temperament when thinking of the other name associations that are important to you.
If you don't have a Chinese Shar-Pei yet, do some research on the breed and discover their personality traits. The Shar-Pei is known for distinct persona. If traits don't speak to you, consider important historical or geographical names that could have meaning to you when you call for your dog. Perhaps you've visited China and have fond memories of a specific city or cuisine.
The naming possibilities are endless, but make sure that you choose a name that feels appropriate and memorable to you so that when you call your dog, you can be reminded of the meaning of your dog's name.  
Male Chinese Shar-Pei Dog Names
Votes
Name
Vote
2

Wonton

A small dumpling or roll typically eaten in soup with savory filling

2

Mushu

Popular Chinese pork dish name

2

Li

Means strength in Chinese

1

Shen

Chinese term that translates to god, spirit, or deity

1

Fushi

Oriental god of happiness

1

Bear

One of the coats of a Shar-Pei skin

1

Hao

Good in Chinese

1

Chao

Chinese meaning great one

1

Nao Nao

Translates to naughty in Chinese

1

Tao

Large waves in Chinese

0

Dragon

Commonly present in Chinese folklore and Eastern culture today

0

Chang

Translates to flourish, prosper, good, sunlight

0

Bao

Chinese bread roll with savory or sweet filling

0

Eggroll

Chinese deep-fried dough appetizer

0

Fu

Meaning good luck and fortune in Chinese

0

Squish

Popular nickname for Shar-Pei wrinkles

0

Qing

Known for the last Imperial dynasty of China, ruling from 1644 to 1912

0

Fortune

Often associated with Chinese New Year, fortunes are a traditional Chinese custom

-1

Yang

Opposite of Yin and means masculine and positive in Chinese

-1

Emperor

Ruler of an empire or head of imperial dynasty

-1

Wrinkles

For all of the folds of Shar-Pei skin

-1

Gou

Dog is the literal translation of dog in Chinese

-1

Peking

Another name for Beijing

-1

Lo Mein

Chinese dish with vegetables, protein (meat, fish) and noodles

-1

Buddha

China's oldest foreign religion is Buddhism

-1

Bok Choy

A leafy green vegetable popular in Chinese cuisine

-1

Shanghai

Most populous city in the world and a municipality of China

-1

Dim Sum

Chinese meal of savory dumplings

-1

Panda

Animal native to China that has bearlike qualities and white and black markings

-2

Sherpa

Name given to skilled mountain climbers in the Himalayan Mountains
Female Chinese Shar-Pei Dog Names
Votes
Name
Vote
4

Meyli

Beautiful in Chinese

2

Boba

Sweet tea frequently consumed in Asia

2

Jasmine

Jasmine tea is the most popular scented tea in China and is primarily produced in China

1

Ling

Translates to spirit/soul from Chinese

1

Beijing

Capital city of China

0

Ming

Bright, clear, and light from Chinese

0

Lotus

Sacred flower of China and other parts of Asia

0

Dumpling

Chinese dumplings can be steamed, boiled, or fried and can be savory or sweet

0

Tofu

Soybean curd frequently used in Chinese and Asian dishes

0

Mulan

Heroine of Mulan, a Disney film

0

Lin

Gem from Chinese

0

Loquat

Yellow, plum like fruit native to China and Japan

0

Baobei

Chinese for baby

0

Smoosh

To squash or squish

-1

Lychee

Sweet tropical fruit found in Asian foods

-1

Tai Chi

Martial arts practice that is slow and meditative

-2

Yin

Opposite of yang meaning dark and feminine

-2

Foo

Translates to happiness from Chinese

-2

Ping

A translation to the word pot from Chinese

-2

Xaing

A group of Chinese that is historically and linguistically similar in the Hunan province

-2

Yuan

A Chinese dynasty that ruled from 1279 to 1368

-2

Huang

Chinese surname that means yellow

-2

Bamboo

Giant woody grass that grows in the tropics

-2

Ai

Love in Chinese

-2

Hui

Wise in Chinese

-2

Jing

Sparkling and clear

-2

Pekoe

A popular type of Chinese tea

-2

Wok

Pan used for cooking a variety of Asian dishes

-2

Feng Sheui

Chinese belief system of harmony within one's surroundings

-2

Jiaozi

Specific type of Chinese dumpling that is rolled
Community Dogs with Chinese Shar-Pei Names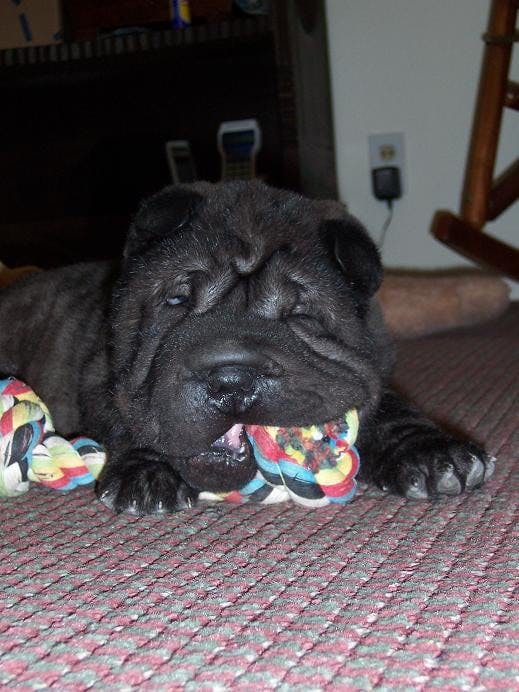 Voodoo
Male
Chinese Shar-Pei
Albuquerque, NM
When we met him he was running around so active and confident that his full name is Rockin Rebel VooDoo Spitfire.