Introduction
Choosing your new canine companion is a big deal. Of course, nearly everyone just wants that first adorable ball of fur that they see, but you may want to think carefully before picking your new buddy because they will be with you for a long time. The first thing to do is to make sure the type of dog you get fits in with your lifestyle. For example, if you are someone who is gone most of the day at work, you don't want a dog who hates being alone, and if you live in an apartment, you surely don't want a big huge pooch that barks a lot. Also, if you have kids or other pets at home, you want to make sure that the pooch you pick is sociable. Once you choose a pup, then you have to pick a name.
Dog Names Ending in 'by' in Pop Culture
Featured Famous Dog With a Name Ending in 'by'
Toby
Debbie Parkhurst and her husband were walking along a road by their home in Calvert, Maryland when they heard a strange noise coming from a trashcan nearby. They thought it might be an animal and when they opened it and saw a beautiful Golden Retriever puppy, they fell in love immediately. They took him home, cleaned him up, and gave him some food and water. They placed a newspaper ad looking for his owner and even put up posters all over the neighborhood, but nobody came forward. So, the Parkhursts decided to name him Toby and keep him for themselves. 
He checked out healthy at the veterinarian's, and he was a happy and lovable pooch even though he had been thrown away like garbage by his previous owner. Debbie, a jewelry artist, spends every day with her new pup and they became best furiends right away. Toby seemed to know that she saved his life and he returned the favor a couple of years later when Debbie needed him. While at home alone one day, Debbie was eating lunch and a piece of her apple got stuck in her throat. She coughed, banged on her chest, and tried to free it with her fingers, but that apple would not come out. 
Debbie had seen the Heimlich Maneuver being done by someone on themselves recently and decided to try it. She leaned over a chair and tried to dislodge the chunk of fruit, but it was no use. Toby saw Debbie frantically pounding on her chest and realized she was in trouble. He jumped on her chest and knocked her down and started jumping up and down on her chest, performing his own style of the Heimlich Maneuver. And it worked. The apple chunk came loose, and Debbie was able to breathe again. Toby stopped jumping and started licking her face. 
A friend came and took Debbie to the hospital where a physician checked her out. The doctor saw the paw marks on her chest and could not believe it. He said that Toby literally saved her life. Debbie said she even had bruises on her chest from his paws, but she certainly didn't mind them. In fact, she wore them with honor and even showed people while telling about this amazing story. Toby and Debbie became pretty famous for a while, and they were on several television shows such as The Late Show, Good Morning America, and the Today Show. Debbie enjoyed it but Toby doesn't care where they go, as long as he has his best furiend with him. 
Dog Name Ending in 'by' Considerations
When you get a new pup, there are a lot of things to do. You have to get a new dog bed, toys, a collar, dog food, treats, and you have to come up with the furfect name. All names are not equal, and you should take the time to figure out the best name suited to your new fur buddy. Whether it is based on their breed, coat color or texture, size, personality, or even strange habits they have, you should choose carefully so you get the right one. For example, Corby means raven or crow and is an awesome name for a black pooch and Ruby would be an amazing name for a red dog. 
If you have a short breed like a Corgi or a Dachshund, Stubby would be a cute name and Tubby or Chubby are just perfect for that fluffy pup. Moby is an adorable name for a large dog while Cubby is furific for a tiny pooch. Also, if your new dog is one who whines a lot, you could call them Crybaby and Gabby would work out great for the canine who likes to talk. No matter what you choose, make sure you like it because you will be using it for a long time. We chose some to help you get started.
Male Dog Names Ending in 'by'
Votes
Name
Vote
1

Webby

Old English for a male weaver of wooly garments

0

Toby

Short for Tobias and means Yahweh is good in Hebrew

0

Robby

Means bright and shining in German, short for Robert

0

Wallaby

A kangaroo and a cute name for a big canine

0

Crybaby

For that pooch that cries a lot

0

Willoughby

Old English for willow farm

0

Quimby

Scandinavian for boy from the woman's estate

0

Stubby

Great name for a short dog breed like a Dachshund or Corgi

0

Bubby

A term of endearment for a small boy

0

Dobby

A house elf in Harry Potter

0

Jacob

Hebrew word for at the heel, for that dog who is always right at your feet

0

Wubby

A soft baby's blanket

0

Kirby

English and Irish for church settlement

0

Crosby

Means at the cross in Old Norse and Irish

0

Gatsby

As in the Great Gatsby by F. Scott Fitzgerald

0

Bartelby

Variant of Bartholomew who was one of the 12 apostles of Jesus

0

Ashby

Means of the ash tree in Old English

0

Herby

Another form of Herbie and means illustrious warrior in British

0

Corby

Means raven or crow and great name for a black dog

0

Furby

The little electronic pet made by Hasbro

0

Tubby

Cute name for a chubby puppy

0

Moby

Great name for a humongous canine

0

Gilby

Irish for blonde boy and perfect for a yellow dog

0

Trigby

Means sensitive and inspirational in Scottish

0

Koby

Another form of Coby or Coburn, which means burning

0

Colby

For the pooch who loves cheese

0

Weatherby

Old English for sheep farmer and great for a sheepdog

0

Derby

Means without envy in Irish

0

Rugby

A form of football in England

0

Cubby

A small boy and perfect name for a little pooch
Female Dog Names Ending in 'by'
Votes
Name
Vote
0

Baby

French and Old English for auburn-haired and great name for a brown dog

0

Abby

Hebrew for gives joy and variant of Abigail

0

Lullaby

Awesome name for the pup who loves for you to sing to her

0

Ebby

Germanic for darkness and great name for a black or brown pup

0

Tabby

A brindle color and terrific name for a dog with a brindle coat

0

Ruby

Perfect name for a red dog

0

Bamby

A form of Bambi and means little girl

0

Womby

Means having a lot of space inside and great name for a large pup

0

Nubby

Awesome name for a small dog

0

Queenby

Scandinavian word for feminine

0

Gabby

For that pooch who won't be quiet

0

Yabby

An Australian prawn and great for a water dog

0

Zibby

Hebrew for God is perfection

0

Libby

Short for Elizabeth and means God's promise in Hebrew

0

Debby

Variant of Deborah, who was a biblical prophetess

0

Shelby

Middle English for where the willows grow

0

Alby

Variant of Allison and means truth in Greek

0

Fibby

Spanish for a bright woman

0

Chubby

Funny name for a plump pooch

0

Garby

Basque for one who is pure and clean

0

Nairoby

A variant of Nairobi, which is the capital of Kenya

0

Tibby

Means lover of nature in Hebrew

0

Orby

English-American for one who brings excitement

0

Quinby

Means queen's estate in Scandinavian

0

Ibby

Means like charcoal in African-Bini and fun name for a black dog

0

Dabby

To be involved in everything, one who dabbles

0

Ribby

One who likes to joke around

0

Cobby

To have short legs and a small body, great for a Dachshund or Corgi

0

Yibby

Term of endearment for a friendly person

0

Urby

African word for princess and a variant of Urbi
Community Dogs With Names Ending in 'by'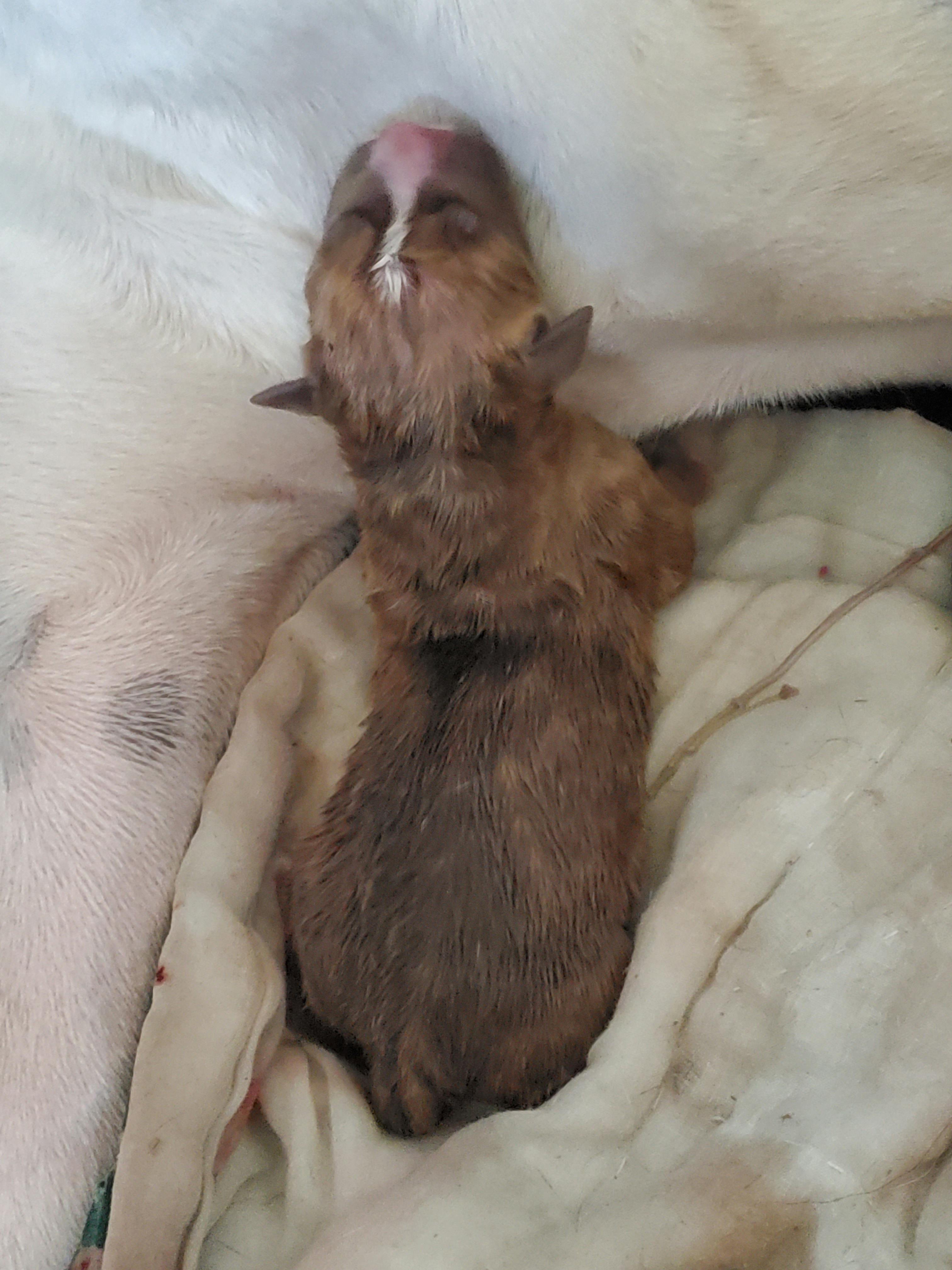 Zebby
Female
Bull and Terrier
Jay, ME
Named after her father (Webby) as he was hit by a car a month before the litter was born. Webby got to both of our female dogs at the same time. Both dogs had 12 puppies in 24hrs.