Introduction
Is your new pooch outgoing and fearless?  If so, then you might want to consider naming him something that shows how tough he really is. A moniker that reflects his warrior spirit is sure to be the perfect fit. Many dogs throughout history have been true warriors and have fought bravely beside their owners. Since ancient times mankind has entered battlefields with canines. They have been used as trackers, sentries, and scouts. Even today, dogs are still commonly used in modern warfare.
Dog Names Meaning Warrior in Pop Culture
Featured Famous Warrior Dog
Cloud II
Cloud II was a police dog hero in Canada. The brave German Shepherd is credited with finding missing children and apprehending 123 fugitives. Cloud II served as Constable Ray Carson's fearless partner. His four-year career was cut short when he was killed in the line of duty. The brave police canine was inducted into the Purina Animal Hall of Fame in 1974. He was said to have "unflinching courage against great odds" when he disarmed two escaped juveniles. He retrieved not only a firearm but also a knife.  
Cloud II was a local celebrity and beloved by everyone in North Bay. He was a regular guest at local schools and would attend other key public functions. He had garnered a huge fan base of dedicated citizens who recognized the dog as a true warrior who regularly put his life on the line.
On  September 2, 1975,  Cloud II was dispatched to track a dangerous fugitive. Cloud II and his partner Constable Carson cornered the wanted man at an isolated cabin located 30 kilometers north of Sudbury. Constable Carson sent Cloud II in to disarm the fugitive. A struggle ensued and the criminal placed a gun to the dog's head and pulled the trigger. The dog was killed almost instantly. The killer fled on foot and Constable Carson shot him in the shoulder and was able to apprehend him.
The remains of the fearless German Shepherd were laid to rest at the North Bay detachment of the Ontario Provincial Police. He remained at the location for 36 years but then the OPP changed locations. The German Shepherd police dog's remains were exhumed in a small ceremony. Constable Ray Carson and his son were in attendance. The dog had been encased in a concrete casket at the time of death so when it was opened the dog remained remarkably well-preserved. Constable Carson remarked that the dog still looked the same as when he was laid to rest. The dog's body was transferred to a crematory for cremation. It was then placed in a stone urn. The urn was put on display at The OPP Museum at the OPP's Orillia, Ont., General Headquarters. The dog's urn sits beside a photo and plaque that tells his heroic story.  There are also other artifacts on display from the canine's life and illustrious law enforcement career.
Dog Name Meaning Warrior Considerations
Throughout history, virtually every civilization has used warrior dogs in battle. One of the earliest documented incidents of great leaders using warrior dogs to fight was Attila the Hun who utilized molosser dogs to battle the enemy. The Spanish Conquistadors often used armored dogs to guard their caravans and fight off natives. Far Eastern leader Le Loi had 100 warrior hounds who fought beside his regiments. Even Napoleon turned to canines during his campaigns and to protect France when the army was away.
In ancient times, warrior canines were often large Mastiff-type dogs. The strength and the biting ability of the dogs were well respected and feared by the enemy.  They commonly wore armor and spiked collars for added protection when in battle. A tough, fearless pup may suit a warrior name.
The United States military first started employing canines in battle during the Seminole Wars with the Native Americans. In the Civil War, they were also utilized as scouts, messengers, and on the field as fighters. General Grant is rumored to have killed hundreds of bloodhounds to prevent the Confederate troops from using them to track.
Nowadays, canines are regularly used by the military and law enforcement to serve a variety of job functions. They are on the front lines on the battlefield, used for bomb detection, illegal drug searches, search and rescue, cadaver recovery, and in many other capacities. They do innumerable jobs for humans that regularly put their lives at risk. However, despite the dangers, canines are reliable and highly intelligent so a true asset.  Dogs have become true warriors. If your clever canine is to be looked up to, consider a name befitting a little warrior.
Male Dog Names Meaning Warrior
Votes
Name
Vote
3

Achilles

Famous warrior

3

Gunther

German for warrior

3

Askari

East African for soldier

3

Bali

Hindu for mighty warrior

3

Eloy

Spanish for warrior

2

Selma

German for God's helmet

1

Cloud II

A Canadian police dog

1

Rin Tin Tin

Famous and talented film police dog

1

Abner

Hebrew for Army commander

1

Alexander

Greek for defender of men

1

Allard

German for noble and brave

1

Andre

Greek for warrior

1

Andrew

Greek for warrior, strong

1

Albar

English for elf warrior

1

Atsushi

Japanese for compassionate warrior

1

Bushi

Japanese for all warriors

1

Elvy

An elf warrior

1

Luther

German warrior

0

Barny

German for brave as a bear

0

Cadby

English for warriors village

0

Barry

Gaelic for spear

0

Chadwick

English for a warrior's settlement

0

Dima

Slovak for a warrior

0

Dustin

Old English for warrior

0

Geronimo

Apache warrior

0

Harb

Arabic for warrior

0

Herod

Greek for warrior, also for Herod the Great

0

Humbert

German for warrior

0

Indra

Hindi for fierce warrior

0

Juh

Apache warrior

-1

Hooch

Famous and majestic film police dog
Female Dog Names Meaning Warrior
Votes
Name
Vote
2

Zelda

A warrior

2

Jade

A stone known for defense

2

Pisto

Amazon warrior

2

Xena

Greek for warrior princess

2

Sloane

American English for fighter

1

Hida

German for warrior

1

Alastair

Scottish for warrior

1

Sasha

Russian for defender

1

Willa

German for protector

1

Maia

Brave warrior

1

Deandra

A Greek warrior

1

Levana

Hebrew for defender of the moon

1

Rosamund

German for horse protector

1

Sandra

Greek for defending men

0

Joan

Refers to Joan of Arc

0

Loyce

German for a female warrior

0

Matilda

Old German for female warrior

0

Lexie

Greek for man's defender

0

Raina

German for wise guardian

0

Valda

Norse for spirited warrior

0

Arely

Hebrew for brave

0

Armina

English for warrior princess

0

Alexandra

Greek for female protector

0

Branka

Slovak for protector

0

Brina

English for strong

0

Hilda

Germanic for battle

0

Olesia

Polish for defender of mankind

0

Sascha

Greek for man's defender

0

Velma

Germanic for protector
Community Dogs With Names Meaning Warrior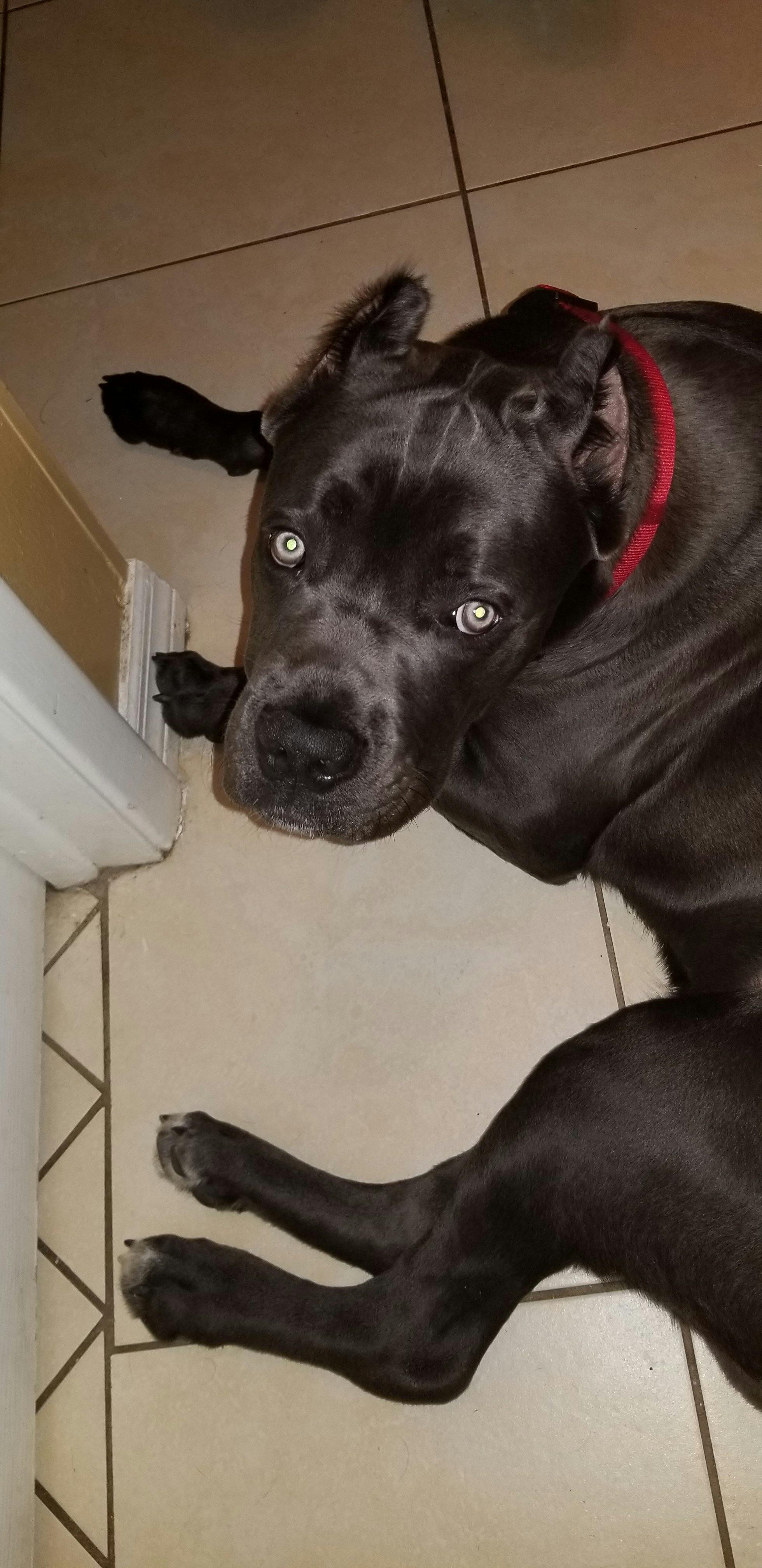 Bear
Male
Cane Corso
Spring Hill, FL
Personality
Rowdy, hyper,
He looks like a bear and I thought the name would fit him