Introduction
You've got a lovely home, you found a comfortable couch, and you finally got the puppy of your dreams. The cuddles are all that you ever wanted and wished for. There's only one thing missing: the dog's name. It's not like you hadn't thought about it, you had so many ideas! But none of them feel... right. Don't be surprised, this is a common story. A dog's name is hard to pick, because everyone wants a really good one. A name that really makes sense and reflects who the dog is. Here are some dog names that start with the letter "L" to get you started. 
Book First Walk Free!
Dog Names That Start With L in Pop Culture
Featured Famous Dog With a Name that Starts with L
Lassie
There are many famous dogs with names that start with the letter "L." Dogs including Lady from Lady and the Tramp, Lucky from Dr. Doolittle, and Louie from Overboard. However, no dog on the planet, regardless of their name is as well-known or loved as this one dog in particular. If there's any dog in the world that everyone knows, it's Lassie, the famous Rough Collie. She was the star of the long-running U.S. TV show in which she was the ultimate family dog, always helping children and providing hope in times of economic turmoil. The thing that made Lassie last as long as she did – fifty years – was being able to adapt to different stories. 
The original story by Eric Knight was created based on an 1859 short story by Elizabeth Gaskell, called The Half Brothers. In it, Lassie is only loved by her young master, and saves two boys in a snowstorm. The story got expanded into a novel, Lassie Come Home. It was such a success, it got made into a film in 1943, which eventually led to six more MGM films.  That was when the Lassie name and trademark was acquired for rodeos, fairs, and the 1954-1973 TV show that everyone knows and loves.  
 In it, Lassie lived in a small farming community with her beloved 11-year-old Jeff Miller and the rest of the family. It's not until the fourth season that 7-year-old Timmy Martin and his adoptive parents take over. By the eleventh season, the story had changed once again, with Lassie joining the United States Forest Service Rangers. She even roams around on her own for a year before finally finding a home at a children's orphanage for two seasons. 
Lassie's ability to change with the times, in various mediums and story lines, is what kept her alive and warm in the hearts of every American family for so many years. It's why she is still remembered today as the most famous, most iconic TV and movie dog, ever. She won critical favor, won two Emmy Awards, and sold so much merchandise it makes every dog afterward look like an average unknown actor. Things like books and clothes, toys and even a ring and wallet through the lifelong sponsor, Campbell's Soup. 
Lassie is and always will be the most iconic American dog known around the world. She knew how to take average families and animal love and elevate it to a point of not just making it relatable, but memorable. 
Dog Names that Start with L Considerations
When you're selecting a dog's name, you have to keep a few things in mind. In doing so, you're maximizing your chances of selecting the best name you possibly can. For one thing, it's a good idea to remember that not all dogs are the same. Every dog carries himself differently, whether he's spunky, excitable, calm and serious, or even aggressive. A fluffy name for a very territorial dog may come off ironic, which is great, but may not be what you're going for. Another thing to keep in mind is your dog's favorite things. Maybe he really enjoys toys that make quirky sounds. Sure, the tug-o-war rope is just fine, but it doesn't ever beat the squeaky bone, the jingling teddy bear, or the burping snowman. Even his favorite food can be an influence. Maybe be can't get enough of food in general, much like a vacuum. But when you pull out those specific dog treats from the local organic shop, they get him going like nothing else you've ever seen! In other words, consider the dog's favorite things. They directly give you a sense for who your dog is, and what he enjoys the most. If that's not inspiration, then nothing is! 
Male Dog Names that Start With L
Votes
Name
Vote
8

Loki

The Norse god of mischief

7

Leonard

For the serious dog

7

Liko

A name that means "Bud"

6

Lamont

Of Scottish and Northern Irish origin

6

Lex

Like Lex Luther

6

Lucas

A religious name

6

Lazaro

Of Spanish origin, this name means "help of God"

6

Leen

Arabic for "tender"

5

Lucky

If he has only brought you luck

4

Luke

A religious name

4

Lancelot

A French name, and one found in the tales of King Arthur

4

Ledger

After Heath Ledger

4

Ladd

An old 13th century name that has a modern meaning of "young man"

4

Lloyd

Meaning "gray", is perfect if your dog is that color

4

Lencho

Of African origin, it means "lion"

3

Landin

Of Swedish and Latin origin

3

Larry

This is great for a dog, so unexpected

3

Lennon

After John Lennon

3

Lazar

Serbian, Bulgarian and Macedonian in origin

2

Leizer

Or Greek and Hebrew origin

1

Lagoon

Funny if your dog looks like the creature of the black lagoon

1

Lewis

A name that works no matter the size, appearance, or personality of the dog

1

Lennart

A Swedish name for "Lion"

0

Legend

Good if your dog helps with special needs, or does something else particularly heroic

0

Lemuel

Hebrew for "devoted to God"

0

Leto

Of Greek origin, the meaning is disputed

0

Lael

Of Hebrew origin

0

Lamberto

Hails all the way from Scandinavia, and means "land brilliant"

-1

Lenny

Of German origin

-2

Lanford

Perfect for an old soul
Female Dog Names that Start With L
Votes
Name
Vote
7

Lauren

Such a common California name, this is a Latin moniker

7

Lakenn

It also means lake, which seems to be a common theme with "L" names

6

Layla

It means "night" in Arabic

6

Lexi

A nickname for Alexandra or Alexandria

6

Laiken

Of English origin, meaning "lake," or "pool"

6

Lakota

Perfect if you don't want something common, like Dakota

5

Lenna

The female version of Leonard

5

Lenora

Of English origin, it means "shining light"

5

Lara

Of Greek origin, it means "cheerful"

4

Lashae

A rare first name for females

4

Lauri

Of Latin origin, it means "Laurel tree or sweet bay tree"

4

Lassie

After the famous dog

3

Lacie

For the girly girl

3

Lizzette

Of English origin

3

Lisa

Short form of Elizabeth

2

Lia

A variation of Leah

2

Lana

Derived from the Irish Gaelic word for "child"

2

Lala

Hawaiian for "famous," or "cheerful"

2

Landy

Of French origin

1

Luann

Hawaiian for "enjoyment"

0

Laren

If Lauren is too common

0

Lake

Especially good if it's her favorite place

0

Love

Good if you feel like your dog is love, or showing you the value of such a thing

0

Lemon

Especially good if the dog is grouchy and sour all the time

0

Laia

An alternative spelling to Leia

-1

Lisa-Marie

For a more common human name

-1

Lily

Like the flower

-1

Liddy

Of Greek origin

-1

Li Li

Of Hebrew origin, meaning "God is satisfaction"

-3

Libby

It means "God's promise"
Community Dogs with Names that Start with L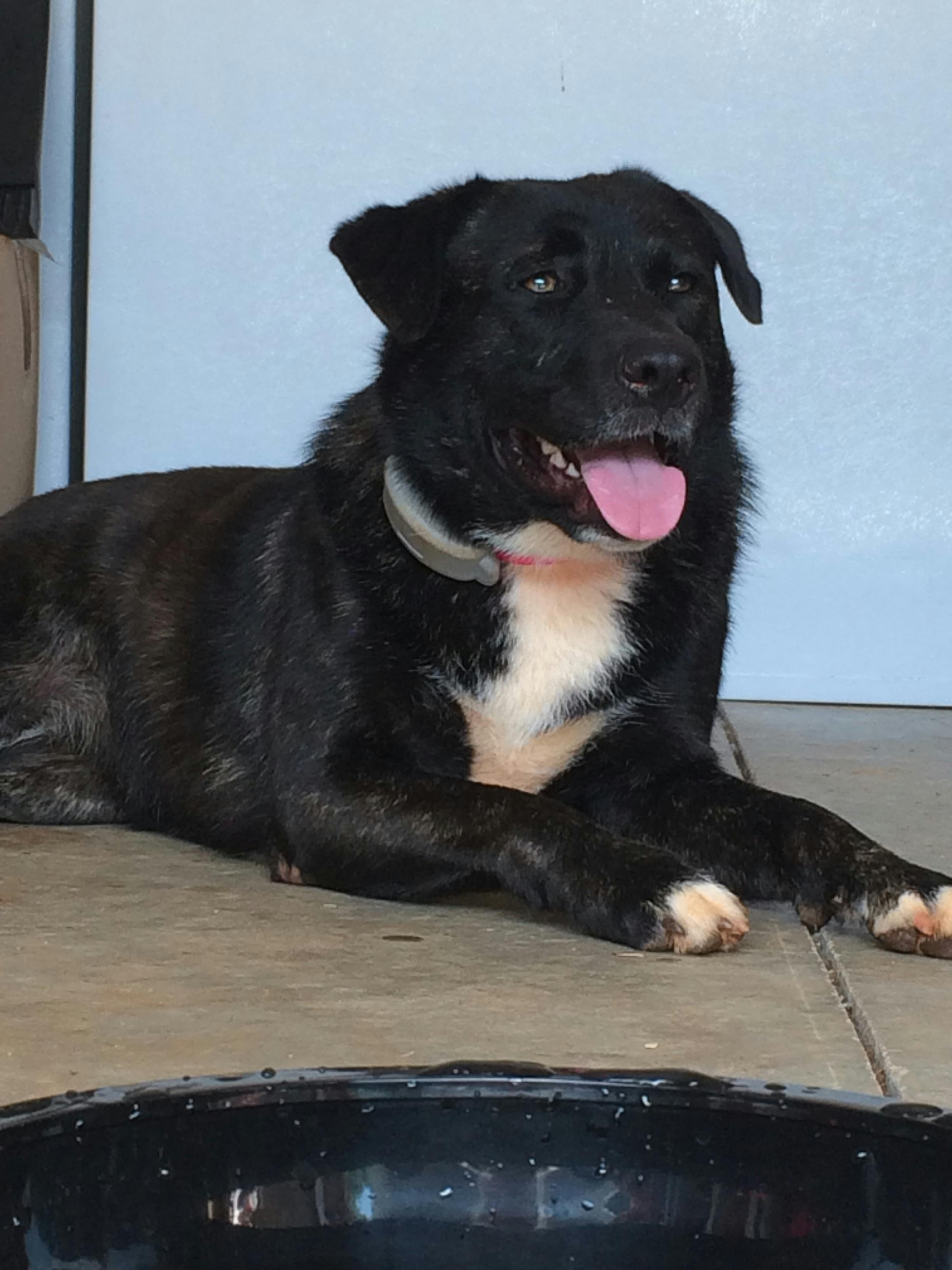 Lulu
Female
Mutt
Easley, SC
Personality
Curious
Energetic
Smart
Lovie
My first dogs name was Lady and she made a huge impact on my young life. Now I only get black dogs and name them with L's to honor her!