Introduction
When it comes to cult classic television series, few have come close to receiving the kind of attention that Firefly did during its time (and after for that matter). Despite only having eleven of the original fourteen episodes aired before being cancelled, the show quickly developed a significant following and for good reason. Outside of its original aesthetic/theme and classically witty Whedon-influenced writing, the show also possessed a fantastic cast of unique personalities, complete with equally idiosyncratic and easily recognizable names that make it the perfect fodder for fans looking to give their dogs names that will honor both their canines and the show simultaneously.
Firefly Dog Names in Pop Culture
Featured Famous Dog with a Firefly Name
Shep
Firefly gained a significant following even just after the first episode was aired, not to mention the attention it had garnered by the time it reached the point of cancellation. Even after it failed to re-appear on television, its fanbase continued growing thanks to the recognition it received in the form of numerous awards as well as those that helped to show their support with widespread online communities and considerable DVD sales. The dedication of the show's fans even helped to convince Joss Whedon, the show's creator, writer, and director, to move forward with the film Serenity, which helped to further the narrative and bring some closure to a storyline that had failed to receive any in public fashion. 
Like the franchise's fans, as well as many of the concepts in the show, dedication always seemed to be at the forefront, just like our featured dog, Shep, even though he existed long before Whedon was even thinking of putting his thoughts on-screen.
Shep was owned by an unknown sheep herder near Fort Benton, Montana in the 1930s. When his master took ill in 1936, he was taken to a nearby hospital and with him came his faithful companion. Shep's owner was soon taken by his ailments and in turn, the man's family eventually sent for his body, which, given the weight and distance, needed to be shipped. 
Being as loyal as a dog can be, Shep followed his deceased owner through the final stages, including having him prepared for being returned to his family, the last step of which had him watching his owner's casket as it was loaded onto a train at the Great Northern Railway station, which is when station workers began to first take notice of him. From that moment forward, Shep would show up and wait for every incoming train in hopes of seeing his master finally return to him. Eventually, employees of the station took him in and officially gave him his name, often feeding him and providing him food and shelter during what would become a famous (nearly) six-year endeavor that was even honorably mentioned by Ripley's Believe It or Not!.
Unfortunately, in January of 1942, Shep was struck by a train and his streak and life were both ended in an instant. But his dedication and tenure were not to be forgotten. After his passing, nearly the entire town of Fort Benton attended his funeral, he was given a proper eulogy, and eventually, a statue was mounted in his honor.
Firefly Dog Name Considerations
Given that most characters' looks are hard to match, finding an appropriate dog name is best started by isolating your furry friend's most obvious and unique personality traits, as they will likely be the easiest to match up with something or someone from the show. 
For instance, if your dog is particularly Zen, even when things around them tend to be crazy, Derrial, Shepherd and Book would all be great choices. If they are particularly smart, then Kaywinnet, Frye, River or Tam would be suitable the same way Mal, Malcolm, Reynolds, Jayne, and Cobb would be for a dog that is bold and brave. 
Their behaviors can be a great basis as well. If they are somewhat conniving or manipulative, say, to get some extra treats, then Saffron, Badger, Dobson or Early would be good picks. If they are on the sweeter side, then Frye, Inara, or Serra would work just as well. 
There are certainly lots of directions you can go, as there are plenty of names from the comics, film, and series that aren't even mentioned here that might be just as suitable, if not more so. Make sure to do some homework by re-reading the comic series and re-watching the film and show if you're able to, to see if anything stands out about a certain character, episode or name that may give you a leg up on the naming process.

Votes
Name
Vote
1

Frye

After Kaylee Frye, the wholesome, sweet, and chipper crew member

1

Whedon

After Joss Whedon, the cult hero writer/creator of many series

0

Malcolm

After Malcolm Reynolds, owner and captain of the Serenity

0

Reynolds

After Serenity's captain Malcolm Reynolds, the show's main protagonist

0

Washburne

After Zoe and Hoban Washburne, the couple aboard the Serenity

0

Hoban

After Hoban Washburne, the ship's pilot

0

Cobb

After Jayne Cobb, the dark-humored enforcer-type

0

Simon

After Simon Tam, the ship's doctor and River's brother

0

Derrial

After Derrial Book, the preacher with the mysterious past

0

Shepherd

The name frequently used for Derrial Book

0

Badger

After the self-proclaimed "honest businessman" who operates out of Persephone

0

Bester

The ship's original mechanic before Kaylee shows her supreme mechanical prowess

0

Bourne

After Sheriff Bourne, the sheriff of Paradiso

0

Dobson

After Lawrence Dobson, the under cover Alliance agent looking for River

0

Early

After bounty hunter Jubal Early, who was partly inspired by Boba Fett

0

Mingo

After Mingojerry, a play on T.S. Eliot's Mungojerrie

0

Blue

After the Blue Gloves, who work for the Alliance

0

Gloves

After the Blue Gloves, the mysterious pair of men hunting for River and Simon Tam

0

Warwick

After Sir Warwick Harrow, the Persephone nobleman

0

Hessian

After Stitch Hessian, Jayne's former comrade who tries to come after him

0

Higgins

After the Higgins family, Fess and Boss

0

Mathias

After Dr. Mathias, who is largely responsible for River's condition

0

Monty

A colleague of Mal Reynolds

0

Ott

The thief from the episode "Those Left Behind"

0

Gabriel

After Gabriel Tam, Simon and River's conservative father

0

Atherton

After Atherton Wing, a young nobleman from Persephone

0

Reaver

The most destructive force in Firefly, outside of the Alliance

0

Shindig

After the episode titled "Shindig"

0

Shadow

Mal's birth-planet

0

Rhodes

After Sonny Rhodes, who performs the western-influenced intro song
Votes
Name
Vote
0

Zoe

After Zoe Washburne, First Mate, who fought under Reynolds against the Alliance

0

Wash

After Hoban "Wash" Washburne, who is married to Zoe

0

Inara

After Inara Serra, a Companion of the social elite

0

Serra

After Inara Serra, the Buddhist Companion and Mal's love interest

0

Jayne

After Jayne Cobb, the towering brash mercenary

0

Kaywinnet

After Kaywinnet Lee "Kaylee" Frye, the ship's mechanic

0

Tam

After the Tam siblings, Simon and River

0

River

After River Tam, the mysterious child prodigy

0

Book

After Derrial Book, the ship's spiritual guide

0

Rance

After Rance Burgess, the rich rancher from "Heart of Gold"

0

Burgess

After Rance Burgess, who wages war on Inara's friend Nandi

0

Caron

After Dr. Caron, who is part of the Miranda rescue team in the film

0

Jubal

After Jubal Early, a bounty hunter searching for River Tam

0

Fanty

The "prettier" of the two twins who act as a fence for Mal's goods

0

Harrow

After Sir Warwick Harrow, the cattle owner Mal has to prove his worth to

0

Stitch

After Stitch Hessian, a former friend of Jayne Cobb

0

Fess

After Fess Higgins, son of Boss Higgins

0

Lenore

Mr. Universe's LoveBot

0

Adelei

After Adelei Niska, one of Firefly's greatest crime bosses

0

Niska

After Adelei Niska, who has a ruthless reputation

0

Patience

The elderly leader of Whitefall

0

Saffron

The beautiful yet conniving con artist

0

Regan

After Regan Tam, the Tam matriarch

0

Wing

After Atherton Wing, who apparently can't stop proposing to Inara

0

Serenity

The Firefly-class ship of Mal's

0

Ariel

After episode nine, titled "Ariel" after the core planet named Ariel

0

Minear

After Tim Minear, one of the show's main writers

0

Sonny

After Sonny Rhodes, who performs the show's title song

0

Firefly

After the show's title

0

Persephone

One of the main planets in the show
Community Dogs with Firefly Names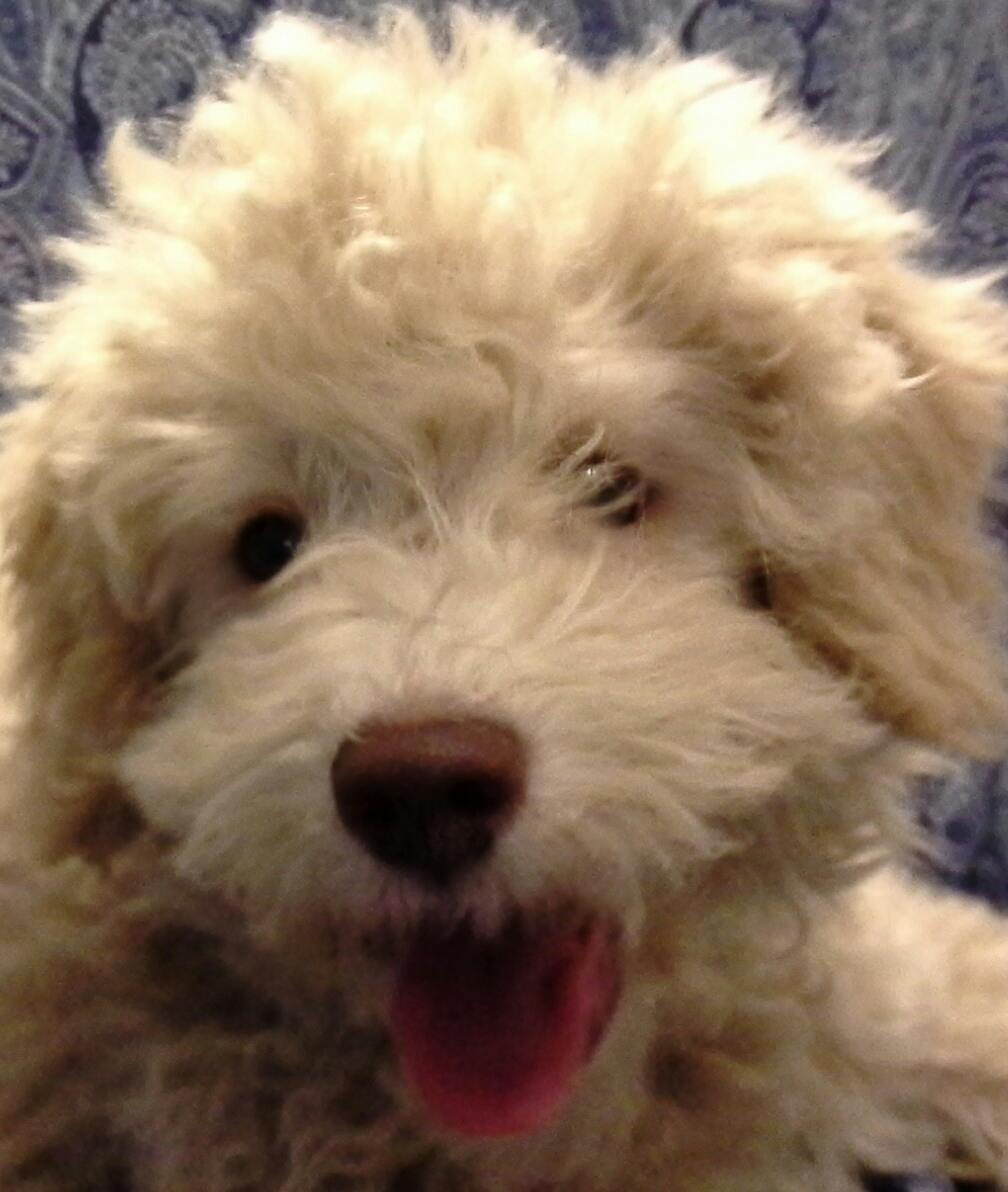 Fillion
Male
Goldendoodle
Riverside, CA
I love Firefly as well as the main actor, Nathan Fillion, who I also find extremely hot. His character is funny and witty, charismatic, kind and caring, loyal to a fault, adorable and wise, and I find that all these traits my dog happens to share,