Introduction
Located in the mid-western and Great Lakes regions of the United States, Indiana has the 38th largest land area and is the 17th most populated state in the country. The economy of Indiana is diverse, and the state includes the excitement of professional sports, as the home of the Indianapolis Colts of the NFL and the Indiana Pacers of the NBA. The state also hosts the Indianapolis 500 and Brickyard 400 motorsports races.
While you look for the ideal name for your new pup, Indiana may offer the inspiration you are looking for. Indiana has plenty to offer, including numerous possible names for your new canine companion.
Indiana Dog Names in Pop Culture
Featured Famous Indiana Dog
Indiana
A dog named Indiana has provided inspiration for a significant amount of pop-culture. Indiana, an Alaskan Malamute, was the much-loved dog of filmmaker George Lucas. According to the filmmaker, his pooch inspired the name "Indiana Jones" as well as Han Solo's trusty sidekick Chewbacca in the Star Wars movies.     
 It has been said that Lucas got the idea for Chewbacca's character after observing Indiana sitting up in his car's passenger seat. Apparently his wife at the time, Marcia Griffin, had been upset that their dog was not given a cameo in Lucas' film American Graffiti, where Lucas chose a white dog over his own dog. Lucas assured her he would honor the dog's spirit in Star Wars and did so with the Wookiee Chewbacca.
Bobbie the Wonder Dog was a dog from Silverton, Oregon who wound up separated from his family during a trip to Indiana in 1923. After being attacked by three dogs, Bobbie, a two-year-old Scotch Collie/English Shepherd, ran off and despite a large search, his family was unable to locate him. As their trip came to an end, they had to head back to Oregon without their beloved family member, expecting to never see him again. 
It was a surprise to everyone when six months later, Bobbie arrived in Silverton, having made the journey by walking and swimming in rivers; it is thought that his journey may have been as long as 3,000 miles. The tough pooch even crossed the continental divide during winter. Not surprisingly, Bobbie received a lot of attention and was featured in newspaper articles and even got to play himself in a silent film The Call of the West. His family received letters from those who had helped him on his journey, sharing their experience. As a result of the letters, the Humane Society of Portland was able to put together an approximate description of his route home.
Indiana's "First Dog", a pooch named "Henry", has a presence on social media. The Miniature Schnauzer, the family pet of Governor Eric Holcomb, can be followed on Twitter, Instagram and Facebook, where he claims to be nonpartisan.
Indiana Dog Name Considerations
It is not unusual to struggle to find just the right name for your new pup. When you consider that you will be calling your new pal's name many times for years to come, it is no wonder you want one that not only fits your friend, but has a positive meaning for you. If you have positive feelings about the state of Indiana, it is a great place to turn for name ideas. With a name inspired by Indiana, whenever you call the name of your new friend you will be reminded of a place that you care about.
It may also make sense to turn to the state should your dog remind you of a particular pooch who lives or has lived there, whether because of his breed, appearance or personality. And if he enjoys and activity that is popular in the state, an Indiana inspired name may be a match. Regardless of why you are looking to Indiana for name possibilities, you will quickly see that the state has a myriad of options, one of which may be just right for your new friend.
Votes
Name
Vote
1

Lucas

For Lucas Oil Stadium, the home of the Colts

1

Purdue

For Purdue University, a public research university in Indiana

1

Butler

For Butler University which offers several campuses in the state

1

Peyton

For Peyton Manning, considered one of the Indianapolis Colts best players of all time

0

Jermaine

For Jermaine O'Neal, who played eight seasons for the Indiana Pacers, moving to the playoffs in six of the eight seasons

0

Abraham

Abraham Lincoln, the 16th US President, lived in the state from age 7-21

0

Clifty

For Clifty Falls State Park, which features one of the few waterfalls in the state

0

Reggie

For Reggie Miller, a longtime player on the Indiana Pacers, often considered the best Pacer of all time

0

Tito

For singer and songwriter Tito Jackson who was born in Gary

0

Red

For comic Red Skelton who was born in Vincennes

0

Freeman

For Lake Freeman, located in Monticello

0

James

For Lake James, the fourth largest natural lake in the state

0

Otis

For Otis Bowen, a former Governor of Indiana

0

Ben

For Benjamin Harrison, the 23rd President of the United States who was a politician in Indiana

0

Quale

The former Vice President was also a Senator for the state of Indiana

0

Babyface

For Kenneth "Babyface" Edmunds, a singer, songwriter and producer who was born in Indianapolis

0

Johnny

For Indianapolis Colts quarterback Johnny Unitas

0

Marvin

For Marvin Harrison, one of the all-time great players for the Colts

0

Franklin

A city located about 20 miles south of Indianapolis

0

Columbus

A city in the south-central part of Indiana

0

Jeff

Jeffersonville, which is located along the Ohio River, is also known as "Jeff"

0

Lawrence

Located in the central part of the state, the city is home to Fort Benjamin Harrison

0

Elkhart

A city that is located in the north central part of Indiana

0

Anderson

An Indiana city in the central part of the state

0

Kokomo

Located in central Indiana, Kokomo is the state's 13th largest city

0

Gary

A city in the northwest part of the state, located about 25 miles from downtown Chicago

0

Fisher

For Fishers, a city that is located in the central part of the state

0

Evan

For Evansville, a city in Indiana with the state's third largest population

0

Wayne

For Fort Wayne, a city located in the northeastern part of the state

-1

Hammond

A city in the far northwest part of the state that is included in the Chicago metropolitan area
Votes
Name
Vote
1

Colt

For the Indianapolis Colts, a NFL team

1

Indy

Short for "Indiana" and "Indianapolis"

0

Hoosier

Residents of Indiana are sometimes called "Hoosiers"

0

Janice

For NASA astronaut Janice Voss who was born in South Bend

0

Tulip

For the Indiana state tree, the Tulip Poplar

0

Peony

The state flower of Indiana

0

Lovina

For Lovina McCarthy Streight, a Civil War nurse

0

Dorothy

For Dorothy Stratten, a Coast Guard officer and Purdue's first full-time dean of women

0

Flossie

For Kathleen "Flossie" Bailey, a civil rights activist who helped organize the local and state offices of the NAACP

0

Shelley

For actress Shelley Long who was born in Fort Wayne

0

Izzy

For Izzy Stradlin, the rhythm guitarist for Guns N' Roses, who was born in Lafayette

0

Terre

For Terre Haute, a city located in the west central part of the state

0

Muncie

An Indiana city located 50 miles northeast of Indianapolis

0

Lafayette

A city in Indiana that is located 63 miles northwest of Indianapolis

0

Vivica

For actress Vivica Fox who was born in South Bend

0

Tippecanoe

For Tippecanoe Lake, which is found in northern Indiana

0

Mishawaka

Located in the north central part of the state on the St. Joseph River

0

LaToya

For LaToya Jackson, a singer, songwriter and actress who was born in Gary

0

Indiana

In honor of the state itself

0

Shelby

For Shelbyville, a city in the central part of Indiana

0

Calumet

For the Grand Calumet River and the Little Calumet River

0

Galena

For the Galena River, a stream in the northern part of the state

0

Fawn

For the Fawn River, located in northeast Indiana and southwest Michigan

0

Cedar

For Cedar Creek, the largest tributary of the St. Joseph River

0

Marion

A city in the north central part of the state

0

Albany

For New Albany, a city located along the Ohio river across from Louisville, Kentucky

0

Griffy

For Griffy Lake, located in Bloomington

0

Indianapolis

The capital of Indiana and the state's most populated city

0

Bloom

For Bloomington, Indiana's seventh largest city

0

Patoka

For Patoka Lake, the second largest lake in the state

0

Carmel

A city located immediately north of Indianapolis
Community Dogs with Indiana Names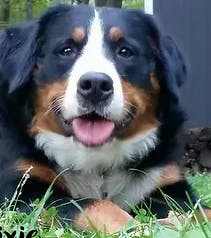 Dixie
Female
Bernese Mountain Dog
Columbus, IN
Personality
Playful
Happy
named after Dixie, Indiana.