Introduction
There's little wonder why anyone would give their dog a Muppets name. They're as timeless and lovable as dogs themselves, have distinct personalities and looks, and their names are almost universally recognizable by generations of people now that the Muppets have seen several reboots in the last few years to accompany their decades of prominence. Whether you are a huge fan or just looking to outfit your dog with a unique name that many will know as soon as they hear it, giving your dog a Muppets name is a great way to tie together two, fun-loving, soft, adorable characters and cement them in your heart and mind as much as many of the originals already have.
Muppets Dog Names in Pop Culture
Featured Famous Dog with a Muppets Name
Rowlf
Outside the likes of Lassie, Rin Tin Tin, and Snoopy, many forget that Rowlf was one of the first widely-recognized dog-stars on television. But for anyone unfamiliar with his earliest years, Rowlf's origins didn't stem from The Muppet Show, the actually came from a series of Purina Dog Chow commercials that aired in Canada in 1962 and 1963, in which he was also paired up with Baskerville the Hound, who would garner considerably less fame than his co-star. The duo represented two of three of Henson's original dog designs (although built by Don Sahlin), the third of which saw little, if any, screen time. 
But it wasn't even his dog food commercials that helped him, and therefore Henson, rise to stardom. In 1963, Rowlf joined The Jimmy Dean Show as Jimmy Dean's sidekick and "ol' buddy," getting seven to ten minutes of every episode to do comedy sketches, duets, and other skits. The frequency of his appearances allowed Henson to develop his character over several years between Jimmy Dean and other variety shows before becoming a Muppets staple next to Kermit, who were both featured in the earliest years of Sesame Street. 
By 1976, The Muppet Show was ready for launch, equipped with Rowlf as a featured member of the cast. Because of the time that Henson had to develop him, he continued on with his comedic and musical stylings in a similar manner, helping to give The Muppet Show a bit of both star power and familiarity. Although he was well-known for his musical numbers, many of them weren't even shown in the US, but their popularity in the UK was unrivaled for a made-up character. 
Rowlf went on to be featured regularly on the show for its entire existence, and was also cast in all three of the original Muppet movies, including The Muppet Movie, The Great Muppet Caper, and The Muppets Take Manhattan, all of which feature his musical ability at one point or another, as well as numerous television specials like John Denver's Rocky Mountain Holiday and A Muppet Family Christmas. After the death of Jim Henson, Rowlf continued to appear in many Muppets productions but was generally held to silent and brief cameos, out of respect for Henson, whom many other Muppeteers considered irreplaceable after decades of performance. After several years, Bill Barretta transitioned into the role, helped to bring Rowlf back to prominence, going so far as to bring him back into the limelight in the most recent Muppets movies. 
Unlike many of the other Muppets, Rowlf was designed as a 'live-hand' character, meaning there were no strings or sticks attached. It took three hands to control him, one for the head and mouth and one for each hand, necessitating two performers to make him move convincingly. Until he passed, Henson was both the voice and the mouth of this undeniably famous and lovable character and although many credit Kermit as being his most famous character, those who knew Henson best said that Rowlf's down to earth and laid-back personality was closest to the man and legend himself.
Muppets Dog Name Considerations
Out of all the themes one could choose to go with, giving your dog a Muppets-inspired name should actually be easier than most. After all, there were very few that were alike and more than enough that had strong characteristics to play off of. 
There are multiple ways you can generate ideas inspired by both your dog and Muppets characters themselves. When putting together a list, make sure to think of all possible elements that could make one particularly suitable, such as the dog's breed type, looks, and personality. 
For breed type, think of where the breed originated (which is easy if it's already in the name), as you can use that as a great basis. For instance, if you have a Swedish Vallhund, Chef would be a great name, after the mess-slinging, gibberish-speaking Swedish Chef — especially if they tend to be messy with food. If you have a Huntaway or a New Zealand Heading Dog, Lew would be a good fit, especially if they love fish. 
Looks can be another great way to go. If you have a hairy, mustached breed such as a Sheepdog, Sprocket, after Doc's dog from Fraggle Rock, another Henson Muppet creation, would be a perfect name, just like Foo Foo would be a great fit for a small, white, fluffy dog like Miss Piggy's. 
Personality can be just a suitable as a starting point, as just about every single Muppet had one that was truly unique. If your dog is big and sassy, Piggy or Miss Piggy would be a great choice. If they're small and sassy, maybe Pepe would be a better option. If they love to fly or jump around the room, Zucchini, after the Flying Zucchini Brothers, would be a fantastic name, especially if they are particularly long. If they tend to 'meep' more than bark, Beaker would work well too. 
Whatever you choose, don't limit your options, as there are more than enough big personalities with great names to match with your furry character. 
Votes
Name
Vote
2

Fozzie

After Fozzie Bear, the lovable resident joke-teller

1

Kermit

After Kermit the Frog, the most recognizable Muppet of them all

1

Bear

After Fozzie Bear, sweet, but an awful comedian

1

Rowlf

After Rowlf the Dog, the self-deprecating yet heartwarming pianist

0

Gonzo

Also known as Gonzo the Great, the blue, eccentric, hook-nosed performer

0

Scooter

The bespectacled and industrious stage manager of The Muppet Show

0

Pepe

After Pepe the King Prawn, the comical and conniving marine crustacean

0

King

After Pepe the King Prawn, the sassy shrimp

0

Rizzo

After Rizzo the Rat, the street-savvy rat from way back

0

Rat

After Rizzo the Rat, the sly New-Yorkeresque rodent

0

Animal

An undeniable favorite, the frenzied speaker of broken English; drummer of Electric Mayhem

0

Walter

The Muppets-obsessed fan who debuted in the newest series of Muppets movies

0

Bunsen

After Bunsen Honeydew, the somewhat clueless scientist

0

Chef

After the bumbling, mumbling, food-burning Swedish Chef

0

Dr. Teeth

The well-dressed singer and keyboardist of Electric Mayhem

0

Mayhem

After the Muppets band, Electric Mayhem

0

Waldorf

The shorter, mustached cantankerous old man who sits in the balcony and heckles the Muppets

0

Statler

The taller, cantankerous and long-nosed old man who heckles the Muppets from the balcony seats

0

Beauregard

The backstage janitor, but no one can tell what kind of human or animal he is

0

Link

After Link Hogthrob, the dim-witted leader of Pigs in Space

0

Hogthrob

After Link Hobthrob, captain of the Swinetrek

0

Marvin

After Marvin Suggs, the flamboyantly dressed Muppafone player

0

Suggs

After Marvin Suggs, the vibrantly-dressed and demented musician who made the Muppaphone

0

Pops

The elderly doorman of The Muppet Show's Muppet Theatre

0

Bubba

After Bubba the Rat, the tough-talking street rodent

0

Floyd

After Floyd Pepper, the massively-mustached bass player of Electric Mayhem

0

Pepper

After Floyd Pepper, Electric Mayhem bassist who looks like he came from the cover of The Beatles' Sgt. Pepper

0

Henson

After Jim Henson, the creative genius of the Muppets

0

Boppity

A blue Frackle and henchman os Cosmo Scam

-1

Behemoth

The huge orange monster also known as Gene
Votes
Name
Vote
3

Bean

After Bean Bunny, the small, fuzzy, cream-colored rabbit

1

Piggy

After Miss Piggy, the sassy swine, aspiring superstar

1

Eagle

After Sam Eagle, the patriotic and conservative eagle

1

Zucchini

After the Flying Zucchini Brothers

0

Frog

After Kermit the Frog, the protagonist and leader of the Muppets

0

Prawn

After Pepe the King Prawn, who went from the Muppets to Long John Silver's spokeshrimp

0

Honeydew

After Bunsun Honeydew, the aloof scientist with glasses for eyes

0

Beaker

Bunsun Honeydew's 'meeping' sidekick who is often the victim of Honeydew's experiments

0

Sam

After Sam Eagle, a cross between a bald eagle and Uncle Sam

0

Camilla

After Camilla the Chicken, Gonzo's love interest

0

Chicken

After Camilla the Chicken, the non-speaking love of Gonzo the Great

0

Bobo

After Bobo the Bear, the imposing yet befuddled giant brown bear

0

Annie Sue

Miss Piggy's innocent rival

0

Foo Foo

Miss Piggy's dog, was both a puppet and a real dog

0

Bunny

After Bean Bunny from The Tale of the Bunny Picnic, had several other cameos

0

Constantine

"The World's Most Dangerous Frog", Kermit's Doppelgänger

0

Gladys

After Gladys the Cow, debuted in The Muppet Movie but also went on to Sesame Street

0

Fiama

After Johnny Fiama, the Frank Sintra-style character

0

Sal

After Sal Minella, the vest-wearing chimp

0

Minella

After Sal Minella, Johnny Fiama's chimpanzee bodyguard

0

Lew

After Lew Zealand, the mustached, red suited man who loves fish

0

Zealand

After Lew Zealand, the fish-throwing performer

0

Robin

After Kermit's nephew who appears in numerous Muppets productions

0

Sweetums

The aptly named sweet but lumbering ogre

0

Frackle

After the furry, beaked Muppet monsters

0

Mahna

After the Mahna Mahnas, singer of the non-sensical song "Mehnamehna"

0

Janice

The big-lipped, big-lashed singer and electric guitar player of Electric Mayhem

0

Zoot

Electric Mayhem's blue-haired sax player

0

Lips

The orange, bush-haired trumpeter of Electric Mayhem

0

Hilda

The seamstress of The Muppet Show
Community Dogs with Muppet Names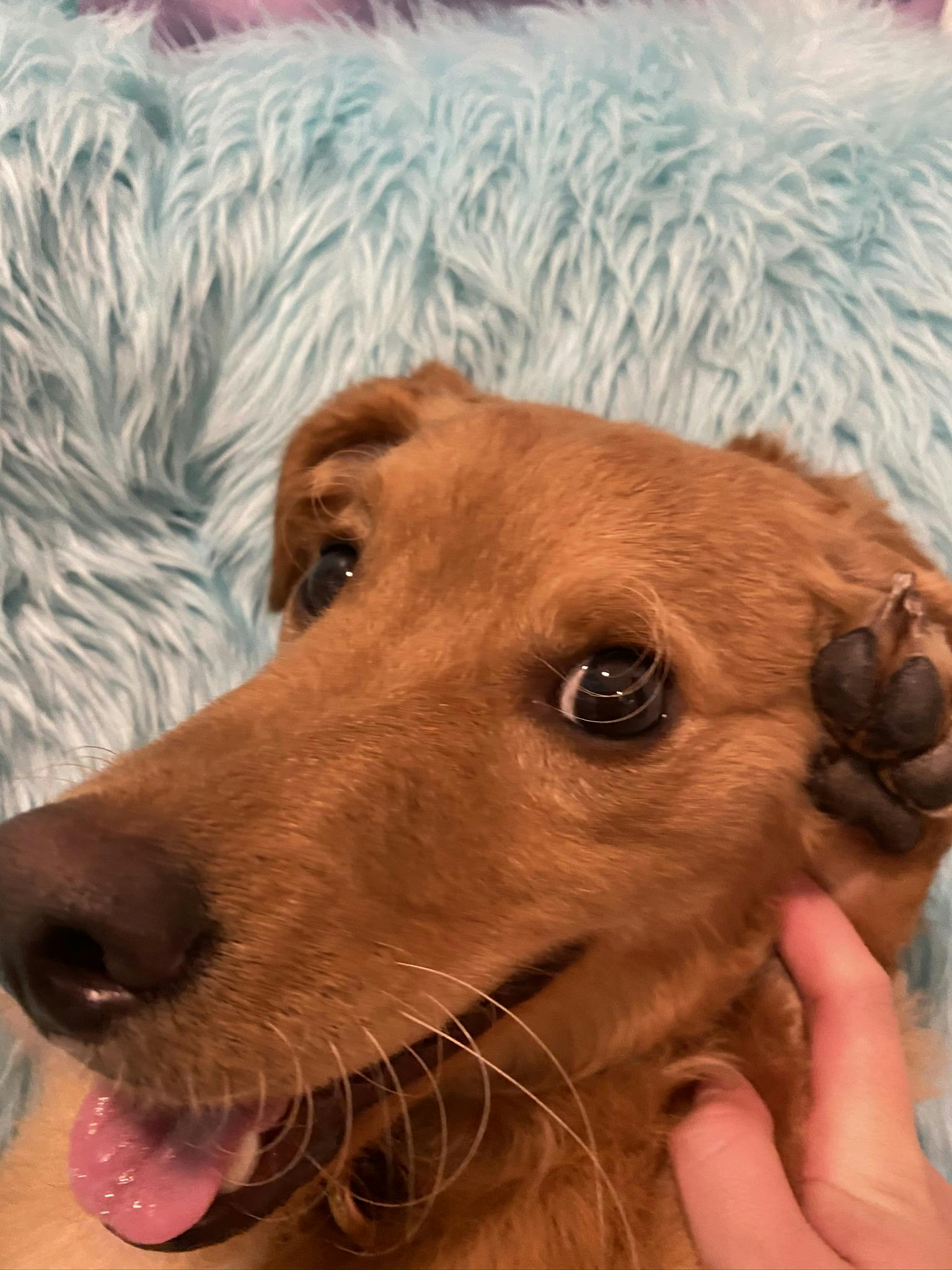 Fozzie
Male
Miniature Goldendoodle
Chicago, IL
Personality
Playful
Cute
Happy
Cuddley