Introduction
It's a well-known fact that fans of The Walking Dead television series are incredibly devoted! You're quite likely to find them even posting warnings on their social media that might read, "Do not disturb for the next hour! The Walking Dead is on!" And why not? This isn't just your everyday, run of the mill zombie show. If you've followed The Walking Dead for any length of time at all, you know how endearing the characters are. In fact, you may have been incredibly angry at the Father for several months. You probably cried when those two characters were murdered by Negan. And you probably have already picked a favorite character in the latest lineup.
The Walking Dead Dog Names in Pop Culture
Featured Famous Walking Dead Dog
Dooley the One-Eyed Dog
Even though it has been said over and over again that Daryl needed a dog companion, the series has not yet gone in the direction. In fact, there is only one dog in the series at all, and he shows up in Season 4, Episode 13, "Alone". 
Daryl and Beth have found themselves holed up in an abandoned funeral home and find this dog wandering the property. Having only one eye seems to make him the perfect post-apocalyptic dog, even if he is rather small and incredibly adorable. However, he winds up being the reason Daryl accidentally lets in a whole horde of walkers and eventually gets separated from Beth. By the time he catches up to her, she is being kidnapped and driven away in a car.
You don't actually get Dooley's name and backstory until you visit Talking Dead. There, you not only find out what his name is, but also the fact that he lost his eye while attempting to protect his owner from a carjacker. Which makes him not only adorable, but heroic as well!
This made us think of some other hero dogs well known to television and movies and we'd like to introduce you to a few of them as well.
One of the most iconic and well known hero dogs of all time is Old Yeller. From the movie and book of the same title, Old Yeller comes into a family's life as a stray, and winds up saving a young boy's life, only to be nearly killed himself. He is definitely a dog that will stick with you once you've heard his story.
Max is another well known hero dog, from the self-titled movie which came out in 2015. In the story, he is a service dog in the war when his owner, Kyle is killed in battle. Scheduled to be put down because of the trauma he went through and his inability to take commands from anyone else, Max is then adopted by Kyle's brother Justin. Having served his time, he is finally able to settle down with a loving family.
A little bit further back in time, you'll find Gander, the Newfoundland that served with the Royal Rifles of Canada while World War Two was going on. When Gander and his unit were called upon to serve in the Battle of Hong Kong, Gander was able to turn back enemy troops twice, saving countless lives. His battle ended however, when he retrieved a grenade thrown into their area. As he picked it up and was carrying it away, it detonated. Gander will not be forgotten for his heroics that day.
Walking Dead Dog Names
Some people just pick names for their dog at random, but if you're reading this, then that's probably not you! In fact, you have obviously giving some real thought to the process, and you certainly should. After all, a dog isn't just something that's here today and gone tomorrow. They'll be around for awhile and you should give them a name that doesn't leave you wondering why you picked it in the first place. There's nothing worse than "name-regret"!
In choosing a name for your new dog from The Walking Dead cast of characters, you're really paying homage to your favorite. Maybe that's a character that's still around, such as Rick or Michonne. Maybe it's a memorial to a favorite who has already passed on, like Abraham or Glenn. Perhaps it's the character you most love to hate, like Negan or even Father Gabriel, although Gabriel is certainly winning us back, isn't he?

As you can see, we have already given you quite a few names to choose from, all of which are important to the story line. And we know it will be a great conversation when someone asks, "How did you come up with the name?"

Male The Walking Dead Dog Names
Votes
Name
Vote
10

Negan

Ruthless leader of the Saviors

7

Otis

A survivor living on the Farm

5

Gareth

Leader of the Terminus Safe Zone, he is later killed by Rick

5

Shane

Rick's best friend, former police officer

4

Abraham

A survivor who was a former member of the military

4

Dwight

One of Negan's right-hand men, torn between his loyalties, and big time enemy of Daryl

4

Ezekiel

Leader of the Kingdom community, he used to be an actor and a zoo keeper

4

Glenn

An original character who saves Rick's life and later marries Maggie

4

Morgan

An original survivor and Rick's first friend

4

Noah

A survivor who meets Beth at the hospital and later leaves to join Rick's group

4

Paul

Member of the Hilltop community, also known as Jesus

4

Simon

High ranking official of the Saviors

4

Tyreese

Sasha's brother

4

T-Dog

Meets Rick's group in a department store in Atlanta

3

Aaron

Recruiter for the Alexandria Safe Zone community

2

Carl

Rick and Lori's son

2

Daryl

Motorcycle riding, crossbow wielding survivor

2

Eugene

An unlikely survivor originally thought to know the cure for the zombie outbreak, he was protected by Abraham and his crew

2

Ed

Short-time survivor, he was Carol's abusive husband

2

Hershel

Maggie and Beth's father, he is the leader of the Farm and has veterinarian and farm experience.

2

Jim

An original survivor who is later bitten by a walker and left for dead

2

Nate

Member of Dave and Tony's group

1

Governor

The power hungry leader of Woodbury with a dark secret

1

Merle

An early survivor, Daryl's brother, who later falls prey to walkers

1

Spencer

Member of the Alexandria group

0

Bob

A survivor with army medic training, later becoming a member of the prison community

-1

Gabriel

A priest who is rescued by Rick and his group not far from his parish outside Atlanta

-1

Rick

The first main character, and leader of the main group

-2

Dale

Original survivor, former car salesman

-3

Gregory

Leader of the Hilltop community indebted to Negan and the Saviors
Female The Walking Dead Dog Names
Votes
Name
Vote
7

Deanna

Original leader of the Alexandria Safe Zone and former congresswoman

7

Molly

A member of the Prison community

6

Haley

A Woodbury wall enforcer

5

Lilly

Tara Chambler's sister

5

Mika

Young survivor entrusted to Carol for care, sister of Lizzie

5

Natania

Leader of Oceanside

5

Patricia

Member of the Farm community, wife of Otis

5

Sophia

Young daughter of Carol and Ed

4

Sasha

A former fire fighter and Tyreese's sister

3

Beth

A survivor, Hershel's daughter and Maggie's half sister

3

Carol

A survivor of both an abusive husband and the zombie apocalypse

3

Lori

Rick's wife and mother of Carl and Judith

3

Rachel

Member of Oceanside

3

Tara

Member of Abraham's group

2

Karen

A Woodbury wall enforcer

2

Lizzie

Child survivor left to Carol's care

2

Maggie

A survivor of the Farm, Hershel's daughter, Beth's sister and Glenn's wife

2

Shiva

Female tiger pet of Ezekiel

1

Michonne

A survivor whose favorite weapon is a katana, later becomes Rick's girlfriend

0

Amy

Early survivor and younger sister of Andrea

0

Eileen

A pregnant resident of Woodbury

0

Judith

Infant daughter of Rick and Lori, sister of Carl

0

Jacqui

An original Atlanta survivor who decided to end her life as the CDC self destructs

0

Rosita

A member of Abraham's group, also his girlfriend

-1

Jessie

An Alexandria resident who later becomes Rick's short-lived girlfriend

-1

Jeanette

A former Woodbury resident who comes to reside at the Prison community and is quarantined by Carol

-1

Penny

The Governor's daughter, who has become a zombie

-2

Andrea

A survivor who was a former lawyer

-2

Enid

An Alexandria Safe Zone resident who eventually becomes Carl's girlfriend

-2

Jadis

Leader of the Scavengers with an odd way of speaking
Community Dogs with Walking Dead Names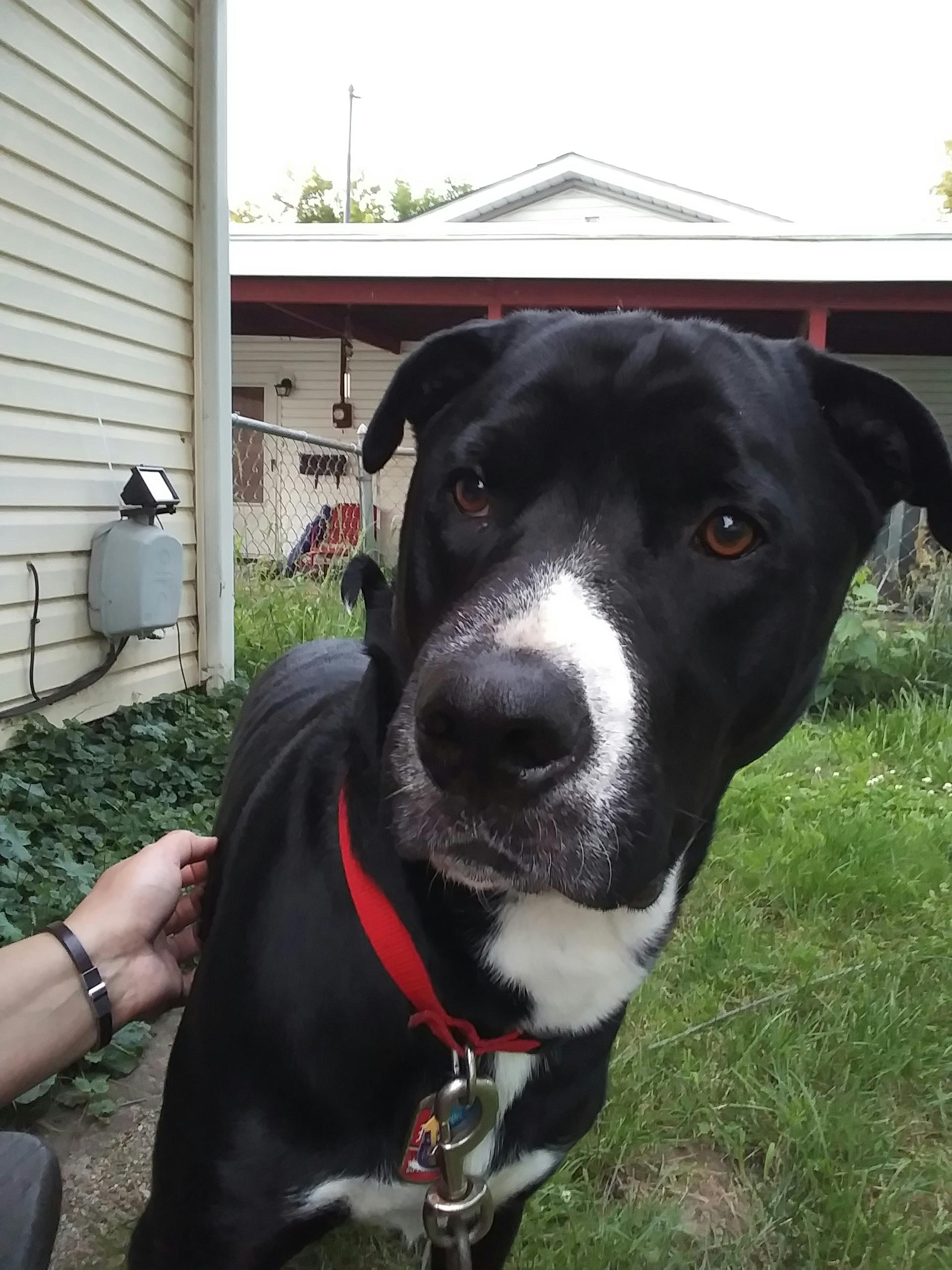 Walker
Male
Pit Bull
Newark, NY
We Knew we wanted a Walking Dead name, and so suggested Walker! My Husband liked it, and we thought he looked like a Walker. :)