Introduction
Dogs are our best fur-iends, so we owe it to them to let their pawrific personalities shine with a name just for them. Naming a new dog can be just as complicated as naming a new baby, although we don't often have the pressure of naming our dogs family names like "Robert" for great-uncle Bob. Instead, many doggos are named for their personalities, color, or size, but these monikers can get repetitive. 
Are you looking for a title that lets your dog stand out from the pack? Check out these top suggestions based on pop culture's influence in 2021.
2021 Inspired Dog Name in Pop Culture
Featured Famous Name Inspired by 2021
Mac
The pupular name "Mac" for male dogs had a couple of possible meanings in 2021. First, Mac is the name of a computer built by Apple used by business people, artists, academics, scientists, and others throughout the world. This year, the machine took on a new meaning as it not only allowed us to work at home, but it connected us to a cultural life beyond our four walls. It helped us stay connected with friends and family, too. Dogs named Mac represent some of the characteristics of this pupular computer: reliable, speedy, and user-friendly. 
Mac may also mirror one of the new favorites on the home menu: Mac 'n' Cheese. Whether homemade or out of a box, this easy, soul-warming dish was enjoyed widely by people during this transition year. Cheese, macaroni, buttered bread crumbs – what's not to like?
Fans of the TV series MacGyver (2006 - 2021) are familiar with the lead character Angus "Mac" MacGyver and his unconventional solutions to problems threatening peoples' lives. This hero always emerges unscathed from dangers like terrorism and criminal gang wars and saves the day with his amazing derring-do. 
Mac may be a furvorite name for pet parents with Scottish or Irish roots, as it has often been used in surnames to mean, "son of." Names such as Mackenzie and MacGrath may be examples of dogs' names which invariably end up nicknamed "Mac."
Children who love the Scholastic TV series Clifford the Big Red Dog are familiar with a blue greyhound named Mac, one of Clifford's sidekicks. Featured frequently in this animated educational series, Mac, which is short for Macchiavelli, is the fur baby of a stuck-up friend of Clifford's 8-year-old owner. He has an inflated sense of himself and would do anything for a tummy-yummy treat. He's not always a "really good boy," and in one episode runs away because of something bad that he did. When Clifford and his pals form a search party, they find a humbled, contrite Mac, convince him he's forgiven and loved, and take him home.
Dog Name Considerations for 2021 and Beyond!
In 2021, we saw some of the COVID restrictions of 2020 being lifted while others remained. Many of us had acquired new pups during the lockdown and given them names that reflected the pandemic, with COVI, Fauci, Rona, and Corona being among the most pupular. Even Pfizer and Vax made an appearance. 
Our lifestyles also reflected the lingering pandemic, with many folks working remotely, connecting through video streaming platforms, and spending hours watching movies, TV, and sports on our streaming services in 2021 to battle boredom and isolation. Several names were inspired from our new normal, and gave rise to many unique names across the country.
As we head into 2022, we may see some of the same names that have surged in 2021, as well as some new additions inspired by celebrities, popular media and world events. Royal names do seem to be on the rise, so expect to see more Queenies and Kates. Adele is dropping her next album in 2022, the Top Gun sequel is slated to come out with new adventures for our favorite Maverick, and Scream returns to screens starring original actress Neve Campbell, all sure-fire candidates for some pawsome dog names.
Sporty pups may be donning the names of 2022 Winter Olympians, such as Jessie, Dusty, Chloe, and Auston, or we may start to see national sports stars shine like Domani, Sonny, or Denver in football, or Shai, Zion or Bam in basketball. We may even see international tennis stars like Sania or Emma appear in 2022! 
Male Unique Dog Names Inspired by 2021
Votes
Name
Vote
1

Rollo

Ian's wolf-dog from Outlander who's brave and loyal

1

Noodle

One of our favorite take-out and make-at-home treats in 2021

1

Brownie

A pawr-fect name for a chocolate lab that speaks to a fur-vorite dessert

1

Kiki

The name of a heroic DEA agent from Narcos, a streaming TV show

1

Mookie

Former Boston Red Sox outfielder

1

Dodger

Member of the LA team who won the 2020 World Series, and Mookie Betts's new team

1

Draco

Harry's childhood bully in the Harry Potter books and movies

1

Max

Hero of the Mad Max movie series

1

Judge

From Aaron Judge, baseball star of the New York Yankees

1

Sox

Nickname of the Boston Red Sox and the Chicago White Sox baseball teams

1

Mando

The title character from the TV streaming show, The Mandalorian

1

Sushi

A furvorite cuisine from Japan, often the target for take-out and delivery, and the new name for your Akita

1

Cooper

Named after Bradley Cooper, a famous actor and celebrity

0

Krypto

Superman's dog

0

Miso

This ingredient in Asian cuisine that saw a spike among home cooks would be great for a light beige dog

-1

Boba

Short for Boba Fett, a well-known Star Wars figure

-1

Jefe

From the TV show Narcos, a great name for a Chihuahua who thinks they're the boss

-1

Clifford

This famous Big Red Dog name would be pawr-fect for an Irish Setter

-1

Dutton

The name of the family and ranch in the pupular TV series Yellowstone

-1

George

Pawrfect for royal watchers, the name of the small prince and heir to the throne after his father William

-1

Ghost

Jon Snow's direwolf in Game of Thrones who is fearless, fierce and loyal

-1

Eddie

The Parson Russell Terrier character in the re-running series Frasier

-1

Geralt

The hero of Witcher, a hunter of bad creatures and rescuer of damsels in distress

-1

Luke

After Luke Skywalker in Star Wars

-1

Henry

Named after Henry Winkler, Arthur "Fonzie" Fonzarelli from Happy Days reruns

-1

Brady

Quarterback of New England Patriots and Tampa Bay Buccaneers fame, and widely considered to be the Greatest of All Time (GOAT)

-1

Darth

Darth Vader, nemesis and father of Luke in Star Wars

-1

Fauci

Name of the world-renowned immunologist and Chief Medical Advisor to the President of the United States on COVID-19

-1

Zoom

An internet platform that helped at-home workers, families and friends stay in touch would make an ideal name for an Australian Shepherd

-1

Barley

Mainstay of made-at-home soups and stews during the pandemic.
Female Unique Dog Names Inspired by 2021
Votes
Name
Vote
1

Kate

Nickname for Duchess Katherine who will someday be queen of the United Kingdom beside her husband William.

1

Gwen

Famed pop star Gwen Stefani of The Voice

1

Bella

This pupular dog name became doubly famous after featuring in the Twilight movies and a live-action Beauty and the Beast

1

Pippa

Duchess Kate's sister

1

Leia

Princess Leia of the Star Wars was the formidable, brave sister of Luke Skywalker

1

Gambit

Gambit is a cute name for a mischievous dog, perhaps a Jack Russell, taken from the streaming movie The Queen's Gambit

1

Sansa

Sansa is the name of one of the Stark daughters from Game of Thrones

1

Reba

Reba McIntyre, a well-known country singer, popular on stage and TV

1

Duchess

Title of the three most prominent Duchesses of Great Britain, Katherine, Camilla and Meghan, and possibly the best name for a Cavalier King Charles Spaniel

1

Lucy

This name is derived from Lucille Ball from I Love Lucy who was featured in the 2021 biopic Lucy and Desi.

1

Bambi

Currently streaming on Disney+, this classic character has lent its name to many a female dog

1

Nora

Nora Roberts is a famous American author of best-selling books, including November 2021's Treasures Lost, Treasures Found

1

Lady

Sansa's direwolf in Game of Thrones

1

Cookie

Inspired by the thousands of homemade cookies allegedly baked during the Covid-19 lockdown

1

Lili

Short for Lilibet, Prince Philip's nickname for Queen Elizabeth, and the name of Prince Harry and Meghan Markle's second child

1

Dolly

Famed country music star and actress Dolly Parton inspires this name

-1

Isis

A beautiful yellow lab from the TV series Downton Abbey

-1

Nessie

The Loch Ness Monster had a few new sightings in 2021, restoring her status as Scotland's most famous female

-1

Charlotte

Great Britain's young princess, sister to Prince George

-1

Olivia

Olivia Colman who played Queen Elizabeth for two seasons in the widely-watched show The Crown would lend a lovely name to a Corgi

-1

Scarlett

Scarlett O'Hara was the main character in the often re-watched classic Gone With the Wind

-1

Adele

The name of this famous singer-songwriter from England would be fun for a singing dog like a Husky

-1

Bouton

This small white dog from the Outlander series could sniff out disease

-1

Hillary

This name derives from The former First Lady, Senator from New York, and Secretary of State Hillary Rodham Clinton who wrote State of Terror in 2021

-1

Serena

Serena Williams is the world champion tennis star that inspired this dog name

-1

Ripley

Simply pawrific for a Rottweiler, this heroine of Aliens fame battled alien monsters aboard a spacecraft

-1

Stella

Stella McCartney is singer-songwriter Paul McCartney's daughter and fashion designer in the United Kingdom

-1

Jasmine

Strong-headed and brave heroine of the animated movie Aladdin

-1

Selena

Selena Gomez is a prolific singer and actress starring in a 2021 movie named The King's Man

-1

Kamala

First woman Vice President of the United States
Dog Name Stories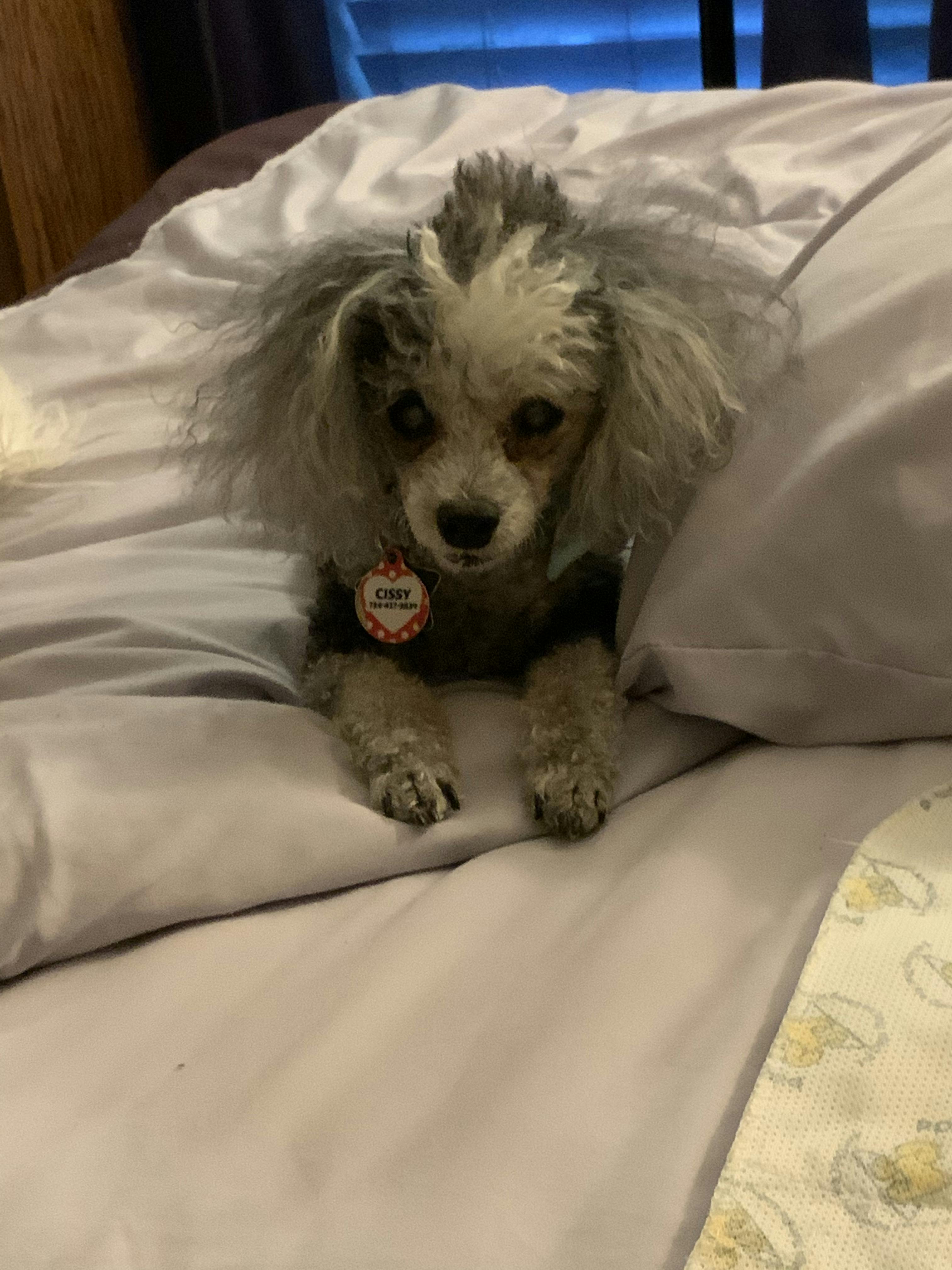 Cissy and mikki
Female
Poodle
Parker, CO
Both dogs were named after the owner's last name.