Introduction
If you have just brought home your furry bundle of puppy love then the odds are good that you are searching for the perfect name. Well, one of the easiest ways to find a name for your new pooch is to think about something that interests you or is close to your heart. If you enjoy the television show Vikings, you are a history buff, you love anything Scandinavian or you are of Norse, Swedish, or Danish descent then you might want to consider a name that represents your passion.
Viking Dog Names in Pop Culture
Featured Famous Viking Dog
Bamse
Bamse was a Norwegian dog that personifies the very definition of what it means to be a Viking dog. The Norse pooch was fearless and won the hearts and admiration of those around him. During World War II, Bamse was the mascot of the Norwegian ship Thorodd. His name, Bamse, translates into 'Teddy Bear'. The dog was a beloved companion of Captain Erling Hafto. 
When Norway looked as if it was about to fall under the onslaught of the German military forces, Captain Hafto and Bamse escaped with the crew aboard the Thorodd. They set sail for the UK. The ship would be used as a minesweeper off the coastline of Scotland.

Bamse grew very fond of the crew and when the ship was under fire the fearless dog could be found standing by the front gunners wearing a steel helmet. During downtime, when the crew was allowed to go ashore for a bit of rest and relaxation they would insist on taking Bamse. Bamse would wear a sailor's cap and stroll beside his crewmates. They even purchased him a bus pass so he could ride in style beside them. He loved riding the bus and would often board it by himself. He would always climb to the top deck so he would have a bird's eye view.
The large dog with Viking ancestors was not like most dogs. He enjoyed frequenting the local pubs beside his crewmates. While at the pub, he would sit at the bar and enjoy a beer. If a brawl broke out that involved his humans, he would silently warn the aggressor by placing both of his paws on the man's shoulders. He even saved the life of a crewman who was attacked by a man wielding a knife. Bamse pushed the man into the water to protect his human friend. Once, while the boat was at sea, a crewman fell overboard and Bamse bounded over the rail following him. The large, strong dog kept the man afloat until the crewmen could get both the sailor and the dog back into the boat. 
Captain Hafto was assigned to a new ship but the crew of the Thorodd pleaded with the captain to leave their canine friend with them until the war ended. It was agreed that Bamse could remain aboard the ship until the war's end and then he would be returned to the captain. Bamse lived until 1944 when he suffered a major heart attack. He was buried with full military honors on the sand dunes of Montrose. The local school even closed so everyone could attend the funeral of the great and beloved Norse canine. Everyone wept at the dog's funeral.
Evelyn Le Chene wrote in her book Silent Heroes, "There could not have been a more loving bond between two peoples, the Norwegians and the Scots, then that which Bamse created."
Viking Dog Name Considerations
The term 'Vikings' is an Old Norse term for a pirate raid. The term was used to denote the fierce tribes that hailed from Denmark, Sweden, and Norway. The reign of the Vikings ran from AD 700 to 1100. During those fierce years, many people from those countries sailed off to far away lands to raid, steal, conquer, trade, and settle.
Vikings were also commonly referred to as Northmen or Norsemen. They were mostly made up of seafaring warriors who are believed to have sailed further than many during the era. They sailed and fought for riches. During their reign, many Vikings settled in Iceland, parts of Northern England, Scotland, France, and Russia.
During the Viking age, canines held high value. Dogs were a common companion of the Vikings. They were brought to Iceland when the Vikings colonized the island. Today, dogs remain that are the direct descendants of the Norseman's dogs. The Icelandic Sheepdog is considered one of the oldest breeds in the world. The robust, strong dogs boast waterproof coats that protect them from the extreme Norse weather. The Norwegian Elkhound and Buhund are also close relatives and believed to share the bloodline of the first dogs the Vikings brought to the region.
Archaeological excavations have revealed the status of many dogs in the Viking culture. Canine skeletal remains have been found laid to rest beside great Norse ships. Also, in Iceland, small companion dogs also shared the graves of their masters. Such burials depict the status of the four-legged creature in the culture.
If you want to name your dog after the Vikings then you will have a wide array of monikers to choose from that will depict your dog's impressive characteristics. Whatever name you choose, the chances are good that people will ask you about its origins and why you decided on such a unique handle for you pooch.
Votes
Name
Vote
0

Aegir

Of the Gods

0

Alf

Means elf

0

Arild

Battle commander

0

Aros

From the mouth of the river

0

Bard

Good fighter

0

Bodil

Great leader

0

Brand

A firebrand

0

Davin

Very intelligent

0

Dreng

Very brave

0

Erik

Forever strong

0

Elvis

Sage

0

Faste

Firm

0

Frode

Wise one

0

Gunnar

Fighter

0

Gunnolf

Fighting wolf

0

Hrolf

A wolf

0

Ingolf

Ing's wolf

0

Ivor

Means bowman

0

Norbert

Means hero

0

Roar

A fighter of praise

0

Steinolf

A rock wolf

0

Storr

Means great

0

Ulmer

Meaning famous wolf

0

Wyborn

A war bear

0

Vidar

A tree fighter

0

Stein

Means rock hard

0

Tait

Means happy

0

Ottar

Refers to a fighter

0

Oliver

Means affectionate one
Votes
Name
Vote
1

Sigrunn

Means victory

1

Dahlia

A flower

1

Sindri

A mythical dwarf

0

Siv

Female in-law

0

Erica

Eternal ruler

0

Saga

A legend

0

Gala

Lovely voice

0

Randi

A lovely goddess

0

Magna

A great female form

0

Thelma

A bear of Thor

0

Aren

Means eagle

0

Danhy

From Denmark

0

Eskil

Vessel of the Gods

0

Gerda

Means protection

0

Halfrida

A peaceful heroine

0

Ragnilde

A goddess warrior

0

Ran

Means queen

0

Rania

Means delightful

0

Rona

My joy

0

Tait

Means cheerful

0

Lyngheid

Sister of otter

0

Kylan

A narrow strait

0

Kleng

Has claws

0

Brynhild

Chain mail fighter

0

Hilde

Means to fight

0

Gudrun

Goddess of secrete knowledge

0

Sigrid

Means victory

0

Ingrid

A Viking God

0

Freydis

Fertility God

0

Astrid

Word of God
Community Dogs With Viking Names
Frick face veelson
Male
Maltipoo
Sacramento, CA
Just fits him, he told us one day through a dog whisperer to name him that or else!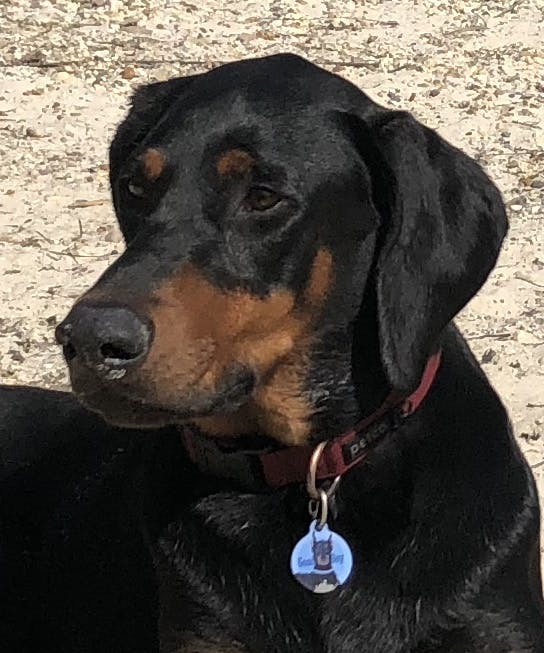 Odin
Male
Doberman Pinscher
Grass Valley, CA
Liked the name. Good strong name for a big dog.